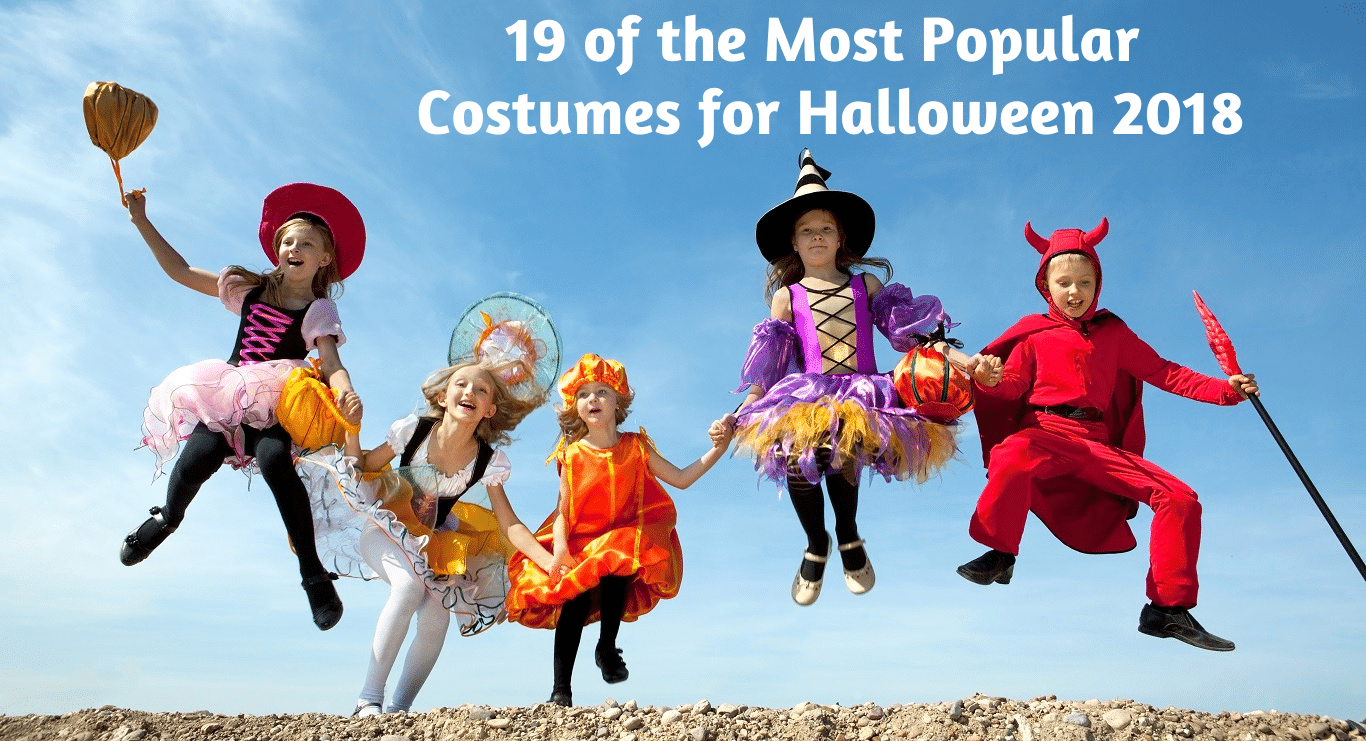 19 of the Most Popular Costumes for Halloween 2018
The air is getting colder.
The nights are getting longer.
Fall is definitely here, and along with it are all of the fun holidays that we associate with the autumn. In fact, in the rush of getting back to school, you may not have realized just how quickly those holidays are approaching.
Halloween is only a few weeks away.
Do you have your costume?
Every year there are new costume ideas for adults and kids. Every year there are fun takes on current events, politics, popular movies and more. This year is, of course, no exception. There are celebrity costumes, horror movie costumes, adorable costumes for children and so much more.
Finding the perfect costume online can be easy sometimes, but other times can be challenge if retailers don't have the specific one you are looking for. Sometimes the best deals on seasonal items are in stores. Even if you're shopping internationally, you can still make it into local supermarkets through our Supermarket Shopping service.
Check out our collection of Halloween costumes below to see what is trending this year, and while you're at it, why not pick out a favorite of your own?
Kids and Babies
Halloween Sleep Sets
Adorable baby costumes are just that – adorable. But for the youngest trick-or-treaters, sometimes a heavy and complicated costume is only worn for a few minutes for pictures. A more practical Halloween outfit for young family members is a cute set of Halloween pajamas or sleep set. That way if the excitement of the evening causes your little one to fall asleep in the stroller, you can transfer him to his crib easily. Halloween sleep sets are also nice to use throughout the entire month of October – there is no reason to wait for a single day before enjoying some new pajamas.
Spider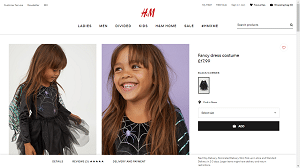 There are so many ways to create a spider costume. One of the most fun for little girls is with a fancy spider dress. Layers of "cobwebs" make a full skirt topped with draping sleeves to show all of the spider legs. It's pretty, it's scary, it's the perfect alternative for those who want to skip princess dresses this year. Of course there are other, less magical approaches to spiders for those who want things to be a bit creepier this Halloween. Look for costumes with less lace and more creep-factor for those who want to be a bit more sinister.
Scary Clown
Thanks to Stephen King, clowns will always be associated with Halloween. The latest It movie made the scary clown even more popular and reinvented the nightmare of a murderous entertainer for an entirely new generation. Clown make-up and a balloon can give you a good starting point for the costume, but there are tons of scary and killer clown costumes available online for older children who like to take things up a notch. Whether you're dressed as Pennywise or just another version of a terrifying clown, you can find just the right option by shopping online.
Batgirl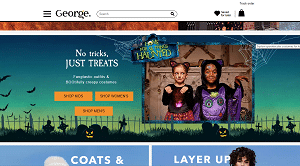 Who says all super heroes are boys? Boys can be Batman, but Batgirl is making a statement this year as well. Batgirl is the perfect mix of fun for young admirers – youth, strong, brave and with quite a sense of fashion. Batgirl costumes are perfect for the young superheroes in your life, especially those who might have a brother who prefers to be dressed as Batman. Have three kids? Why not a Batman, a Batgirl and the Joker or perhaps Robin to complete your merry band of trick-or-treaters.
Wonder Woman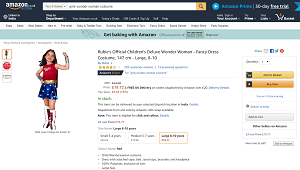 Female superheroes are high on the list this year with good reason. They are such excellent role models for young girls and they create such fun costumes! Dress up as Diana with boots and skirt and all of the accessories like the golden lasso. Wonder Woman is iconic for all of the best reasons – she is a princess who is strong, brave, and often the first to take on the bad guys. Best of all, you won't have to worry about wearing a mask that slips down as you walk around – Wonder Woman doesn't hide her face.
Black Panther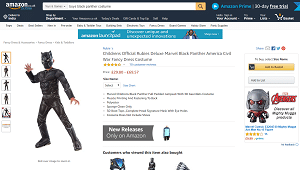 Male superheroes make the list as well! Among the latest of the big movie releases, Black Panther caught the attention of kids everywhere. Suit up in the colors of T'Challa and represent the power and the pride of Wakanda this Halloween. This is also one of the more popular costumes for adults this year, which makes it perfect for both the older boys and the younger ones in your life.
Unicorn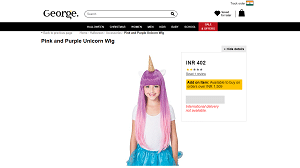 Unicorns are everywhere these days. They are fun, they are pretty and they are more than a bit magical. A unicorn costume does all of these things, especially if it incorporates a beautiful dress. Layers of princess-like tulle pair with sparkles and glitter to make your little unicorn shine. Top it off with a shiny unicorn horn and the magical illusion is complete.
Skeleton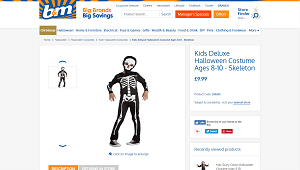 One of the oldest Halloween costumes, the skeleton is still a classic with good reason. On a dark night as you wind your way through the streets, the white bones of a skeleton suit shine. A black body suit offsets the bright skeleton creating a simple yet effective outfit for young trick or treaters who prefer to take a more authentic approach to All Hallow's Eve. Many skeleton costumes also include reflective or glow-in-the-dark paint to make the costume really shine. Sometimes simple can be pretty powerful.
Light-Up Suits
Similar to a skeleton, but with a bit more flash, a light-up suit creates a bright outline using a series of lights. Your child wears the black body suit and then when the lights come on, all you see is a large stick person walking around in bight shades of green, blue, red or whatever color you prefer. This is another costume that is simple, but definitely fun. The light-up suit also works well in groups. Get all of the family members or siblings light-up suits in different colors. Then, when you hit the streets for trick-or-treating, you'll truly light up the night (and be easy to spot both coming and going.)
Dinosaur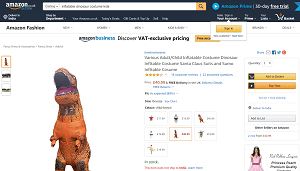 The inflatable dinosaur costume has been a hit for at least a couple of years now. Much like a lawn decoration, the costume fills with air so that you're walking inside a large, inflatable T-rex. The dinosaurs showed up a year or two ago for adults, but now the popular costume is available for children to wear. The costume is very authentic and a tremendous amount of fun, but you should be aware that it can be a challenge to move in for long periods of time thanks to the shortened stride length.
Adults
Britney Spears and Company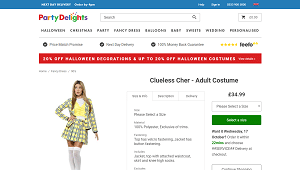 The 1990s were a magical time in terms of pop music and fashion. Britney Spears started a new wave of school girl fashions with her breakout hits in the 90's and it is fun to flashback to school girl skirts, cropped oxford shirts and pigtails. Of course, if Britney isn't your style, you can always dress up as Justin Timberlake, Christina Aguilera or throw it back even farther into the 90s for Kurt Cobain and Courtney Love. What makes this costume even easier is that you might still have some of the original gear from your own fashion forays in the 90s still hanging in your closet.
Ultron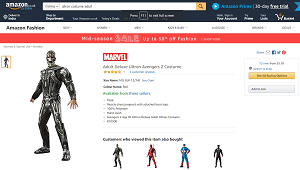 The latest Avenger movie ended with a bang, and Ultron is left holding all of the infinity stones and all of the power. Will it last, that's for the next movie installment to say, but for now Ultron is the supreme power player in the Marvel universe, which makes an Ultron costume a great option for Halloween this year. Have a group of buddies? Choose companion Marvel characters to complete the costumes for the entire crew.
Edna Mode or the Incredibles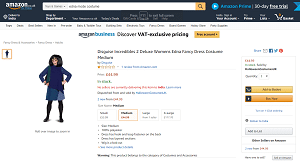 The newest Incredibles movie is out and it was well received by older fans as well as the young. The Incredibles make for a great group or family costume with the coordinated suits, but the break-out costume from the Incredibles isn't part of the family. It's Edna Mode, the fierce power behind the suits and often the knowledge that the Incredibles need to be successful. Of course, some killer round glasses certainly don't hurt.
Mama Mia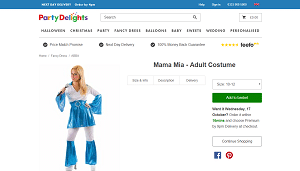 For those who love Abba and the fun fashions of the 70s, Mama Mia costumes are great – especially if you're dressing up with friends as Donna and the Dynamos, the fun singing group created by the characters in the popular sequel that was released last summer. Bell bottoms, ruffles, microphones and denim are all you need to make this look come to life. You might even take things up a notch by carrying a small portable speaker with you and blasting a few ABBA tunes as you walk around to be sure nobody misses the reference.
Halloween Make-Up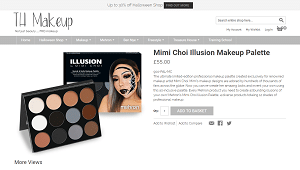 There are some artists with brushes who use their skills to create facial art every day. Halloween is the perfect time for those make-up palette skills to come to life with Halloween make-up. Wear a simple Halloween shirt or just a black top and let your cosmetics do all of the work this year. Make yourself into a stunning zodiac creation or perhaps make some gruesome facial sores and injuries with your paints and brushes. Create stunning looks or more gruesome ones, but this is the perfect time to really let your cosmetic creativity shine.
Desserts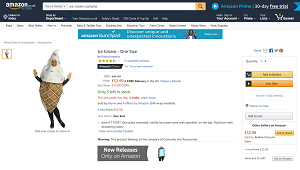 Who wouldn't want to head out of the house for a Halloween party this year dressed as their favorite dessert? Donuts, cupcakes, cookies and even ice cream cones are being created with a bit of imagination and crafting. Everyone loves desserts, so naturally everyone loves dessert costumes! You can always create your own dessert-inspired costume at home or simply buy one online if you'd prefer to skip the hot glue and creative mess.
Donald Trump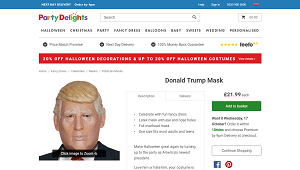 Love him or hate him, he's certainly distinguishable as a mask. Put on a suit and slip on a Donald Trump mask and you'll be sporting the look of the United States president in almost no time at all. Hate the idea of wearing a mask? A long red tie and a comb over wig will still get the job done. As with most politicians, this is a costume that can inspire strong feelings in others, so be sure you're ready for comments and jokes from others about your choice of costume.
Royalty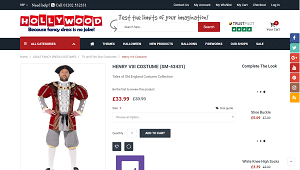 Who wouldn't want to be a princess or a queen for Halloween? In the UK we have our own royalty to choose from or you can opt for the more generic kinds of kings and queens. A fancy ball gown, a scepter and a crown can transform anyone into a queen for the night, but why stop there? Why not look back in history and recreate a stunning Henry VIII or Elizabeth I? Good Queen Bess is iconic and fun with her bright red hair and powdered make-up. Of course, you can look just a bit closer to modern times and create a younger Elizabeth II or a more modern Prince Charles.
Family Costumes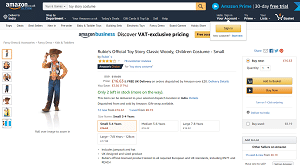 Dressing up can easily be a family affair this Halloween. There are family costumes that are sold as collections like the Incredibles above or all of the characters from Toy Story. But you can also make your own creative family costumes by simply using a bit of creativity or by shopping for individual characters separately and putting the final pieces together. Why not be a troupe of ninjas? Or perhaps the characters of Star Wars? What little girl wouldn't want her family to dress Anna or Elsa with the rest of her family from Frozen, complete with Olaf? When it comes to family costumes, creativity is the only limitation.
Whether you're dressing up for a big Halloween event or you're just planning to hand out candy and take your own children around the neighborhood for some trick-or-treating, Halloween is a holiday that is designed to be fun, clever and a great way to really enjoy the fall months with friends and family.