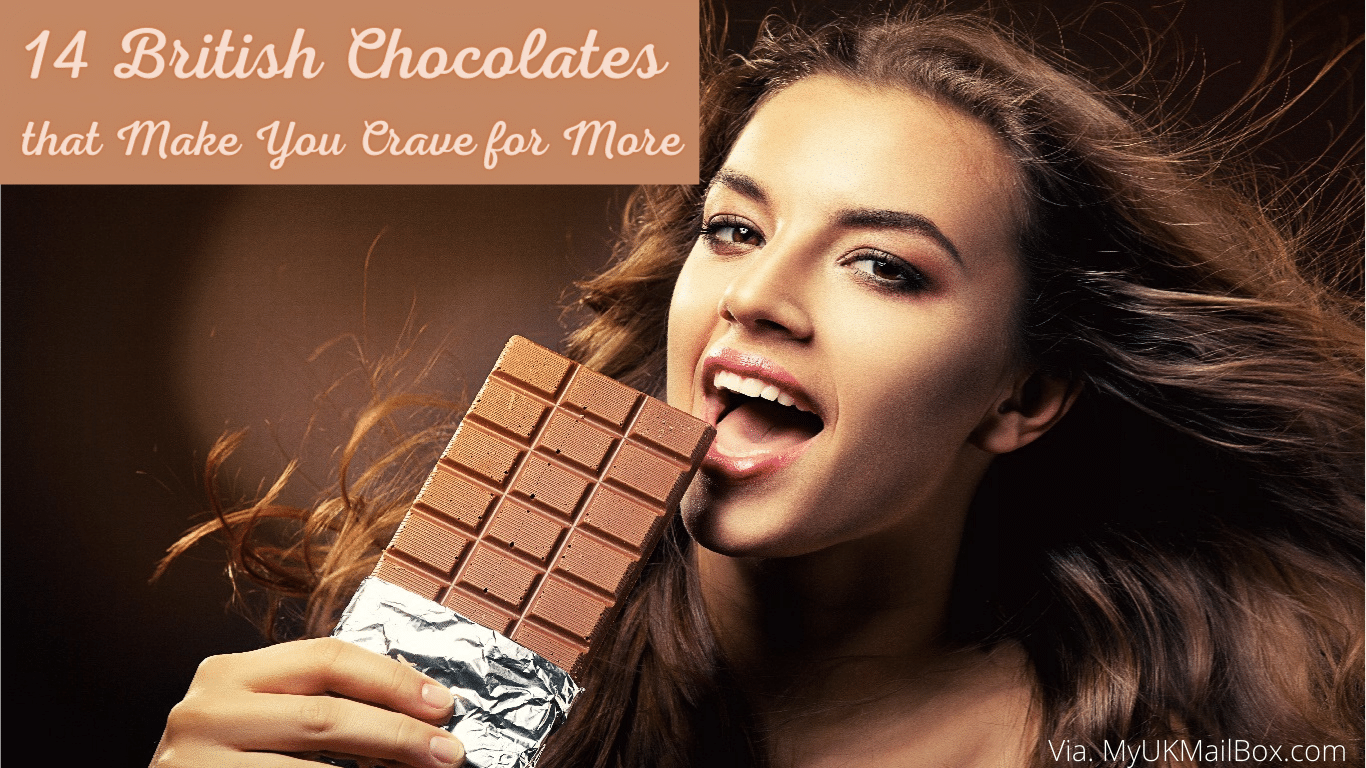 14 British Chocolates that Make You Crave for More
Chocolate – food of the gods. But the gods would want the best. The best means small British chocolatiers.
It's time to find out what you have been missing. Never worry about import delays. Your chocolates are never going to sit melting in a lorry in Calais. No need to go to Belgium, or the Netherlands. British chocolates win international awards. Buying British chocolate means you really are buying the best and supporting local jobs.
Local chocolate makers give you chocolate like you have never tasted before. Forget flavourless supermarket brands. Forget greasy and over-sweet American-owned brands. If your chocolate experience has been limited to Cadburys, Mars, and Nestlé, you haven't lived!
Searching for specialist chocolates such as couverture chocolate or vegan chocolate, British chocolatiers have you covered. Each chocolate company specialises in different chocolate forms; truffles, bars, buttons, or selection boxes.
Every corner of the UK has its own speciality chocolate makers. England, Northern Ireland, Scotland, and Wales all have local artisan chocolate specialists whose products will have you drooling with delight and desperate for more.
Looking to give chocolates to a loved one? Give something that will blow the mind. And you can get special, even personalised chocolates without upsetting your bank manager.
Chocolates make the perfect gift for anyone. Every woman loves chocolate, anytime!
Men love chocolate, too. Why buy socks when you can buy chocolate that you will get to share?
English Chocolates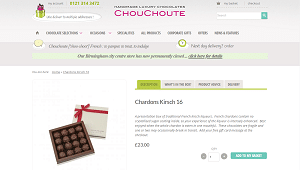 If there was ever adults-only chocolate, this would be it – A box of 16 chocolate Kirsch liqueurs. That's 16 mouthfuls of taste-bud stimulating cherry liqueur. The liqueur is not constrained by a crystallised sugar inner lining, so it bursts into your mouth when you bite into it, complemented by the exquisite milk chocolate case.
Perfect for sharing (greater love hath no woman than she shares her Chouchoute kirsch liqueur). Or hide them away to treat yourself after a hard day.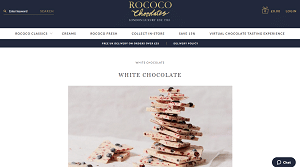 For the lover of white chocolate – Broken white chocolate with mixed berries.
The creamy Rococo white chocolate is partnered with freeze-dried strawberries, raspberries, and blackcurrants. The sharpness of the berry mixture enhances the sweetness and creaminess of the chocolate. Each pack contains 150g of broken chocolate with unsweetened dried berries.
The 150g is the perfect amount for sharing as breakfast in bed with your partner on your engagement or wedding anniversary. Or it is much better than popcorn to share while watching a film in the evening.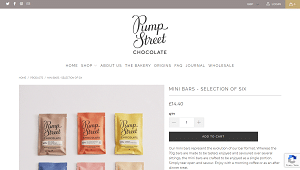 Chocolate is like wine. Cocoa from one grower will be different from cocoa from a neighbouring grower. It varies from harvest to harvest, too. You need to sample different chocolates from different sources to learn the range of flavours available.
This chocolate mini-bar selection is perfect for anyone who is just learning about speciality English chocolate. Each 20g bar (four small bites) is perfect to enjoy with a morning coffee, or as a bedtime treat that won't break your diet. (Remember – chocolate is a health food!)
Looking for something different? You've found it.
Willie's Cacao is based in Devon and uses local double cream to make the caramel for these Strawberries and cream sea salt pearls. Each pearl has a centre of liquid caramel with grains of Cornish seasalt and a strawberry white chocolate shell to hold it all together.
For variety consider milk Willie's Cacao milk chocolate or plain chocolate-covered caramel and sea-salt pearls. A bowl of these individually wrapped gems would be perfect for a wedding reception or birthday party.
This milk chocolate and truffle selection carries the royal warrant as chocolatiers to HM Queen Elizabeth II. Not many companies can claim royal patronage going back to 1875!
Charbonnelet Walker might sound French, but their chocolates are made in England and sold through shops in London and Leeds, as well as online. This selection box is as far from Milk Tray as London is from Bombay. Order it to impress and show your love on anniversary or birthday. Your loved one will be bowled over by the high-quality hand-made box and ribbon before even opening your gift.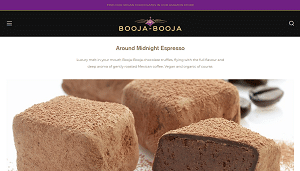 If you love coffee as well as chocolate, these are the truffles for you. They have won 22 awards, so you know you will enjoy.The coffee beans are Mexican. The cocoa is from the Dominican Republic.
Booja-Boojais a truffle specialist and offers a wide range of vegan, organic truffles in many different packages, with pack sizes ranging from 2 to 20 truffles.
You cannot buy truffles directly from the Booja-Booja website. Instead, visit the company's Amazon store or from specialist chocolate shops nationwide.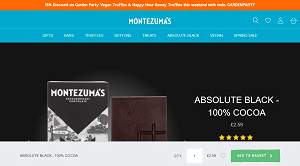 You know that dark chocolate has all kinds of health benefits. This 100% cocoa chocolate bar is the ultimate in healthy chocolate. No sugar, no milk, and no GM ingredients. No palm oil, no soy, and no colourings or flavours. JUST 100% cocoa mass.
Aimed at the true chocolate connoisseur, so this isn't for everyone.
Treat it as medicinal and lock it away from children. Test your willpower – Hide your Montezuma's Absolute Black dark chocolate bar away and treat yourself to one square a day (As if!)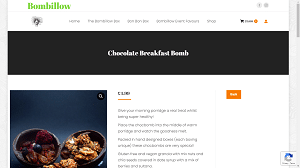 Who said you couldn't eat chocolate before 11am?
If you have ever been tempted to add chocolate to your porridge, this is the product you need. ChocbombsfromBombillow are sold in single packs. Each chocbomb is about 4cm in diameter and is stuffed full of dried fruit and gluten-free, vegan granola.
Imagine a Chocbomb in your breakfast bowl of porridge – The chocolate casing slowly melting and the contents spilling out. "Mum, what have you got in YOUR porridge? I want one."
Chocolates from Northern Ireland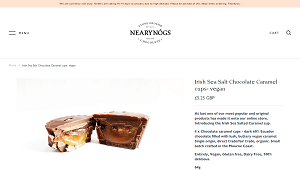 These salted caramel cups are crafted by NearyNógson the Mourne coast of Northern Ireland.
Irish seasalt perfectly complements the dairy-free, vegan caramel, and hand-made chocolate. You will want more than one, so they are sold in packs of 4 x 16g cups – perfect for sharing. Think Rolos®, but 4x bigger, thicker chocolate, and much better all round. You can't fit four of these in your mouth at a time! Rather they are designed to be eaten slowly and savoured by people who know their chocolate.
These hand-made bonbons are made in a kitchen, not a factory.
North Coast Chocolates offer many intriguing flavours. From home-grown rhubarb and spiced ginger toJawbox small-batch Belfast gin and lime jelly. The company is proud of its links to local, Northern Ireland suppliers. Local speciality food producers such as Taste Joy artisan peanut butter and Mussenden sea salt help North Coast Chocolates produce truly unique flavours.
This tasting box gives you their most popular flavours. You can then order more of your favourites.
Scottish Chocolate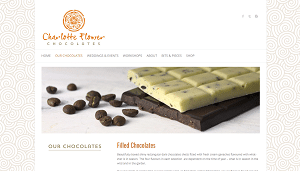 Filled lime and ginger chocolates from Charlotte Flower. This is just one of the stunning range of chocolates from this Loch Tay in Perthshire.
Seasonal flavours include smoked sea salt, Scots Pine, and elderflower. It all depends on what flowers and fruits are available locally. The ganache filling uses fresh double cream in our kitchen, so be sure to eat these speciality Scottish chocolates within two weeks.
All Charlotte Flower chocolates are made by hand and use couverture chocolate made from 70% cocoa sourced in Venezuela, Columbia, Panama, or Madagascar.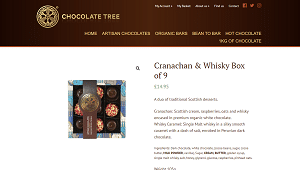 X-Rated chocolates from Dunbar, Lothian.A box of nine Cranachan& Whisky chocolates.
Cranachan chocolates contain a blend of Scottish cream, raspberries, oats, and whisky in an organic white chocolate case. The whisky chocolates have a smooth caramel blended with a single malt whisky and a pinch of salt – The caramel is wrapped in Peruvian dark chocolate.
These chocolates make the perfect dessert for a lock-down meal at home for two.Perfect for anyone looking to explore their Scottish heritage.
Welsh Chocolate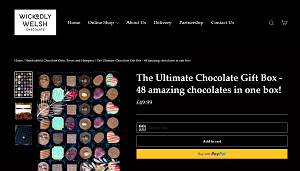 You have just found the perfect birthday present for anyone, male or female – A magnificent chocolate gift box from Wickedly Welsh in Haverfordwest, Pembrokeshire. It contains 12 different chocolates, and 4 of each, making it perfect for sharing.
Forget boring Black Magic™ or Quality Street™. The chocolates are hand-decorated with daffodils, bees, dragons, hearts, and feathers. Each box is a work of art that anyone will be glad to receive.
Flavours include; pralines, raspberry & vodka, mocha coffee, and gingerbread crunch.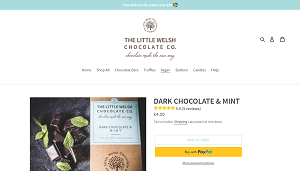 After-dinner mints with a difference from The Little Welsh Chocolate Company. The dark chocolate is a couverture that contains 72% cocoa solids from the Dominican Republic.
The company makes a range of high-quality and unusual flavoured chocolates, including chilli, maple & pecan, and lime & sea salt. All products are free from palm oil and soy products. This confectionery is truly the food the gods would have insisted on.
The Little Welsh Chocolate Company is based in Torfaen, Newport.
Which British Chocolate Will You Try First?
It was difficult to choose one chocolate from each company. Every chocolate maker has untold delights to excite your taste buds. Bookmark this page so you can come back to explore all of these excellent chocolates from every corner of the British Isles. Check out the links to see the entire range that each chocolatier has to offer.
Every one of these chocolates is available by post, even in lockdown.
However, be warned, good chocolate is like good wine. It's something you can get used to very quickly. You will never go back to Cadbury's™.