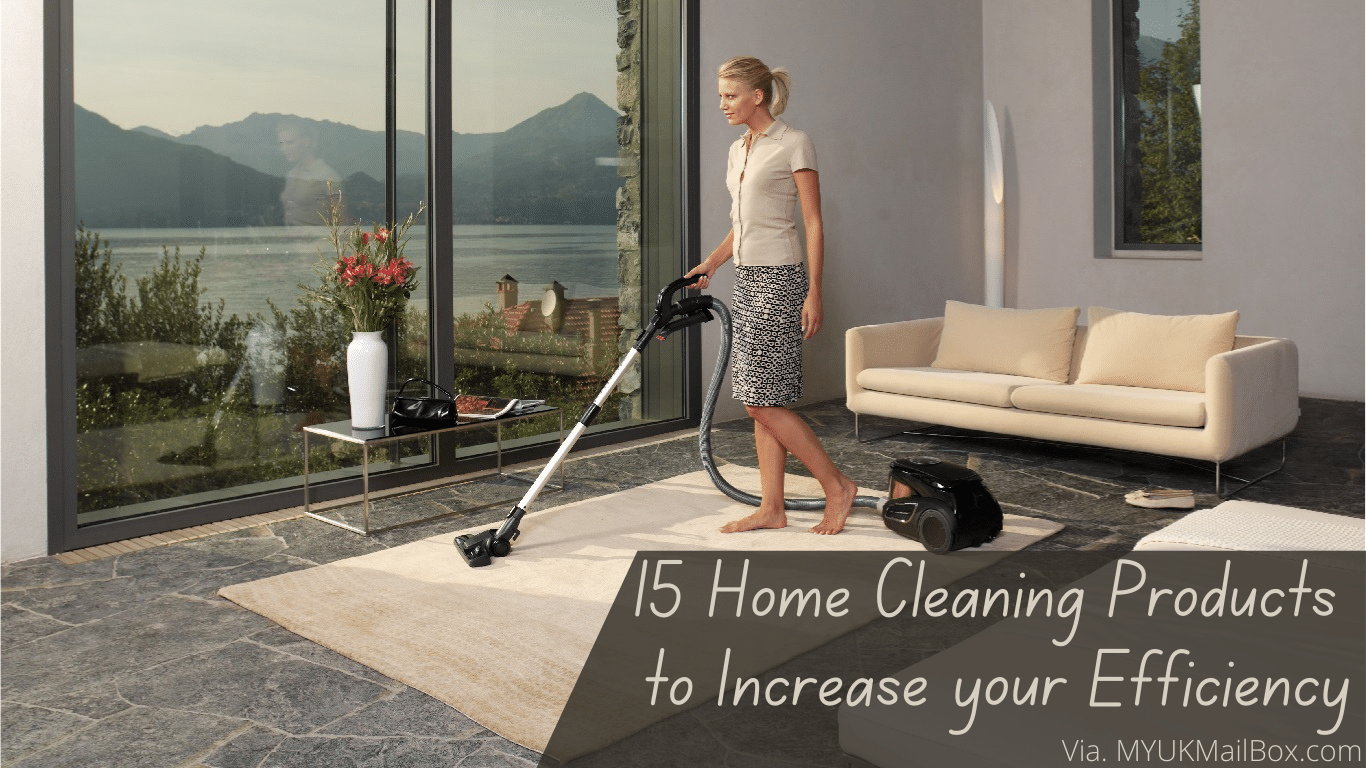 15 Home Cleaning Products to Increase your Efficiency
Home cleaning – Don't you just hate it? It takes time. It absorbs your energy. It stifles your creativity.
Is there a better way? Have you been cleaning the way your Mum used to? The traditional way? It might be time to rethink your approach to household chores. It might be time to make your life easier.
Short cuts aren't the answer. The cleaning still needs to be done, and doing half a job is a total waste of your time and energy.
Luckily for us, there are countless products that will help get the cleaning work done better and faster. We all have vacuum cleaners, washing machines, and fridges. These all revolutionised housework when they were invented.
You might have heard of some of the products listed here, but there will be others you have never thought about.
Progress didn't stop with the floorcloth, or even with the hoover. You can now find products that will help you clean windows, wash the floor, and even clean the toilet more efficiently.
Why wouldn't you buy a better mop? Who wouldn't want a more hygienic loo brush? Why would you lean out of bedroom windows to clean them?
Here are 15 home cleaning products you will love:
1. Spray Mop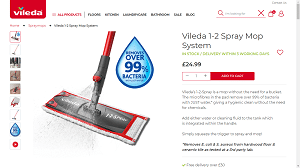 A 21st Century mop is an essential in your arsenal of house cleaning tools. MUCH less unpleasant to use than an old-fashioned one where you have to wring out the mop by hand – Yuk!
A modern mop removes bacteria as well as wetting the floor. There is no wringing out the head because it is only ever damp. A spray mop has a built-in reservoir in the handle and a sprayer that lets you squirt water or floor cleaner a few inches in front of the microfibre mop head.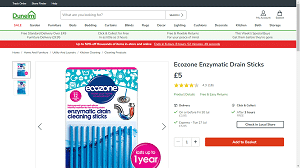 Q. What's better than an unblocked sink?
A. A sink that never blocks again.
These biodegradable sticks release enzymes that break up soap and food waste. No solids in your U-bend mean no more blocked sinks. No solids slowly rotting away below your plug hole means no more nasty smells.
No tools needed. Just poke a stick down the plughole. It won't go round the bend in the pipe, so it stays there and breaks down any solids that would otherwise block your sink.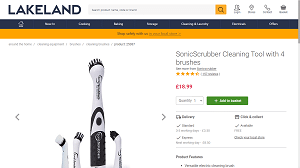 Imagine an electric toothbrush for grime and stains.
When you scrub at a stain using a nail brush, the bristles might rub on the dirty patch 150 times a minute. With a sonic cleaning brush, the bristles in the head rub the stain 10,000 times a minute.
Make light work of cleaning around sinks and taps. These battery-powered brushes come with multiple heads so you can use them on soft furniture as well as hard surfaces. The cone-shaped head is perfect for tight corners and crevices.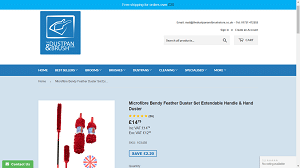 How DO you get to high surfaces to remove the dust they inevitably attract? A microfibre duster with an extendable handle would make dusting door tops, curtain rails, and high shelves much easier.
Traditional dusters generate static so the surfaces you clean immediately attract dust again. Microfibre dusters are anti-static, so you don't get this problem.
This duster can be bent to a right-angle to make dusting awkward spots even easier. You also get a handy little duster for tight spaces. Washing the dusters is simple – Open the washer door and throw them in.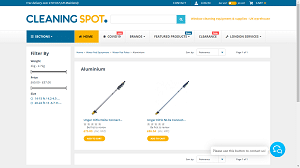 When was the last time a window cleaner knocked on your door? Insurance costs killed off window cleaning businesses. You have to clean your own windows nowadays.
Many of us don't like ladders. No problem if you buy an extendable window cleaning pole in aluminium or carbon fibre.
It is best to look for a pole that has a water feeding system, especially for upstairs windows. All poles come with a range of optional extras that include angled adapters, extra extension poles, and various connectors.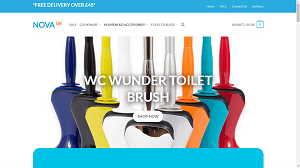 You KNOW how revolting a toilet brush is after just one use. Who wouldn't want a replacement toilet cleaning tool that didn't trap used toilet paper in its bristles?
This hygienic toilet "brush" has no bristles. It uses a flexible silicone pad to remove stains. The silicone has anti-bacterial properties, too. It has an extra-long handle, comes with a stylish holder, AND comes in ten different colours, including gold, turquoise, orange, and red.
No need to replace revolting old-fashioned toilet brushes anymore. These brushes last up to ten years.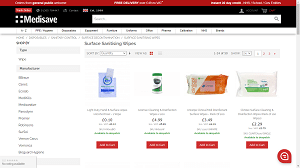 Door handles are covered in bacteria and viruses. They are filthy, yet we all have to use them. Cleaning them with bleach is a real pain. These sanitising wipes make the job quick and easy. No chlorine smell, no need to rinse after cleaning them; they are the perfect solution for germ-free handles and surfaces.
Use your sanitising wipes on banisters and handrails. Use them on drawer handles. Use them on toys. Even use them in the car for sanitising handles, switches, and steering wheel.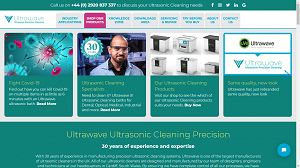 UItrasonic sound waves remove all oils and solids from dentures, glasses, hairbrushes, and ornaments – Anything that can be soaked in the cleaning solution without damage comes out 100% clean in just a few minutes.
You won't believe how well you can see through your glasses after they have been blasted with ultrasound waves. No more endless rubbing with washing up liquid, rinsing, and drying with a lint-free cloth. Just drop it in, switch it on and wait 10 minutes – Job done.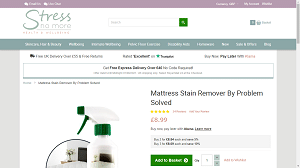 Buying this mattress stain remover spray could save you thousands of pounds in replacing mattress costs.
Are you ashamed about your stained mattresses? Accidents happen in every family. Mattresses are expensive and cleaning them is difficult. This pump-action spray is the job.
No scrubbing you just spray it onto the dry mattress, leave it to dry, and brush off any residue. What could be easier than that? The spray works on vomit, urine, blood, faeces, and other stains. It even works on old, dried-in stains!
10. Fabric Whitener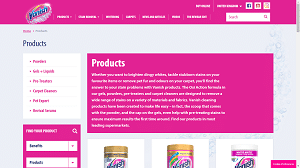 How DO you keep white tee shirts and tops white? Bleach is a no-no. Boil washes are a thing of the past.
Use Vanish instead. It really lightens your laundry load.
Vanish has a whole range of products. Some are designed for spot treatment of stains, others you can use in your washing machine.
There are Vanish products for colours, too. You can even use Vanish sprays on trainers to restore your teen's pride and joy to an as-new appearance.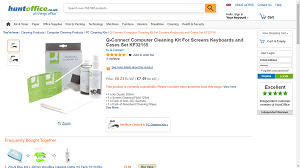 Q. What's the dirtiest thing in your living room?
A. Your computer equipment.
When you cough or sneeze, droplets end up all over the controllers, keyboard, and screen.
Cleaning them is essential but tedious unless you have the right tools.
A keyboard and screen cleaning kit includes a spray to remove all those cough stains from your screen. It also has wipes specially designed for keyboards and controllers, and a can of compressed air (an air duster) for getting all the dirt that always ends up in the nooks and crannies of your keyboard.
12. Radiator Duster
Radiators were designed by someone who never had to clean behind them!
Eventually, they invented a radiator duster, and it's something every household needs.
This radiator cleaning tool attracts and holds dust and hair because it is made from netted yarn. It is incredibly flexible and lets you clean in all those impossible-to-reach bathroom fans, pelmets, and awkward corners.
To clean it, just wipe with a damp cloth and run it through your hands when it is dry to restore the brush's anti-static properties.
13. Steam Mop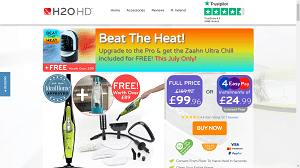 Are you cleaning your bathroom and kitchen floors the hard way?
A steam mop would help you do the work faster and more efficiently. No harmful cleaning liquids. No bleach smell. Just use steam to zap those bacteria and stains. Steam kills salmonella, listeria, and E.coli. The steam also destroys viruses like influenza.
You can convert this steam mop into a hand-held steam cleaner for sterilising work surfaces, cooker hobs, and window frames. It is powerful, lightweight, and easy to use.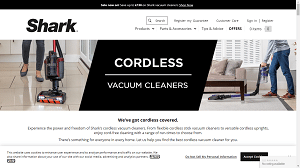 Cordless vacuum cleaners have come a long way in the past few years.
The cordless vacuums in the Shark range are powerful and the charge will last for up to two hours -Plenty long enough to clean your whole house.
Do you have problems with long hair tangling your cleaner brushes? Shark's brushes are designed to avoid that.
Forget lugging a 10Kg hoover up the stairs, balancing it with your foot to stop it from falling down. Forget mains cables that tangle and get caught up in chair legs.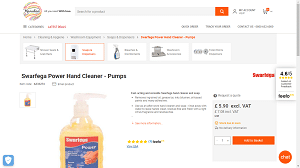 Preventing greasy finger marks will save you hours of cleaning them off afterward. Persuading your dirt-loving family members to wash their hands properly is easier if you give them Swarefega intensive hand cleaner.
It works even on ingrained black grease stains and on many adhesives. If you have been using washing-up liquid or soap, you will be pleasantly surprised by how much better Swarfega works.
Gone are the days of greasy Swarfega tins full of green gloop. It now comes in pump-action dispensers. Much easier to use
Housework takes time. There is no getting around that. Your time is precious, so think about ways to regain some of the hours you spend doing the same chores every day.
A few small investments could save you hours every week. You can buy products that will let you get the jobs done better and more quickly.
A few pounds spent on modern home cleaning tools could mean you have time to breathe. You would have time to meet friends. You would have time to do nothing. You could even find time to read a book!