21 UK Stores for Buying Car Parts Online
Regular maintenance is imperative to keep your car looking and running great. Spark plugs, oil changes and tire replacements are just a few items that need to be changed on a regular basis. If you're feeling especially adventurous, you may decide to buy some cool headlights, custom seat covers and other nifty accessories to make your ride a true one of a kind.
The good news is you can shop for car parts right from the comfort of your own home without ever venturing out to brick and mortar stores!
Here's a look at 21 UK stores for buying car parts online and a brief overview of what each one has to offer.
Buy Car Parts UK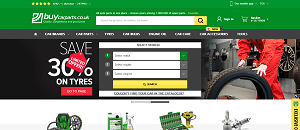 Buy Car Parks UK has an impressive selection of a half million parts in stock for both popular and obscure makes of cars. They offer free shipping on UK orders over £140 plus frequent discounts on select products, which you will find on the banner ads on the Buy Car Parts UK website.
Euro Car Parts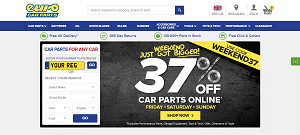 Euro Car Parts is neat in that it has a Clearance section where you can find great discounts on discontinued products. Euro Car Parts also offers free shipping, free Click and Collect as well as a free next day delivery service on select orders. They usually have coupon codes on the website good for an additional percentage off featured items so be sure to look for those when you go.
Online Car Parts UK

Online Car Parts UK stocks one million parts at all times and caters to nearly ever make of car imagineable. They offer free shipping on orders of £140 or more.
Car Parts 4 Less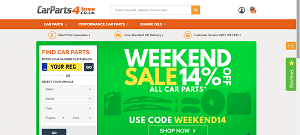 Car Parts 4 Less is a great place to shop for car parts online in the UK because they offer a variety of coupon codes all the time. These coupons are good for up to £15 off your purchase. Car Parts 4 Less also offers free delivery on all orders and a very affordable next day delivery service for just £3.95.
Auto Parts UK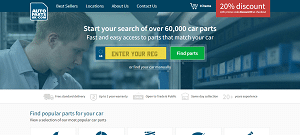 Auto Parts UK is another option for online auto parts shopping in the UK. They offer 20% off any purchase using the coupon code on their website. You can also sign up for the Auto Parts UK email list to have special offers sent to your inbox as they become available.
Amazon UK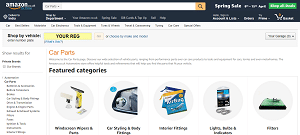 Amazon UK also sells car parts, but mostly accessories for enhancing your ride. All the Amazon UK car parts are eligible for free shipping with Amazon Prime so if you subscribe to that service, free shipping is always a great perk! Be sure to look for any Amazon UK coupon codes that can be applied to your order before you shop, to ensure the most savings.
Best Part Store

Best Part Store also offers free shipping on orders of £140 or more. They have 500,000 parts in their inventory so there is a good chance you will find the part you're looking for at Best Part Store!
Spare Part Store 24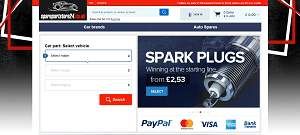 Spare Part Store 24 boasts one million car parts in its inventory – from over 150 premium brands for close to 6,000 car models. They also offer free shipping on orders of £140 or more so keep that in mind, if you are in the market for several parts. Making one large order of them will help save on shipping fees.
Caar Parts
Caar Parts has an online storefront where you can place your parts order online and pick it up at one of more than 300 stores across the UK. Be sure to sign up for the Caar Parts email list to have coupons and special offers sent to your inbox as they become available.
Buy Car Spares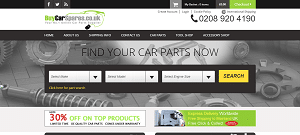 Buy Car Spares usually has a good sale going on, on their website. They also frequently send out discount vouchers via email so be sure to sign up for that when you visit. Buy Car Spares offers free shipping to the UK mainland as well as a free Click and Collect service on most orders for your convenience.
Halfords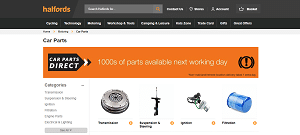 Halfords offers free delivery on orders over £30 and a flat rate shipping fee of just £2.99 on lesser orders. They also offer next day delivery for a cheap price as well. Halfords has a Price Drop section with some super discounts on featured products so be sure to look their when you shop, for the most savings.
ASM Auto Recycling
ASM Auto Recycling offers used and refurbished parts for sale. All the parts they sell come with a 90 day guarantee and are cleaned and tested before they are sold to ensure performance. ASM Auto Recycling also offers next day delivery service on most orders.
GSF Car Parts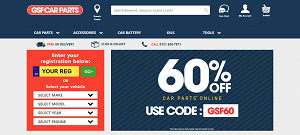 GSF Car Parts has a wide selection of car parts for any make and model vehicle. You can usually find coupon codes on their website that are good for a percentage off select products. GSF Car Parts also provides free UK delivery and a free Click and Collect service as well. Be sure to sign up for their email list to receive a coupon code good for 30% off your next purchase.
Micks Garage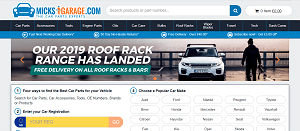 Micks Garage is one of the only online car parts retailer in the UK that provides personal advice to their clients. They also have a 30 day no hassle return policy, free delivery options and a library of helpful car repair and product videos as well.
Ebay UK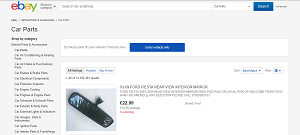 Just like anything else you're looking for, you can also find car parts on Ebay. Usually they are listed as "Buy It Now", but sometimes you can find auction items as well. Ebay car parts may also come with free shipping so check the listings before you buy.
Hills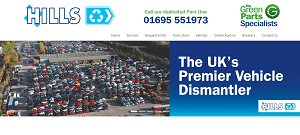 Hills is another recycled car part option for those looking to save a bit of money. They also stock a large selection of recycled motor bike parts as well. Hills also has an auto recycling program where they will buy your old cars for cash to get them out of your way.
Mister Auto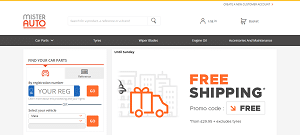 Mister Auto is a popular choice for auto parts in the UK. They have weekly specials and lots of Buy One Get One Free deals, too. Mister Auto provides free delivery on orders over £50 and a 15 day money back guarantee on anything they sell. Be sure to sign up for their email list to have special offers and coupons sent to your inbox as they become available.
Parts Gateway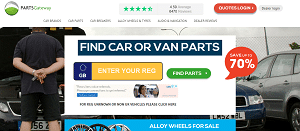 Parts Gateway has more than 750,000 parts for cars, vans and 4x4s in their database. Pick up or free delivery is available from more than 160 locations across the UK and their prices are advertised as being 70% below retail.
Livingston Auto Parts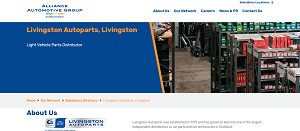 Livingston Auto Parts has a huge database that is easy to search so that it makes finding the part you need quick and painless. They have a nominal delivery fee of £5.95 on most orders, but some orders ship for free via select parcel carriers.
Nyanza
Nyanza is a good place to shop if you're looking for car accessories or car audio products in the UK. They have been in business for 30 years and have a trusted reputation among their clients. Be sure to check their social media pages for specials and sale announcements.
My Tyres
If it is just tyres you're looking for, My Tyres is the place to shop. They have the largest selection of tyres anywhere in the UK online and cater to hard to find sizes. My Tyres offers free shipping with the purchase of 2 or more tyres, a 30 day return policy and 24 hour customer service center to answer your questions.