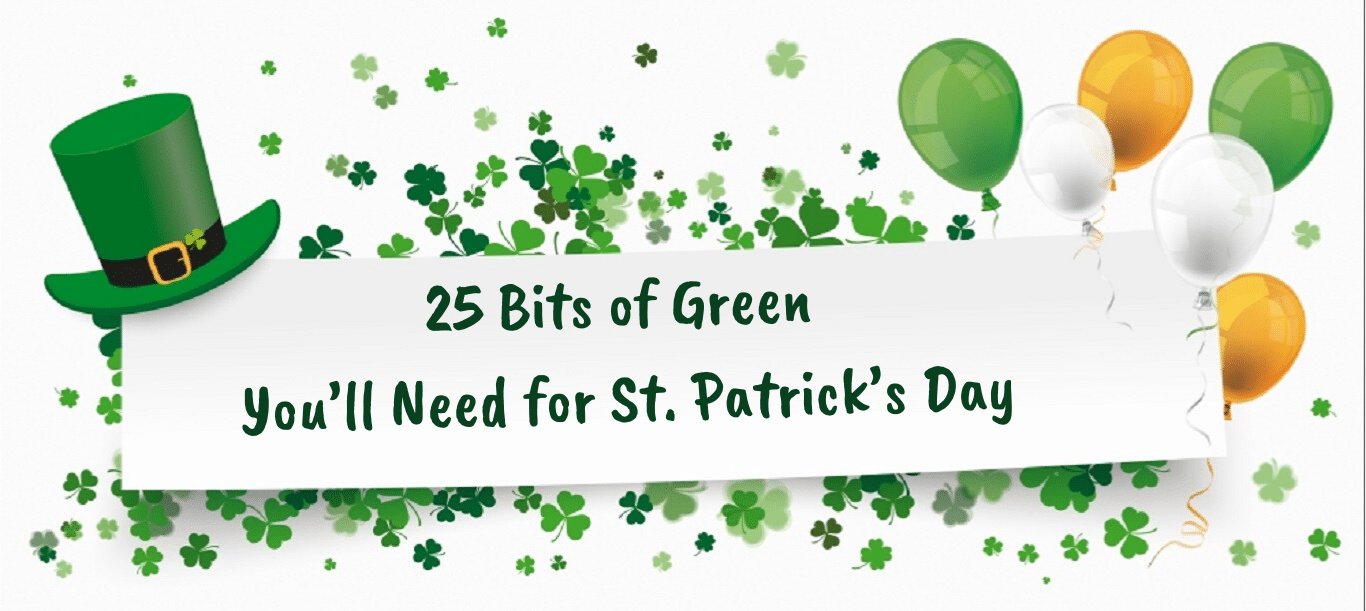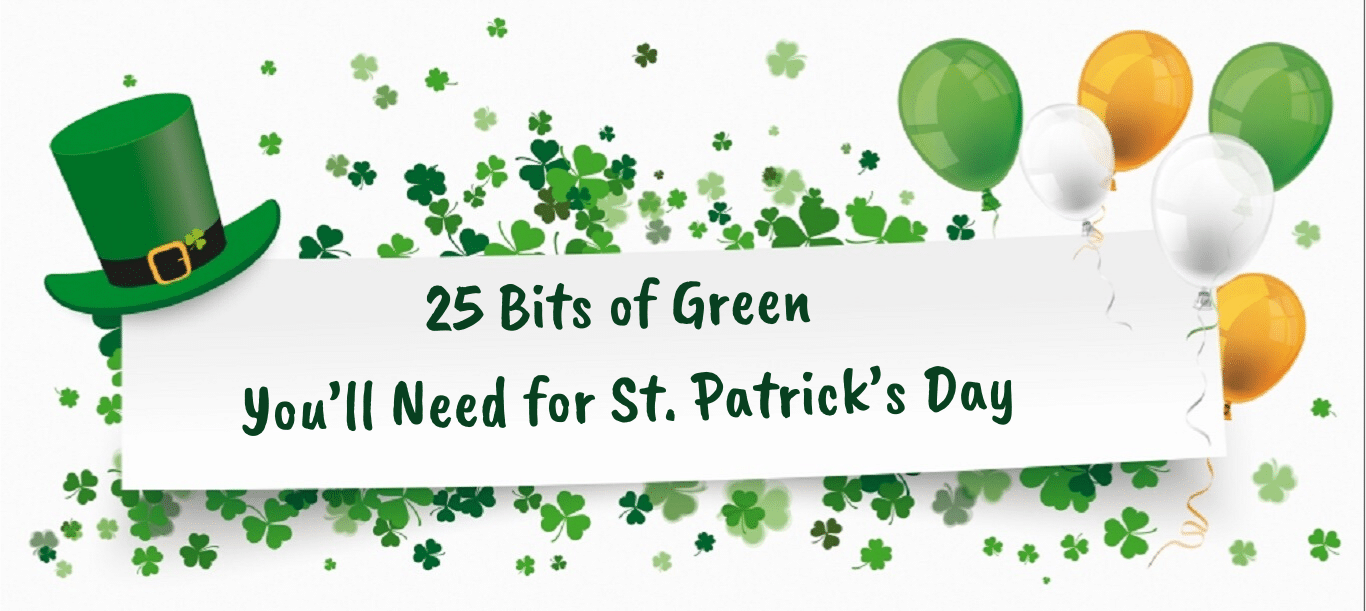 25 Bits of Green You'll Need for St. Patrick's Day
March 17.
St. Patrick's Day.
Do you have your green planned for that day? After all, if you fail to wear green on St. Patrick's Day you can expect a pinch!
Some people like to find fun shirts or wardrobe items that are completely dedicated to the theme of the day. Others prefer to be more subtle in their celebration of the big holiday. Some want items of green they can work into their regular wardrobe. Others like a bright green t-shirt they can use every year on this one special day.
Whether you're looking for a bit of green to wear discreetly to the office or if you'd prefer to go all in for an all-day celebration with buddies, you can find plenty of options for green fun this holiday.
Looking for ideas? Check out our favorite 25 bits of green below.
Green visor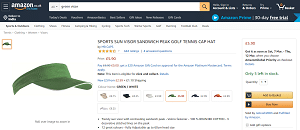 Heading out for St. Patrick's Day? You don't need to worry about the sun getting in your eyes if you're sporting a nifty green visor. Of course, if you're also working in the sun, your bit of green will protect you from the sun and keep you in style on March 17.
Green novelty T-shirt
There are countless novelty T-shirts for St. Patrick's Day out there. Some are fun and innocent, and others are bit more sassy and perhaps more for an adults only event. Find a fun novelty T-shirt for children or a naughty one for you and you'll be ready for a bit of Irish fun.
Green polo shirt
Want to look sharp at work but still show your Irish spirit? A classic green polo style shirt is a great addition to your work wardrobe any day of the year, but especially on St. Patrick's Day.
Green socks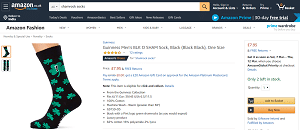 Sure you can wear traditional, boring dress socks. But why would you? You can put together a professional looking outfit, even a suit, but still enjoy the spirit of the holiday by sporting some bright green socks or even some shamrock socks.
Green pajama pants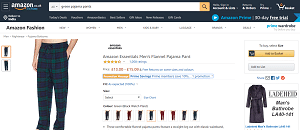 St. Patrick's Day leads right into St. Patrick's night, and that means you always have a need for some pajama pants, especially if they are covered with leprechauns or perhaps some shamrocks for St. Patrick's Day.
Green drinking hat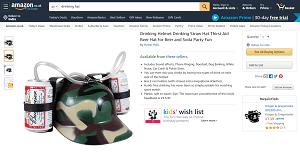 Drinking like an Irishman on St. Patrick's Day? Get yourself a drinking hat specially designed for a couple of beverages at the same time. It's a novelty bit of fun you can enjoy at a party with friends. Who knows, you might love it enough to pull it out for other parties throughout the year.
Green slides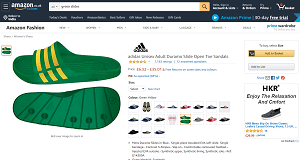 Slides are comfortable and fashionable. You can wear some stylish green slides for St. Patrick's Day and enjoy your regular athletic gear and socks without missing your spot of green. Slide them on in the morning and slide them off at night and never worry about shoelaces in between.
Green hair dye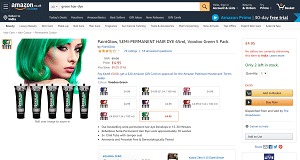 Really looking for something fun and different this St. Patrick's Day and not afraid to take things up a notch? Grab some green hair dye and you can add some streaks to your locks for the big day. Not ready for even a temporary hair dye? You can find green hair extensions as well.
Green scarf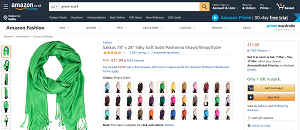 It's still cold in many places in March which makes it easy to grab a bit of warm gear in just the right color. A green scarf is the perfect accessory for St. Patrick's Day if you're heading out for any length of time and you want to add just a pop of color to your normal wardrobe.
Green jacket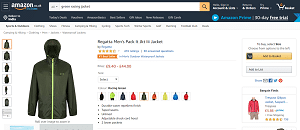 Kelly green is a classic racing color and it's also a perfect fit for St. Patrick's Day. You might not be able to afford a new green car, but you can at least grab a green racing jacket or perhaps a classic windbreaker to wear on St. Patrick's Day or other brisk days during the year.
Green suit
It's a big statement perfect for showing your spirit in a big way. A full suit of green is just what you need if you're looking to be the center of attention at whatever event you're heading to this St. Patrick's Day.
Green lapel pin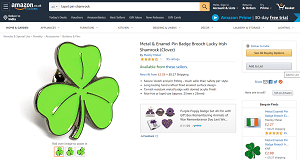 Not ready for the big suit of green, but want to enjoy something tasteful on your classic suit? A lapel pin is an easy statement to make for St. Patrick's Day. Simply add a bit of green with a classic shamrock lapel pin to your suit and then store it away with your cuff links and other lapel pins for next year's St. Patrick's Day.
Green tie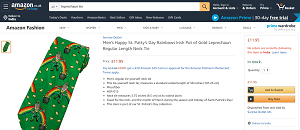 If you're in a career where you have to wear a tie every day, you can add a new green Leprechaun tie to your collection. Grab a bit of green with your neckwear and you don't have to worry about getting pinched or being out of dress code at work.
Green crop top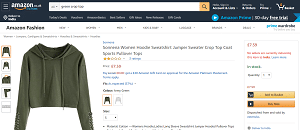 heading out for a casual afternoon or perhaps a kick back with friends? A green crop top paired with leggings or jeans is an easy look to put together without doing anything beyond what you're already doing with your fashion and styles.
Green costume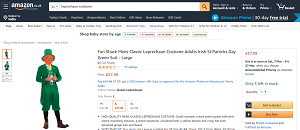 Why wear tiny leprechauns when you can become a giant one? Enjoy truly immersing yourself in the St. Patrick's Day spirit by ordering a full blown St. Patrick's Day costume to wear to a party or any sort of gathering you might be attending this season.
Green beanie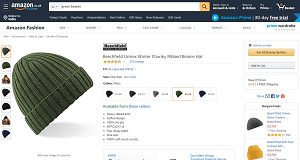 Enjoy a laid back style? You can enjoy it a bit longer by sporting a green beanie. Order yourself an inexpensive green beanie and you can throw it in the drawer with your other favorite hats. Then, when you're choosing the right headwear for the holiday, you can pull on your green beanie and head out the door.
Green hat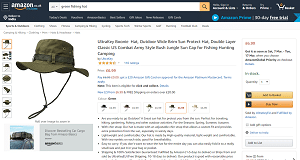 It's fun, it's easy and it's a fun bit of green to wear if you're dressing up. Sure, you can get a bright green party hat for St. Patrick's Day. Or, if you'd like to wear some green for St. Patrick's Day but also enjoy your new hat for other seasons or events, grab a green fishing hat, a green hiking hat, or a green ball cap and you're all set.
Green tie-dye shirts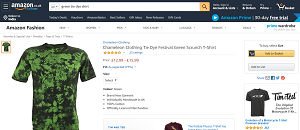 Tie-dye is fun and casual. Sure, you can make it yourself if you're trying to do some crafts, but if you don't have time to create your own green tie-dye shirts, you can order yourself a new one online and have it shipped right to you.
Green purse or wristlet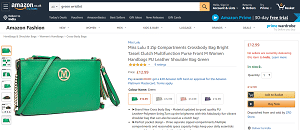 If you're heading out for a fun evening event and don't want to worry about carrying in your bag, you can simplify what you're holding with a green crossbody bag or perhaps just a small wristlet. Stash your phone and your keys in the wristlet and you're ready for a night of fun.
Green eyeshadow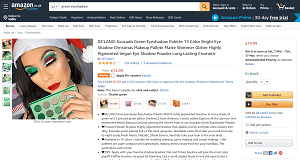 It's subtle and right in line with fun make-up styles and palettes. You can snag some green eyeshadow in its own container or grab a palette that has a bit of green. Then, for St. Patrick's Day you can sport your green eyeshadow in your normal make-up routine and you're all set for the big day.
Green hair bows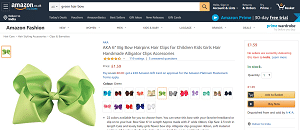 Have a little girl who is looking for the perfect St. Patrick's Day accessory? You can grab her a bright green hair bow to wear on St. Patrick's Day. Pair the green bow with a neutral outfit or pair it with a bit of green on a shirt or dress to bring a full look together.
Green leggings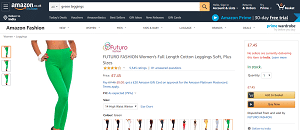 Easy to wear and comfortable if you're having a casual day on St. Patrick's Day. Green leggings are easy to wear out and about or when you're hanging out at home watching your shows or bustling around the house.
Green slippers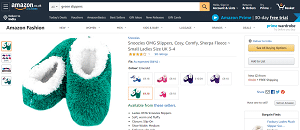 Keep your feet warm with a pair of green slippers. It's hard to have too many slippers, especially if you find some warm and comfortable ones to wear on a daily basis. If your slippers just happen to be bright green, you're perfectly set for St. Patrick's Day.
Green scrunchie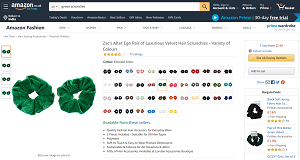 Scrunchies are back in style and you're in the right season to grab a new green one to dress up your fashions and also keep your hair out of your eyes. Of course, you don't actually have to wear the scrunchie. You can keep it on your wrist in case you need it and still be wearing your bit of green.
Green dress

Looking to dress up a bit? A green dress is easy to slip on for work or a special event. Pull together a classic style with a green dress and some neutral accessories and you'll be all set for St. Patrick's Day.
However you celebrate St. Patrick's Day, you will need a bit of green to work into your wardrobe. Go big or go with a more discrete option. Just be sure you find a way to truly enjoy what this fun, low-key holiday has to offer in the way of friends and fellowship.