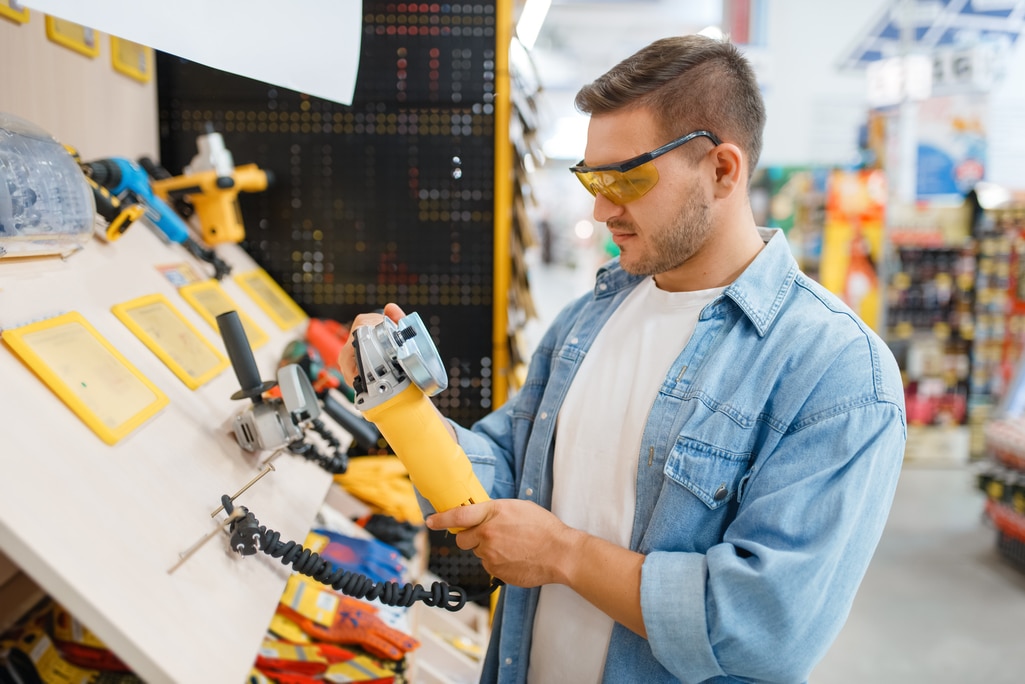 Home Improvements Made Easy: The Best UK DIY Stores?
Do-it-Yourself retail stores are just as essential to our way of life as food and drink are. And while you might think that's an outrageous statement, think about it. 
Without DIY stores, we wouldn't have:
– Nuts
– Bolts
– Tools
– Bulbs
– Paint
– Wood
– Bathroom suites
Plus, the million other things we barely give a second thought in our daily life.
And while DIY stores are global, some of the best are based in the UK.
With that in mind, if you're thinking about doing a bit of home improvement, we've compiled a list of the best UK DIY stores for you to consider.
The 7 Best UK DIY Stores
If you're ready to don your toolbelt and stock up your toolbox with some pretty cool stuff, check out our list of the seven best UK DIY stores:
1. Screwfix
Screwfix is the UK's leading retailer of DIY and trade tools, as awarded by the prestigious Which? Magazine – and it's hard to disagree.
There are over 700 stores across the UK and Northern Ireland, stocking premium and standard items for your toolbelt and toolbox. They also stock electricals, bathroom and kitchen products and everything else you'll need, including nuts, bolts, screws and shelving for that home improvement job.
If you have to choose one of our seven, Screwfix is the one.
2. Toolstation
Toolstation, as you'd expect from the name, sells tools. Thousands of them. Making it the ideal place to look if you're after a new hammer, drill or wood planer (you'll get pretty much anything you want here.
And their extensive tool range would be enough alone, except it's not all they do.
They also sell plumbing, electricals, screws, fixtures and fittings too.
There are over 25,000 products in their range.
It's just one of the reasons why it's Which? Magazines second most recommended UK DIY stores. Oh, and they also had one heck of a catchy advert to the tune of the 'Hokey Cokey' (the 'Hokey Pokey' for US readers).
You'll find it on YouTube.
Honestly, you won't regret watching it.
3. Brewers
Unlike other stores on our lists, Brewers is a decorating centre, specialising in everything from paint, brushes and wallpaper to woodcare, fillers and sealants. They supply tools and hardware but have more to do with decorating, so you'll find scrapers and caulking guns rather than electric power drills.
But hey, who said DIY was all about drills and screws, right?
It's also third on the list of most recommended UK DIY stores according to Which? Magazine, which is a massive achievement considering it's much smaller than Screwfix and Toolstation, with only 195 stores across the UK.
It might be small, but it's incredibly mighty.
4. B&Q
The most recognisable name on our list, even if you live outside the UK, is B&Q. With in-your-face orange branding and over 300 stores nationwide, it's a household name both at home and internationally.
Selling everything from power tools, lighting and fireplaces to homeware, gardening equipment, bathroom tiles, doors and even Christmas trees during the festive period, B&Q straddles all areas of the home and garden.
If you're looking to work on all areas – inside and out – B&Q is the place to go.
5. Wickes
Following closely behind B&Q is Wickes, who also supply a broad range of products for the home and garden. There isn't much to separate these two home improvement giants in terms of stock and prices.
Really, it all comes down to what you're looking for and which store between Wickes and B&Q have what you need.
Even in the Which? Magazine survey, there's not much between the two ratings. But if you need help making a choice, Wickes beat B&Q in customer satisfaction by 1%.
And that 1% might make all the difference.
6. Argos
Argos isn't strictly a DIY store, but it does sell oodles of DIY stuff. However, what's great about Argos is that it sells everything from homeware and garden wear to toys and games.
Yes, home improvement might be top of your list, but if you can get what you want and pick up something fun for you or the kids while you're there, then Argos has everything you need in one place.
7. Wilko
The biggest surprise on our list is Wilko. And it is certainly a surprise on the Which? list too, placing higher than B&Q on their most recommended UK DIY stores.
Why?
We're not sure, but if you're looking for a budget range of goods, Wilko is for you.
You'll find loads of home improvement products online, but you can also pick up food, clothing, games, books – and a ton of other goodies too.
It's kind of a one-stop shop for everything.
And while you won't get the same amount or quality of goods as some of the larger DIY websites, there's something here if you just want some basic equipment to get the job done.
Want more great UK DIY stores?
If the best UK DIY stores listed above aren't enough, there are more for you to choose from, including:
– Dulux Decorator Centre: for supreme quality painting and decorating equipment, however, value for money wise, it scores quite low on the Which? list.

– B&M Stores: ideal for budget painting equipment and homeware, including curtains and rugs. It scores the same as Argos in customer satisfaction, but its range of products is much lower than most.

– The Range: while you can pick up a fair amount of DIY tools here, their main focus is on furniture for the home and garden. Even so, it's not a bad option for basic tools.
– AmazonUK: no list would be complete without Amazon. You can get anything you can think of (well, almost) and quite a lot of DIY stuff you won't get anywhere else.
Buy from the best UK DIY stores and ship them with myUKmailbox.
Live in a country that UK DIY stores don't ship to?
Then you'll need a package consolidation service – like us.
At myUKmailbox, we provide international shipping from vendors who won't deliver outside the UK. With our parcel forwarding service, you can buy all the home improvement stuff you need (except prohibited items, such as IE flammable or corrosive materials, oil-based paints, Turps, etc.) and receive them all in one go, wherever you are in the world.
Sign up for myUKmailbox for FREE today and take advantage of the reliable and cost-effective UK parcel forwarding and consolidation service.