How To Shop Online For A Mattress In The UK
Did you know that your mattress was only supposed to last ten years?
Did you know that the average mattress is home to about 10 million dust mites?
Did you know that, by the time it is 10 years old, your mattress will have doubled its weight due to dust and dust mites within it?
Did you know that a worn out mattress can be attributed a myriad of health ailments – including back and neck pain, allergies, sleep apnea and snoring?
However, before you go out to buy a new mattress, there are some things you should consider to ensure you get the best mattress for your needs.
Size – Choose a mattress size that is comfortable for both you and your sleeping partner. Maybe one of you is very tall and needs a longer bed. If your bed is too narrow, sleeping can become difficult, too.
Type – There are many types of mattresses on the market today. Memory foam, silicone, inner spring, air mattresses, water mattress and regular cotton mattresses – to name a few. Different styles offer different types of support for various body types, weights and medical issues so do your research before you invest.
Optional Features – There are beds on the market today where the firmness can be adjusted for each side of the bed. Maybe your partner needs a firmer surface while you prefer your side to be soft. Being able to adjust the firmness to suit your needs can alleviate bedtime gripes and many health issues as well.
Complete or Partial Set – If your current bed has a box spring, be sure to check its condition before investing in a complete set of both the mattress and box spring. There is no need to purchase both, if your current box spring is in good shape. Purchasing the pieces separately can often save you money. However, purchasing them together can sometimes be the better deal. Be sure to do your research and compare prices before you buy.
Of course, you can always go make your mattress purchase in store, if you choose. However, you can also buy a mattress online as well. Here are five places where you can buy a mattress online in the UK, along with a brief price comparison from each merchant.
Argos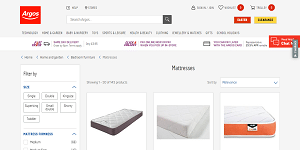 Most UK residents are familiar with Argos and have likely shopped there several times before. Argos also sells mattresses – which you can order online for free delivery to your home or via their Click and Collect service at any Argos location. Super king mattresses at Argos range in price between £275 and £2200 while single size mattresses are priced between £75 and £1300.
Mattressman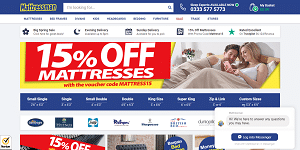 Mattressman is a UK merchant that is dedicated to mattress sales for private and commercial needs. They offer free next day delivery in the UK, have flexible payment terms for financing and they also accept various forms of payment, including PayPal. Prices at Mattressman range from £59-£759 for a single size to £235-£2400.
Dreams UK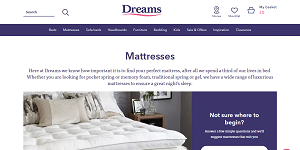 Along with mattresses, Dreams UK also sells headboards, bedding and complete beds as well. They offer free delivery on select products as well as optional paid services like mattress disposal for your old bedding. Prices at Dreams UK vary a great deal, depending on the size and style of mattress you are shopping for. Be sure to check out their latest sale offers to ensure you get the best deal when you shop.
MattressOnline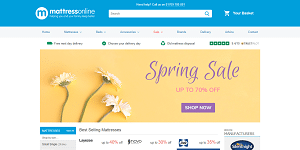 MattressOnline advertises their prices as being up to 70% off retail. They do have "Sale" section where you can find some pretty great deals and they also offer free delivery as well. You can also opt to have MattressOnline dispose of your old mattress for a small fee. Prices for a single size mattress at MattressOnline range between £75 and £1200 while super king size mattresses at MattressOnline range between £165 and £1800.
Hamseys
Hamseys is a widely known mattress vendor serving many areas of the UK. They offer free delivery on purchases over £1000, but charge a nominal delivery free of £25 for lesser orders. Hamseys also sells complete beds and other furnishings as well. Prices for a single size mattress at Hamseys range between £50 and £700 while super king mattresses at Hamseys range between £175 and £1400.