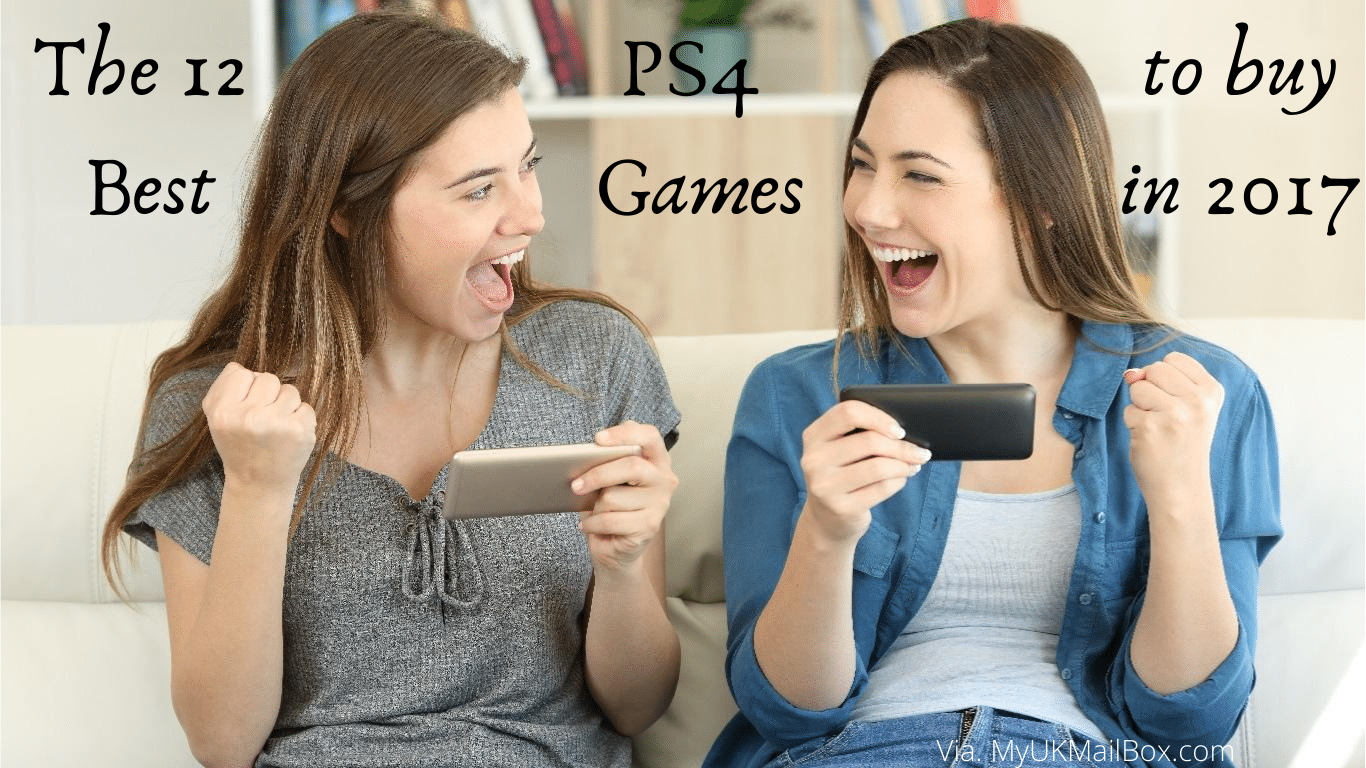 The 12 Best PS4 Games to buy in 2017
The latest incarnation, the PS4, with its HD graphic, network gaming capability and 1 Terabyte hard drive has outsold its nearest competitor by more than 2 to 1, with worldwide sales of over 40 million, worth $18 Billion.
So loads of people have a PS4, and with more than 200 disc titles to pick from we thought we would give you a flavour of some of the best games available for the PS4 in 2017, all for you to enjoy.
Happy Gaming!
1. Resident Evil 7: Biohazard. £14.81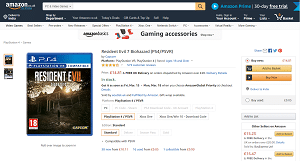 The latest incarnation of the original survival horror experience, a franchise that enjoys a huge worldwide following.
This version of the game is set in Davey, Louisiana and follows Ethan Winters who searches for his wife Mia.
The gamer is introduced to the strange Baker family, Marguerite and Jack who must be fought with in the quest.
For the first time in this title the gamer experiences the action from a first person perspective.
A truly awe inspiring horror experience for the committed survival horror fan it is also VR compatible for owners of the PSVR console.
2. Horizon: Zero Dawn. £29.99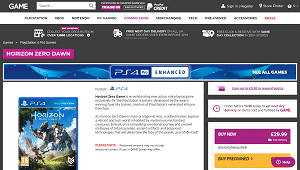 This is a brilliant Open World 3rd Person Action Role Playing game, currently exclusive to the PS4.
The player takes the role of the hero, Aloy, a skillful hunter, who makes his way through a range of different terrains, both in daylight and darkness.
During his quest Aloy a variety of ranged weapons and stealth to fight of mechanical creatures who try to thwart his progress.
Techniques such as parkour and zip wires are employed to navigate the planet as you pick your way through the landscape and Open World fans will love this.
3. Call Of Duty; WWll. £16.99
Be one of the earliest adopters of the latest version in this famous action shooter franchise.
Playing as a young and inexperience Private Daniels you are at the heart of the action as you move through various missions, from the D-Day Landings to the brutal Battle of The Bulge in the cold winter of the Ardennes Forest.
There is even a secret mission in which you find yourself playing a girl in the French Resistance.
The developers have really told an accurate story featuring real and gritty historical events.
All COD fans,as well as newbies will love this game.
4. Fifa 18. £17.46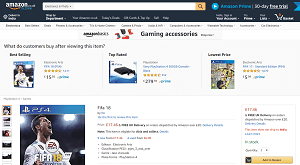 No serious games listing compilation would be complete without the latest edition of the ever popular Fifa soccer game.
With a release date in September why not pre order your copy now to make sure you are not disappointed.
Featuring a new lighting system for added realism, the emphasis is clearly on creating a greater than ever reality experience.
Well known players running styles, and some of the best stadiums are employed with that aim in mind.
This is one for all soccer fans to anticipate and it will deliver the usual quality gameplay expected from a Fifa title.
5. Tom Clancy's Ghost Recon:Wildlands. £34.99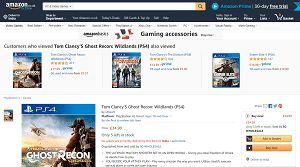 This title is the 10th and latest in the long running Tom Clancy's Ghost Recon series but it is the first to be presented in an Open World platform.
The player is, as always, in charge of a fictional American Special Forces squad and the game utilises the Tactical Military Shooter genre.
You will encounter an assortment of different environments such as Desert, Mountain, Salt Flat and Forest as you make your way through the expansive and vast Open World.
A great offer for Tom Clancy fans as well as Open World or Tactical Shooter enthusiasts alike.
6. Crash Bandicoot N Sane Trilogy. £33.00
If the Platform is your genre then this latest release of the wacky marsupial is ideal for you.
This is a reimagining of the first three Crash Bandicoot titles, but this version has been completely remastered and now features HD 4K resolution.
Crash uses all his usual spinning and jumping skills to destroy his enemies and collect useful items such as Wumpa Fruits and Aku Aku Masks, as well as extra lives in his quest to defeat the evil Doctor Neo Cortex.
All the usual lighthearted fun you would expect from a Crash Bandicoot offering.
7. Gran Turismo Sport. £51.00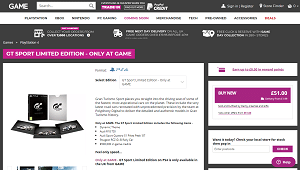 The latest release in the Gran Turismo motor racing genre trilogy, due out this Autumn.
This takes motor racing to a whole new level, featuring three modes, 'Campaign Mode', 'Sports Mode' and 'Arcade Mode' and some of the fastest and most prestigious car marques across the globe, such as Porsche, Volkswagen VGT and Peugeot GR. B Rally Car.
You will drive on real tracks from around the world, be able to race both offline and online and even acquire a genuine FIA Gran Turismo Digital Licence.
All fans of the motor racing genre will be thrilled with this game.
8. Madden NFL 18. £35.85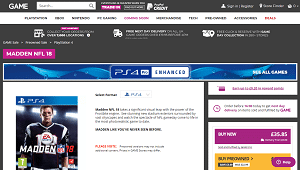 This is the latest offering by EA Sports for all you gridiron fans out there.
This version is a serious upgrade which takes the visuals of this already superb game to a whole new level.
Experience stunning new stadium exteriors and awesome city landscapes, as well as the latest game playing techniques like Coach Adjustment, Target Passing and real world NFL match ups.
Due to be released on the 18th of August, if you pre-order this game now you will also receive a bonus pack worth £10 which includes an elite player of your choice from your favourite team plus 5 special 'Squad Packs' so you can create your own dream teams.
This takes NFL action to a whole new level and is a 'must have' in the locker for all keen fans of the pigskin game.
9. Tekken 7. £22.99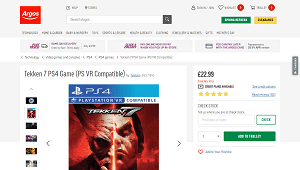 Just released, this is the ninth and final chapter in the 20 year Mishima clan family feud.
A classic fighting and beat em up game devotees of the long running saga will not be disappointed by this offering, and newcomers to the Mishima family will also love the fighting action.
For the first time you can now battle online and it is also VR compatible so you can really get into the heart of the action.
For PS4 owners exclusively, there is a 'Jukebox Mode' which allows you to listen to and utilise tracks from previous Tekken games to give you a superb immersive experience.
10. ARK: Survival Evolved Explorers Edition. £84.99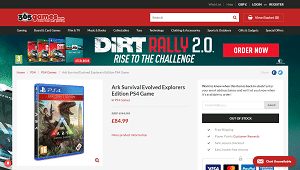 If you love survival games and fancy battling dinosaurs on a prehistoric island then give this deluxe edition of a popular title a try.
In this version you are able to capture and tame your own dinosaurs which you can then use to aid you in your survival tasks.
You will hunt, grow food and build shelters in huge biomes, in order to conquer this strange and magical world.
The Explorer's Edition includes 3 massive expansion packs which give you access to both the base game and a unique Scorched Earth world giving you almost 900 hours of fantastic gameplay!
11. Persona 5. £46.00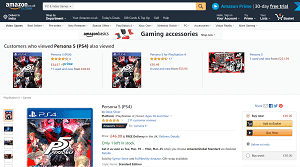 This role playing experience transports you to modern-day Tokyo as a young high school student.
As you and your friends discover your inner psyche you will encounter and fight malevolent dark forces using your newly uncovered 'Personas'.
There will be of course much Ninja themed action as well as dungeon exploration as you take on various protagonists clad, naturally, in traditional Japanese Medieval costume, all in present day Japan!
If cosplay type role playing action is your thing then there is lots of fun to be had with this fun whilst serious game.
12. Prey. £11.55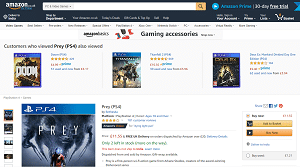 Here is a stunning new 1st person shooter in the form of a dazzling sci-fi thriller.
You play the role of Morgan Yu who wakes up in the year 2032 aboard a space station which is orbiting the Moon.
You find that you are the subject of a sinister life changing experiment and are not alone but in the company of aliens known as The Typhoon.
This becomes a battle for survival as you engage in mortal combat in your quest to unravel the mystery of the game and escape the space station
With a superb soundtrack this is a really interesting game to lose yourself in.
We have given you a broad selection of games titles here for fans of all the different genres, whether you like sports, driving games first person shooters, open world or survival horror.
This should whet the appetite of serious or occasional gamers alike, so let us at MyUKmailbox make sure that you can order and receive the games of your choice in full confidence , as always.
Have Great Fun!