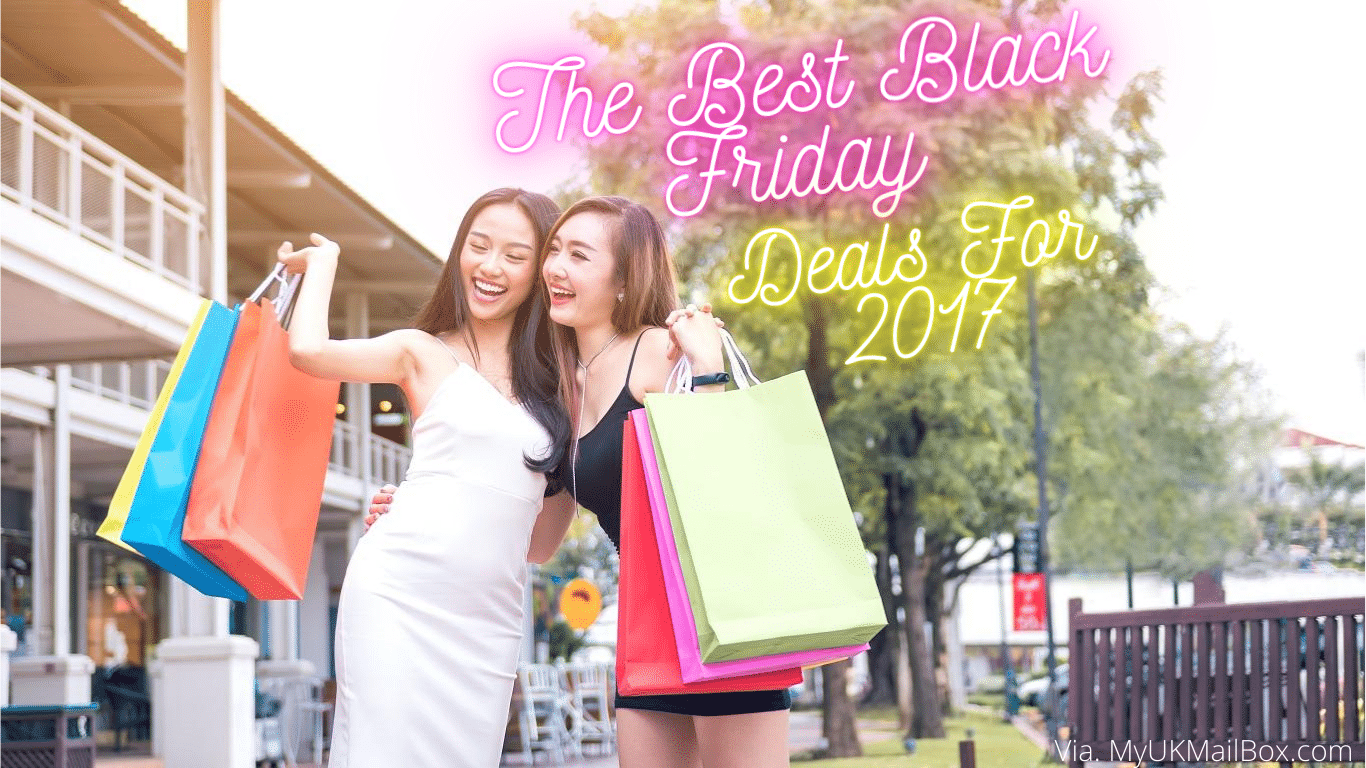 The Best Black Friday Deals For 2017
Its nearly that time of year again folks. Yes this year's Black Friday event is on the 24th of November, followed by Cyber monday on November the 27th, so we at MyUKmailbox thought that we would give you a few tips to help you get the very best deals available from some of the top UK retailers. The Black Friday event started in the US and is held on the first Friday after Thanksgiving Day and has successfully migrated over here. It is thought that it signifies the point in the financial year when retailers first see a profit on the balance sheet, or go into the "Black", but nobody is really sure exactly. All we do know is that it is a great time to grab some real bargains!
So don't forget, we here at MyUKmailbox will deliver all your deals and purchases for you Quickly, Safely and Securely
Argos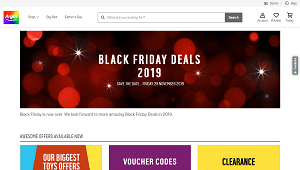 Top catalogue and online retailer Argos have some really mouth-watering deals available for you on this year's Black Friday. They have a great PS4 games console bundle on sale, with Call of Duty:WW2 or FIFA 18, whichever is your preference, for only £299.99. Also appearing is an Amazon Fire 7, Alexa powered 7 inch tablet giving you access to Netflix, Youtube, BBC iPlayer and many others for an amazing £49.99. Alternatively you could simply opt for an Amazon Fire Stick, with Alexa voice control so that you can watch all your favourite stuff on a large screen for only £39.95. All these deals, and others are available Here.
Currys PC World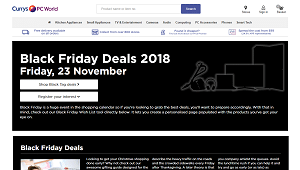 The tech and appliance mega dealers are promising their biggest Black Friday event ever this year, with a Cyber Monday event also featuring 3 days later on Monday the 27th of November. Running for a massive 10 days this year the deals on offer include some fabulous LG and Samsung TVs, coffee machines, Dyson vacuum cleaners and HP laptops. Whether its tech or appliances you are looking to bag a bargain with why not have a peek Here. We are sure you will be able to grab a great bargain from the many on offer.
Game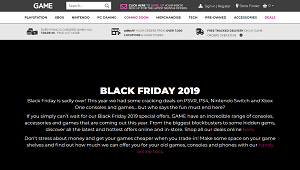 If you are an avid gamer why not take a gander at Game for their top Black Friday deals. They have some fab XBox One bundles at either £199.99 or £229.99, depending on which particular bundle you want. You can pick from Assassins Creed, Rocket League Blast Off, Forza Horizon 3 or others to suit your taste. You could also go for a PS4 console bundle if that is what you fancy, for a range of budgets at £229.99, £259.99 or £279.99, with either Call of Duty: WW2 or Gran Turismo Sport to keep you happy. Additionally they are offering some great "2 for £40" deals on games for your delight. Have a look Here
Asos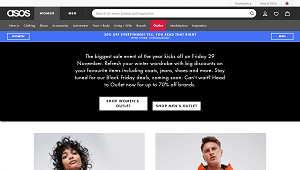 Top online fashion retailer Asos have come up with the goods again in time for Black Friday and Cyber Monday. For you women they have dresses for every occasion, be it a pro, party or wedding, or for anytime you want, as well as tops, coats and jackets, shoes and tops. For the guys there are loads of tees, hoodies and sweatshirts, coats and jackets, trainers and much more. Not to forget their excellent oversize range if you want to take a look. Drop by their site Here for some really exclusive savings and offers, you'll certainly be delighted, we are sure.
Amazon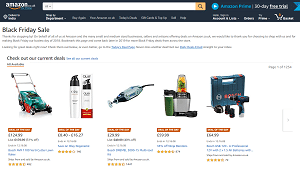 No Black Friday or Cyber Monday bargain hunt would be complete without a look at the number one online seller worldwide. Of course we mean Amazon, the retail giant everyone knows, who gave buyers deals of up to 87% off last year so you can expect some juicy deals again for 2017. As well as the eponymous Echo and Echo Dot speakers, Fire Stick and Fire Tablets, all with Alexa voice control they have their renowned Kindle e Readers , games consoles and game titles, all heavily discounted, plus Blu Ray players and computer add-ons at great prices. Of course there is always books and such like for the traditionalists amongst you. Take a good look Here
Very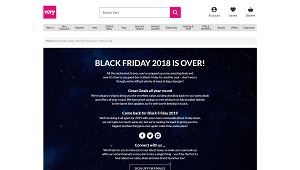 You can be sure that catalogue and online retailer, Very will bring you the best deals across their range on Black Friday this year. The VERY best bargains in fact! Whatever you might be looking for, be it clothing, tech' gaming stuff, jewellery, or if you are simply looking to grab some great bargains to help along with your Christmas shopping list this year you can be sure that you will find what you are looking for Here so we recommend that you give this site a visit pretty soon and keep your eye out for the deals on offer.
John Lewis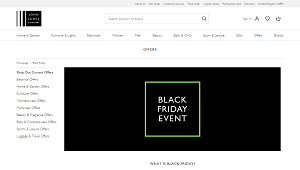 The well renowned retailer John Lewis are having the usual Black Friday event again this year and they promise to honour their famous "Never Knowingly Undersold" assurance even by price checking all their products during this event. This means that they can offer their usual top deals in the Home, Fashion, Electrical and Technology departments as they always do. So their solid advice to you is to keep checking their online platform for bargains and deals with the commitment they give to honour any product price-match throughout this year's Black Friday and Cyber Monday season. Have a good look Here
Boots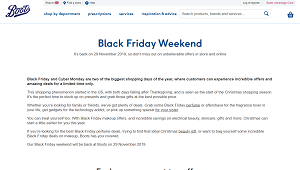 If you are looking for that special electrical, health, grooming or beauty gift for yourself, or to put away for that someone special in your life then Boots will be running the usual Black Friday and Cyber Monday event again this year and you can be sure of the best deals on all the items that this retailer is well renowned for.m We have it on good authority for instance that they will be offering up to 70% off selected Braun grooming electricals, and we are confident that you can find the ideal gift in all of Boots extensive ranges by looking Here.
B and Q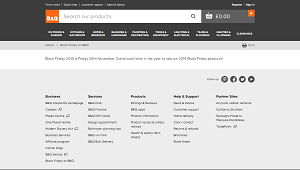 In the market for some great bargains on your garden and home improvement products? Then B and Q are just about to launch their 2017 Black Friday website and it promises some really tasty bargains this year. Just for a taster we can point you to three juicy deals. How about a Flymo Easi Glide Hover Mower reduced from £92 to £67, ideal for next years lawn season at a great price. Or how about a Dewalt Cordless 18 volt Combi Drill, discounted from £85 to £65, just in time for those last minute jobs in time for Christmas. If you need to shift some of those pesky leaves falling around your property what about a Bosch ALB 18 volt Cordless Leaf Blower price dropped from £133 to a fantastic £80. These and other deals will be online Here in the next day or so.
The Black Friday and Cyber Monday events began in the US as we mentioned earlier, and were imported across the pond a few years ago. Since then these events have proved immensely popular, coming as they do at a time when lots of people are looking to pick up bargains. You can grab deals with 25%, 50%, 75% or even more off usual prices and now is the time to start looking. Just remember that here at MyUKmailbox we can deliver the items you grab Quickly, Safely and Securely every time.
The Countdown Has Began.