Top 10 Ideas For Your Summer Barbeque Party
We at myUkmailbox love a barbecue. On a lovely warm, lazy Summer afternoon, with the sun shining down there's not much to beat the smell of wood smoke and sizzling meat, fish and vegetables in the air.
Now is the time to look online for your barbecue and accessories to get this Summer's barbie scene off to a great start.
So we'll start by looking at a range of barbecue units, and then have a peek at some other ideas to make your party go with a fizz this Summer.
Our final tip gives you the idea for a perfect BBQ food recipe to make your mouth water.
1. 4 Burner Gas BBQ. £199.99
If you are looking for a gas barbecue without the large price tag, here is a very reasonably priced model for you. It has 4 individually lit burners so you can choose how much food you wish to cook, for up to 8 people if needed,a stainless steel hood and built-in temperature guage. Also featured is a warming rack, drip tray, piezo ignition and side shelves for convenient use. A great looking, easy to use BBQ.
2. Napoleon Grills PRO22K Charcoal Barbecue. £294.00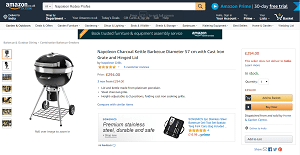 If you are a traditionalist and love your kettle charcoal BBQ then this little number has a real touch of class for the perfect cook this Summer. For either fast or slow cooking this chic looking machine will take up to 23 burgers at once on its tough cast iron griddle! Cook either with lid open, or slowly roast with the lid down to sear your meat or fish to perfection. Add some wood chips for extra flavour if you like. Our mouths are watering already!
3. Deluxe Lovo Charcol Part BBQ. £90.00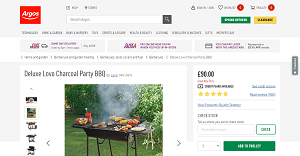 If you are are fan of the 'oil drum' style charcoal BBQ and don't want to break the bank why not take a look at this one. With a dual cooking area for maximum space on the griddle it also has sliding grills and a couple of shelves for your buns and pickles. There is also plenty of room on the shelf underneath for storing your sauces and plates, and the whole thing closes from the top in the traditional oil drum style. Great for those long Summer days.
4. Large Chargriller Wrangler BBQ with Firebox. £259.00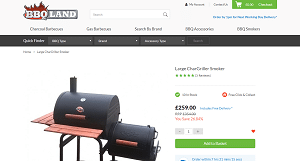 How about trying something really different with this fantastic looking BBQ and smoker. This can be used either in the normal barbecue mode to cater for up to 8 people, or alternatively you can utilise the firebox for slow-smoking your food Texas-style. It features plenty of storage shelving and the firebox has a sliding drawer for easy removal of the ashes. This is the up and coming method of outdoor cooking so why not try this inexpensive unit.
5. 26 Piece Barbecue Tool Set. £29.98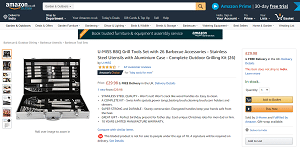 What every budding barbecue chef needs is to unleash their inner Gordon Ramsay, so make sure you have a quality tool set to cook with. This kit is made from finest stainless steel and comes with everything you'll need for cooking up a storm over the embers. With kebab skewers, corn cob holders spatulas and carving tools, all held in a sturdy case this is the ideal accessory for your big cook.
6. Heavy Duty Spit and Battery Motor Kit. £89.99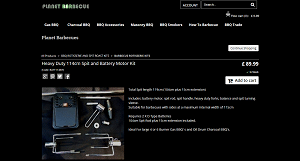 If your barbecue party requires some serious hunks of meat to feed your guests why not consider this spit roasting kit. It uses 2 D type batteries so you won't need to connect to the mains, you just attach it to your barbie, clamp on a piece of meat of choice and away you go. It is strong enough to hold a large chicken, or you can stick a big chunk of pork on it for the perfect hog roast. At 114 centimetres wide (56 inches) it will suit most large barbecues although a universal kit can also be purchased from this supplier for only £6.99.
7. Outdoor 24 Piece Dinner Set. £29.99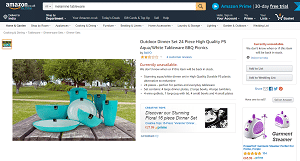 How about some high quality, durable crockery for your party? Made from melamine, in stunning aqua and white this 24 piece set of plates, dishes,bowls, tumblers and glasses is just the job for your food and drinks.
Why not combine this crockery set with 24 pieces cutlery set available at £34.99.
8. Jumbo Outdoor Hi-Tower Giant Jenga Game. £29.99
Keep all the kids at your party (big and small) entertained at your party with this wooden stacking Jenga game. The tower starts at a height of 0.6metres and will build up to a maximum height of 1.5 metres. It is made from sustainably sourced wood and comes with a strong, zip-closed bag that has sturdy fabric carrying handles for easy portability. Hours of fun for all the guests at your BBQ party.
9. Stackable Plastic Chair. £28.95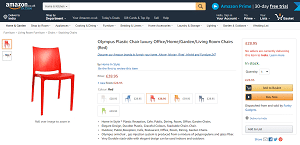 Your party will of course need some seating for your guests. Here is a comfortable yet lightweight and inexpensive solution in the form of an easy-clean , stackable plastic chair. You can order as many as you are likely to need and they will look great in any garden.
10. The Most Amazing BBQ Ribs Ever!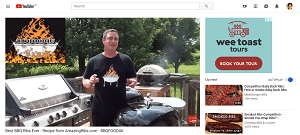 We have found this link showing you a recipe method for the most incredible barbecue ribs ever! Give this video a watch and amaze and astound your guests with the most succulent, mouth-watering ribs they will surely have ever tasted. Watch It Here.
Enjoy your barbecue parties this Summer and hoping you have super fun. Good Cooking!