Top 10 Simple Wedding Dresses for a Winter Wedding
A winter wedding presents special challenges to any bride. Choosing the outfit for your big day is always fun, and even though the weather outside is frightful, there are many simple wedding dresses to choose from. And you don't need to sell your car to pay for the dress of your dreams if you use this guide.
You need to make a few decisions before you start choosing your dress; things like, will your photos be inside or outside, how cold is it likely to be, and what style of wedding are you looking for?
Wedding dresses don't have to be white either, so you have another decision to make; white, ivory, red and other colours are all easy to find. All the dresses here are shown in white or ivory, but most are available in other colours on the retailers' websites. Just choose the colour that best suits your personality and colouring.
If your wedding is less than a year away, accept that you are going to be the shape you are now, give or take a few pounds. Love the shape you are in and look for a dress that will help you look your best.
Floor-Length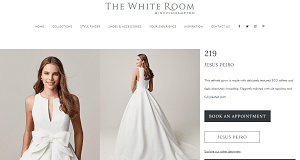 Jesus Peiro's elegant floor-length dress in white taffeta shows what can be done without an inch of lace. Taffeta is the perfect choice of fabric to ensure the full pleated skirt stands out, the bodice stays in place, and the bow looks as though it has just been tied several hours later. The slit neckline is classy, and the full skirt means any bride looks wonderful, no matter whether she is slim or curvy.
A-Line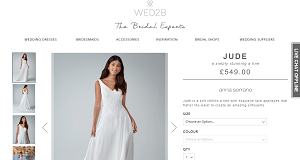 Anna Sorrano'slong A-line dress in ivory chiffon comes with a train for the bride who wants to combine simplicity with tradition. The waist is emphasised by lace appliqués. The V-neck and back of this dress flatter most brides. This refined but simple wedding dress is available in UK sizes 8 – 16.
Asymmetrical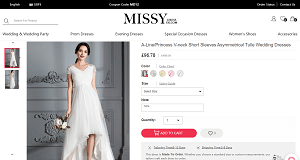 This asymmetrical A-Line princess silhouette dress in Tulle is available in white, ivory, champagne, and pink. The skirt flares from a natural waist, adding style and refinement. The dress is offered in a wide range of UK sizes from 6 – 30, so would suit any modern bride of any shape.
Sheath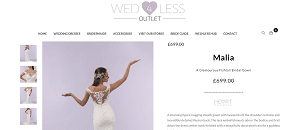 This white sheath wedding gown hugs and flatters your figure. Its clean lines are set off by diamante detail at the neck and the opulent train adds to its presence. The dress is available in sizes from a bust of 32" to 50" (approximately UK sizes 10 – 38).
Mermaid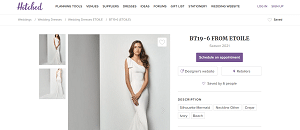 This classic mermaid profile wedding gown in ivory crepe georgette isby Enzoani. The classic bow on the single-shoulder neckline adds classic allure to your wedding dress. The long train proves you can have simplicity without forfeiting style.
Tea-Length
This classy A-line, V-neck dress in satin has a high back and ¾ sleeves. The tea-length makes it perfect for informal registry office or beach weddings, and you can dance in it! The mock cross-over style top is flattering to any figure. This simple wedding dress is offered in white, ivory, and champagne, and in UK sizes from 6 – 28. This really is a dress for any bride.
Short-Sleeves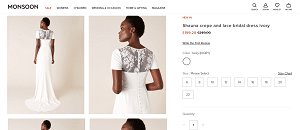 This floor-length, cap-sleeve dress in ivory crepe has a high neckline and lace back. The skirt flares out from a fitted body and has a train you can ask your seamstress to trim to your desired length. The dress is available in sizes 6 – 22.
V-Neck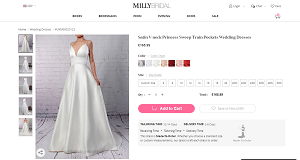 This V-neck, open-backed satin dress with spaghetti straps has a classic empire-waist. It is offered in white, ivory, champagne, pink, red, and burgundy. Whatever size you are, from 6 – 30W your dress will fit perfectly. Custom sizing is also available, and every dress whether standard or custom-sized is made to order.
Off-the-Shoulder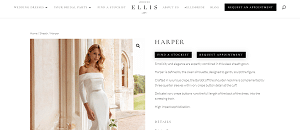 This clean-lined, off-the-shoulder wedding gown is made in ivory crepe. The back features ivory crepe-covered buttons from the neck down to the bottom of the train. The ¾ length sleeves make it perfect for a winter wedding.
Modest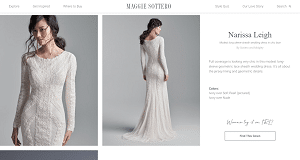 This simple and modest full-coverage winter wedding dress features all-over lace over a comfortable jersey lining. You can order the dress in ivory lace over soft pearl jersey (illustrated), or in ivory lace over nude jersey. You have a choice of necklines too; bateau (illustrated), or sweetheart with an illusion scoop back.
If simplicity is your thing, you have an immense choice of simple winter wedding dresses with prices starting at well-under £100. You will find great prices right now because many shops are desperate for your custom.
Wedding dress shops may be physically closed for Covid lockdowns, but all the above retailers offer online services. If you need alterations, your dressmaker may be working from home, but might well be run off her feet with her sewing machine working overtime, so allow her plenty of time for fittings and any changes you need.