Top 15 Valentine Day Gift Ideas in the UK
Valentine's Day is just around the corner and that means it's time to start thinking of the perfect gift for that special person in your life. Sure, flowers and candy are great (not really, but we'll mention those anyway), but there has to be something more…. exciting and non-conventional to give the love of your life on this romantic day, right?
There is!
And we have found them!
Here's a list of the Top 15 Valentine's Day Gift Ideas in the UK.
Personalised Message In A Bottle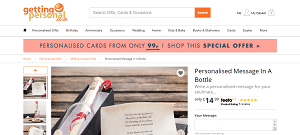 Put a new spin on the traditional Valentine's Day card with this romantic personalised message in a bottle from Getting Personal. The message, which can contain up to 500 characters, is printed on quality parchment paper tucked inside a glass bottle with a cork and crimson ribbon. The bottle comes in a sturdy box for presentation.
Romantic Heart Challenge Box
This lovely little heart-shaped box from Getting Personal is filled with 100 romantic challenges printed on paper scrolls. The set includes a pair of tweezers to pluck out the challenges that you and your partner can share together. Challenges include tasks like "Share your favorite memory with your partner" as well as things a little more risque. This is a fun little game for lovers.
Personalised Teddy Bear Gift Tin
This teddy bear gift tin from Prezzybox makes an adorable gift for valentines of any age. It's a cute 18cm bear wearing a heart-shaped tag that can be personalised with up to 72 characters for a special touch. The bear comes tucked inside a handsome tin with engraved lid.
Personalised Silver Heart Bookmark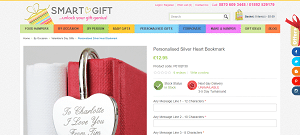 This gorgeous silver heart bookmark from Smart Gift Solutions is the perfect choice for the bookworm in your life. The heart can be personalised with up to four lines of text to convey your message of love so that every time they read their favorite book, they will think of you!
I Love You Sweet Words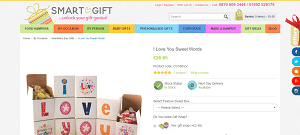 This cube set of printed gift boxes from Smart Gift Solutions is a cute spin on traditional Valentine's Day candy. The set contains twelve building block style boxes, each printed with a letter of I Love You and designs. The boxes are packed with different kinds of candy to satisfy the recipient's sweet tooth!
Private Chef Experience
What could be better than having a private chef? Having a private chef that comes to your home! This private chef experience from Red Letter Days is a fabulous way for you and your beloved to enjoy a romantic Valentine's Day dinner. It includes a personal chef for three hours, a menu of your choosing, meal preparation for two and candle light service – right in your very own home.
Lovers Constellation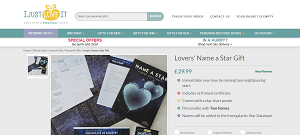 If you ever wanted to give your love the moon and stars, this lovers constellation gift from I Just Love It is a good start. It allows you to name two constellations after yourself and your lover and comes with a certificate of authentication, the coordinates of your constellations and a map of the sky to help you locate them. A truly romantic gift that your love will remember every time they look at the night sky.
Personalised Valentine's Day Champagne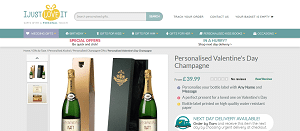 Make that Valentine's Day toast a little sweeter with this bottle of personalised champagne from I Just Love It. The label can be customized with the name of your valentine along with a romantic message of your choice.
Gourmet Chocolate Pizza
Everyone loves pizza – and chocolate. Why not put them together for your valentine with this gourmet chocolate pizza from Amazon UK? It measures 7 inches and has a Belgian chocolate base and two rich, decadent toppings – Crunchy Munchy or Heavenly Honeycomb. The pizza can be cut into 8 slices so you can share some and save some!
You and Me Love Chest Trivia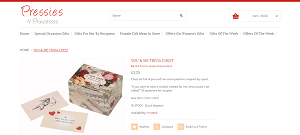 This adorable trivia game from Pressies For Princesses is a great gift choice for couples. It is a decorative box that contains 50 trivia cards with questions for couples that allow them to share their feelings about each other in a romantic way to enhance and strengthen their relationship.
Personalised Phone Cases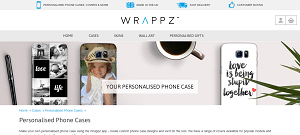 Keep the love of your life within reach at all times with these personalised phone cases from Wrappz. You can use any photo of your choosing to design your case for iPhones and Samsung Galaxy phones. These cases are scratch resistant and have a heavy gloss finish to keep that favorite photograph looking great – and your phone well-protected.
Radiance Juices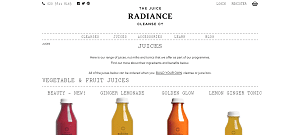 If your significant other is into juicing, you will be happy to know that Radiance has the perfect gift for him or her! This set of six juices from Radiance promotes health and cleansing while using choice fruit of the season – like pomegranate and blood oranges. They come in a pretty bag and are all lovely, coordinating shades of red for a Valentine's Day feel.
Jo Malone Fragrance and Florals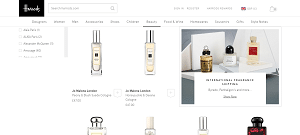 This fabulous fragrance from Jo Malone, available exclusively at Harrods, comes surrounded by a fresh floral arrangement of roses and other beautiful flowers by famous florist Wild At Heart, all nestled in a lovely gift box. This opulent, unique, one of a kind gift is sure to wow that special lady on your list.
Roses and Chocolates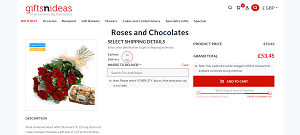 If you want to go the traditional route with your Valentine's Day gift this year, this Roses and Chocolates combo from Gifts n Ideas is a great choice. It features one dozen long stemmed roses beautifully wrapped in tulle and raffia along with 12 gourmet chocolates from Ferrero Rocher.
Red Rosas Combo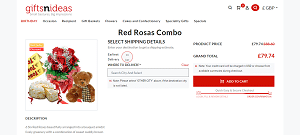 Now, if you want to go the traditional route plus a little bit extra, check out this Red Rosas Combo from Gifts n Ideas. It comes with six roses beautifully arranged with greenery and ribbon, a cute little teddy bear, Toblerone chocolates and cake! Four gifts in one, now that's a great deal.