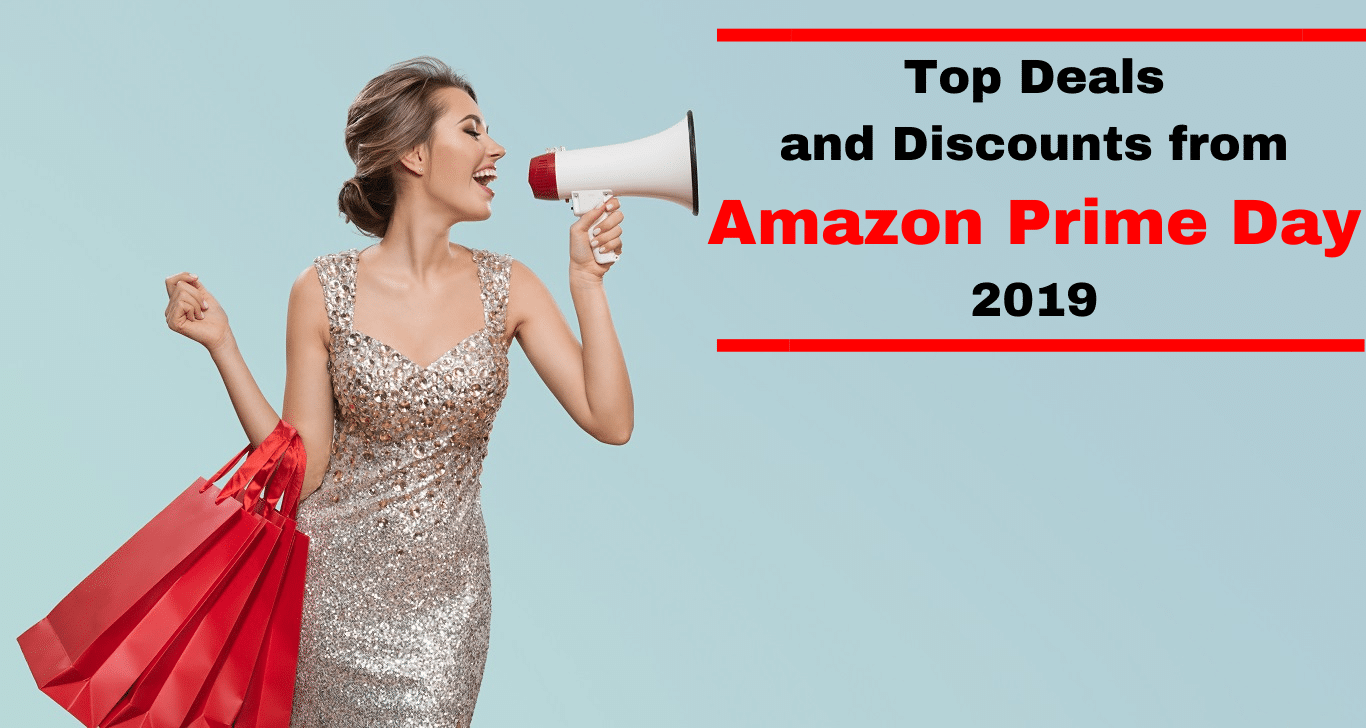 Top Deals and Discounts from Amazon Prime Day 2019
It's Black Friday in July – Amazon.co.uk-style.
Huge savings. Great deals. Low prices across the website.
Amazon's Prime Day is an annual event when the online retailer slashes prices across the platform on many of the most desirable things the company sells.
We don't know every deal yet – and nobody will until the sales actually begin – but based on the teaser deals that have been linked so far, we are expecting some amazing savings on excellent products.
So far Amazon has deliberately leaked some teaser specials – appetizers to the real event that starts on Monday, July 15. That's the Amazon headquarter's midnight on Monday, July 15, or 3am Eastern Time. We have gathered up some of the most impressive or desirable deals from what we know so far.
Savings will be big, and deals will be hot. And remember – with Amazon Prime, you can expect fast, free shipping as well.
eufy RoboVac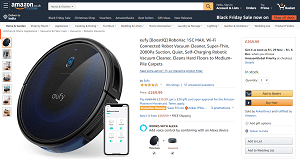 Want to keep your home clean without really trying? The eufy RoboVac will get the job done digitally. Save big with the RoboVac and you can be sure that your home is always tidy, your floors are clean and your bank account is intact to take advantage of the many other deals available during this two-day sale.
Amazon Fire TV Stick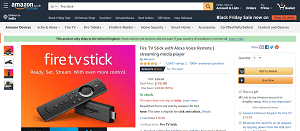 Want to cut the cord to cable and still watch your shows? Amazon Fire TV makes it possible, and thanks to Amazon Prime you can get an Amazon Fire for about half of what you'd usually be paying for the device.
4 Months of Amazon Music Unlimited 0.99p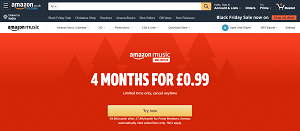 Amazon Music Unlimited is in the same family as Apple Music and Spotify. You can get Amazon Music Unlimited for about 8 pounds per month already, so getting four months for a pound is a pretty big deal.
Apple iPad 128GB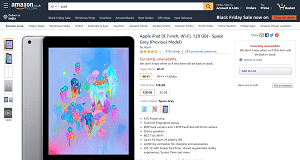 You can find the 32GB 2017 iPad at Amazon for less than the price of the 128GB, which is the price you'll find just about anywhere on the iPad, but if you want the best deal, check out the bigger version. You'll pay the discounted Amazon price and still have four times the storage on the device.
Airpods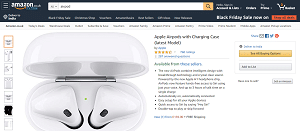 While this deal might not be as big as some of the others, it's still just as exciting. Airpods don't go on sale, or they haven't really up until now, so saving 20 pounds is kind of a big deal. It helps that they come with the wireless charging case as well.
Optoma UHL55 True 4K HDR Projector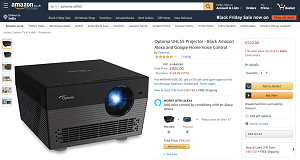 There are huge savings to be found on some of the best projectors in the media business. Add the Optoma projector to your home theater set up or use it for backyard films and even work presentations. Whatever you use it for, you will be saving a full third of the regular price.
Philips Hue White Smart Light Starter Kit E27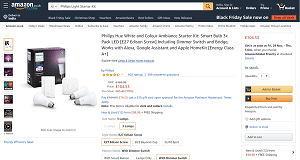 If you are interested in taking your home as automated and digital as possible, Amazon Prime will help you get started. The Phillips Hue White Smart Light Starter Kit comes with an Echo Dot for Prime Day so that you can put your new lights to work – remotely – right away!
Instant Pot Duo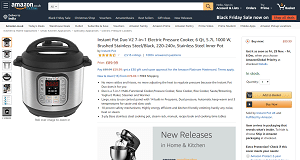 Save half the cost of the Instant Pot and you'll actually be getting a deal that beats the Black Friday version of the same product. There has a been a bit of a pricing war over the Instant Pot Duo with several major retailers pushing prices down, which only benefits consumers, of course.
Ring Video Doorbell Pro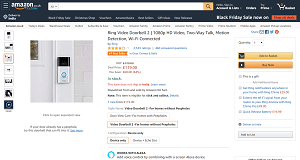 Want to monitor your front door remotely? The Ring Video Doorbell has you covered. You will save about 40 percent off the price of the Ring when you buy it during Amazon Prime days, and with the special offer that's available right now, you can also bundle the Ring and an Amazon Echo Dot together for maximum savings on both. In fact, the Dot is free – can't get any better than that!
Echo Dot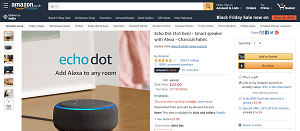 A friendly little personal assistant, the Echo Dot hasn't been this cheap since Black Friday. These little devices are perfect gifts for friends and family, and you can buy enough for every room in your house – and maybe even your office as well.
Echo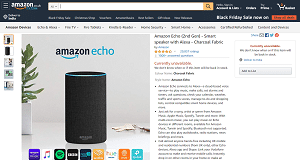 The bigger, more fully featured personal electronic assistant is on sale as well. You can save half of the cost of the Amazon Echo and half on the price of the Amazon Echo Dot. The Echo is more robust and can pair with other electronics to make your home fully digitally integrated.
Jabra Earphones – Elite 65t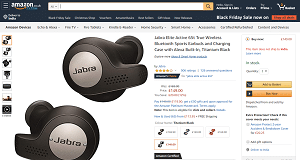 Not ready to pay even discounted Airpod prices? You can save 30 percent off the price of the Jabra Elite 65t earphones that rival the quality of the Airpods for considerably less. These are popular earphones because they work well, and you can expect the price to make them even more inviting.
Kindle Fire 7
Save almost half of the price on the Kindle Fire 7. You can grab this little tablet and eReader with a substantial discount for you or for a gift. You can also grab the child version of Kindle with a very heavy discount on this Prime Day as well.
Kindle Paperwhite Waterproof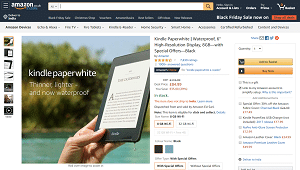 If you want the closest true book experience, look at the Kindle Paperwhite. It's on sale during Amazon Prime days, of course, and it is also the perfect table to take with you on trips, to the gym and anywhere else. It travels easily and is waterproof, keeping it safe from damage along the way.
JMGO N7L-M65S 1080P Smart Portable Android Projector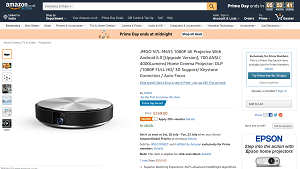 A portable projector gives you easy options on when and where to watch videos, stream things live or even present work projects. With the JMGO portable projector, you can bring your phone and your projector from place to place easily making it simple to bring the full range of technology with you.
It's important to remember that the big Amazon Prime sale is only for Amazon Prime subscribers. If you already have Amazon Prime, you're set for the big two-day event. If you don't have Amazon Prime, you'll need to arrange your subscription to the service before Monday, July 15 for the best deals.