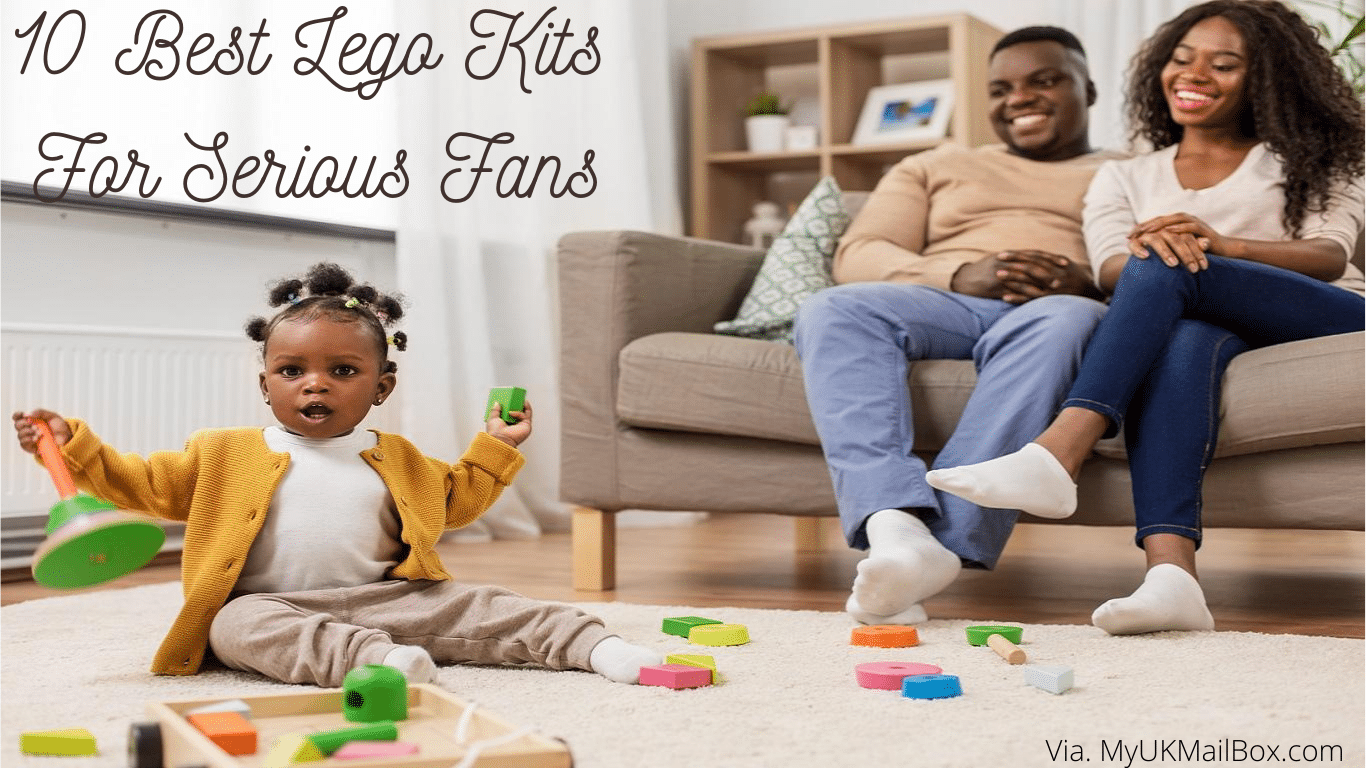 10 Best Lego Kits For Serious Fans
How about this for an amazing fact: there are 75 Lego bricks for every human being on the planet. That makes over half a TRILLION bricks around the world!
That fact alone is testimony to the huge popularity of those little coloured plastic bricks that have been around since the early 1930s.
This is a modelling system that people of all ages and genders love and have loved for years.
In the UK alone there are over a quarter of a million so called AFOLs (Adult Fans Of Lego) so we at MyUKMailbox thought we would feature some of the most popular kits to build for all tastes and interests.
1. Star Wars Millennium Falcon. £139.99.
For all fans of the Star Wars franchise here is the latest version of their most iconic starship with new features, in a kit of 1329 pieces.
The model comes with six mini-figures from the franchise, including Han Solo, Chewbacca and Rey, plus a miniature BB-8 droid.
Also featured are a pair of spring-loaded guns, with ammo, cockpit that can accommodate two mini-figures and opening deck with a very detailed interior.
If you collect Star Wars themed Lego, or are simply a fan of the films this is a great kit to build.
2. Silent Mary Pirate Ship. £179.99.
This is a real fun kit of 2294 pieces from the Disney theme range, consisting of an old fashioned sail galleon that is crewed by a bunch of ghost pirates. The ship has one mainsail, two other collapsible sails plus a bowsprit, all with tattered and torn canvases, which along with the eight ghostly looking crew gives the model a fun and eerie looking effect.
The finished model has an opening bow section with suitably distressed looking interior and ornamentation and mounts on a stand making it ideally suited for display. Good fun!
3. Mercedes-Benz Arocs 3245 Truck. £179.99.
From the excellent Technic range of models, this is a fantastically challenging and interesting build (trust us, we have completed it!). This kit has 2793 pieces, and like most of the technic range, can be dismantled to make a second model, in this case an Articulated Construction truck, so twice the fun!
Featuring a pneumatic motor which drives outriggers, a tipping body, and best of all, a grab on the back that raises and lowers, swings round and opens and closes.
This really is an impressive looking model, with its myriad pneumatic pipes running along the grab arm and all finished off with the famous Mercedes-Benz badge on the fender. One to build and also play with!
4. BOOST Creative Toolbox. £149.99.
This is a brilliant new concept of model-making from Lego which is designed to marry the fun of building your models with the creativity of using the latest technology to make and code multifunctional models by simply downloading the Lego BOOST app to your phone or tablet.
This particular kit gives you 5 different models to make and interact with, including a moving and talking robot, an interactive pet cat that will react to you, a multi-tooled rover machine and an automated production line that will actually build miniature Lego models!
This will really get your creative juices working and is a way into the future of technology combined with your favourite model building system.
5. Disney Castle. £299.99.
Here is a truly awesome and magical model for you to build.
This kit has over 4000 pieces and is definitely for the more experienced builders amongst you.
Standing nearly 30 inches (75cm) tall and featuring all the favourite Disney characters such as Mickey and Minnie Mouse, Donald Duck, tinkerbell and others the castle has a superb and impressive facade with decorous balconies, towers with spires, a stone bridge and ornate arched main entrance.
Inside is equally detailed with all the little touches to expect from a castle interior, like suits of armour, a longcase clock and detailed chandelier.
This kit is both fun to build and to look at.
6. City Cargo Train. £149.99.
This kit is of interest to the railway enthusiasts out there who love their Lego modelling and also operating a fully functional train system as part of the Lego City theme range.
The kit has a motorised locomotive which is multi-speed and is operated remotely, along with other wagons added to the train, a cattle wagon, cable drum truck and fuel tanker wagon.
There are also other items such as a forklift truck and mobile crane, as well as minifigures and railway outbuildings.
The beauty of this model is that extra track can be purchased and added, as well as the ability to be incorporated into other Lego City items to create a whole urban landscape.
7. NINJAGO City. £259.99.
From the popular NINJAGO stable which `features a range of Ninja Knight figures and other items comes this complete City to house the knight in, so a must-have for devotees and collectors of this series.
Due for release on the 1st of September 2017 this is a very detailed and intricate build for the hardcore AFOL.
The building is three stories high and houses many minifigures & NINJAGO related items, with the bottom level having oriental looking plants and trees to add to the effect.
If you are a fan of the NINJAGO theme kits this will be next on your Lego wishlist for sure.
8. Star Wars Death Star. £409.99.
This kit really is the absolute ultimate construction project and will please fans who love a challenge, as well as Star Wars aficionados, so something for everyone in the Lego world.
Containing no fewer than 23 minifigures which obviously consist of all the usual favourites like Obi-Wan Kenobi, Darth Vader, Princess Leia, Luke Skywalker and the many others, plus Stormtroopers, Royal Guards and many more, you will also find droids and numerous weapons.
The kit promises to provide much role-play when completed and has real potential as a 'next level' build for collectors ready to progress.
9. Ghostbusters Firehouse Headquarters. £284.99.
Here you have a very clever and accurate representation of the original Ghostbusters Firehouse, which is incredibly detailed and authentic in appearance, as well as being incredible fun to make (again one we have built) so we can certainly award this kit 5 stars.
An incredible 4684 pieces to this model and featuring Venkman, Ray, Egon and Winston, as well as the other characters from the film, plus several of the ghost figures, some of which appear to float in midair!
This model really is incredibly great fun to build and once complete looks fantastic on display.
Highly recommended!
10. London Bus. £109.99.
Form the Lego Creator range this model has an extremely realistic look and feel to it.
A fine representation of the traditional back-loading red Routemaster London bus this has all the authentic touches and accessories.
The top of the bus is removable to reveal partially worn seats on the upper deck, with quaint touches like discarded newspaper, and an umbrella that has been left behind.
With the choice of either modern day or retro 1950s posters for the side of the bus this model is a joy to display, as well as a clever build, for all ages.
We hope that we have given you a glimpse of just a few of the excellent range of models across the Lego world here.
With over 25 themes to choose from, with many sub-themes as well there is certainly no shortage of models to choose from for all ages, tastes abilities and interests.