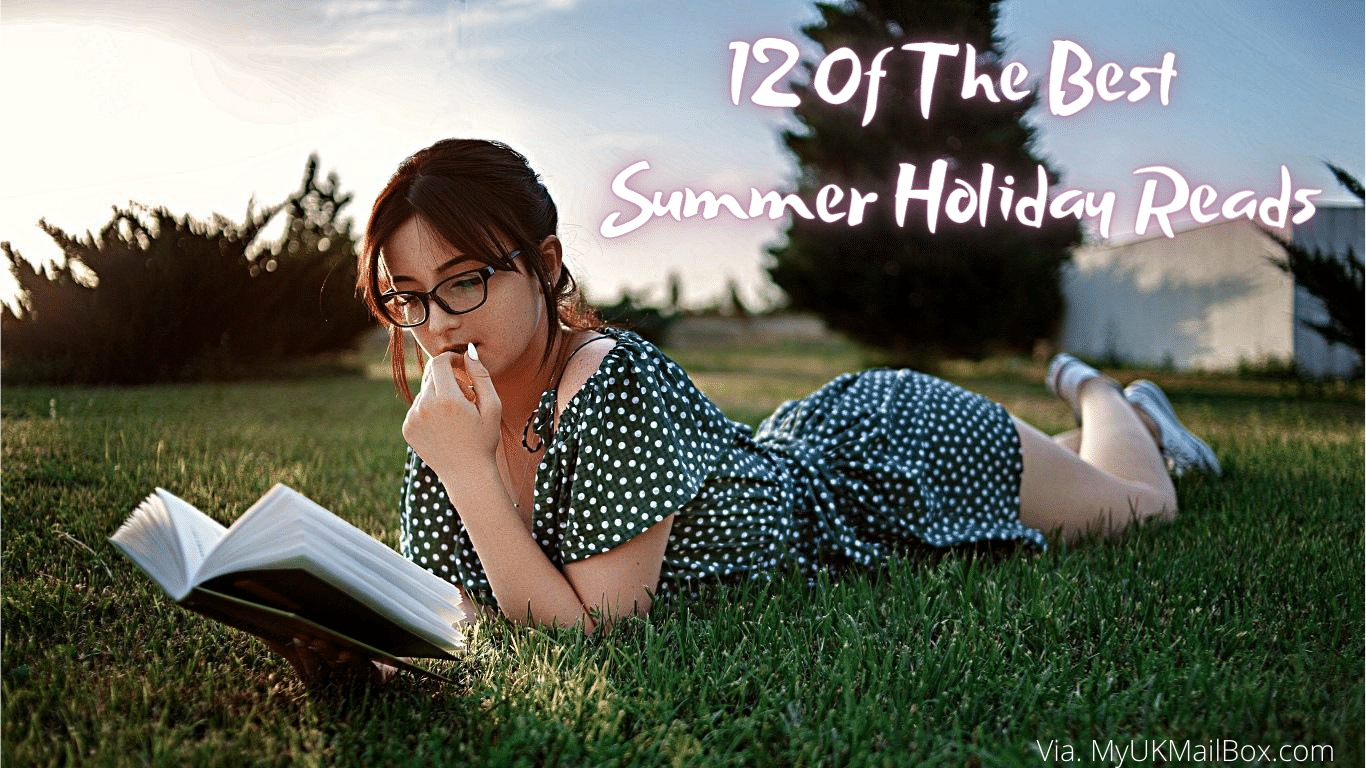 12 Of The Best Summer Holiday Reads
It's a fact that people tend to read more books while they are on their holidays than at any other time during the rest of the year.
Maybe its because you can lose yourself in a good read while you are sunning yourself by the pool, Pina Colada in hand, or just generally feeling relaxed enough to unwind and float away to somewhere else, but some people will get through 2 or 3 books in the Summer holiday period.
Whether it is sweet romance that is your thing, or you love a good taut thriller, historical fiction, pure escapism, or a combination of these and other genres, we are giving you a few suggestions to take with you in your suitcase or on your ereader for the hols.
Mr Mercedes: Stephen King. Thriller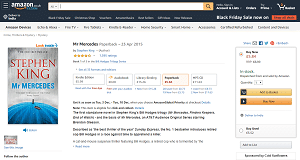 Described as the best thriller of the year when it was first published and written by one of the world's masters of suspense this is well worth a look.
For a page-turning holiday book, it features a hard-nosed retired cop, Bill Hodges, who is haunted by the 'Mercedes Massacre' a case he never managed to solve.
The perpetrator of the crime has now sent Hodges a letter taunting him that he is going to strike again.
A typical 'race against time' story that will really have you gripped.
The Great and Calamitous Story of Johan Thoms: Ian Thornton. Fact-Based Historical.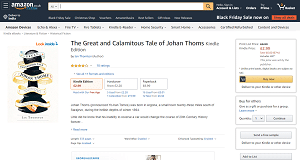 Johan Thoms was a 20 year old student in Sarajevo In the Summer of 1914.
He was a brilliant academic who could hold his own in conversation with people from all backgrounds, quote the Masters and beat chess masters.
The only thing he is unable to do is drive a car in reverse.
So, on June 28th 1914 he finds himself driving Archduke Franz Ferdinand, heir to the Austrian Empire around the streets of Sarajevo.
A wrong turning, and his inability to reverse the vehicle puts the car he is in charge of in the path of Gavrilo Princip, who is able to assassinate the Archduke, altering the course of history and leading within weeks to the outbreak of the Great War.
An imagined biography based on a historical fact, this makes a great read.
4321: Paul Auster. Contemporary Fiction.
This is a fascinating and absorbing read, ideal for a holiday book.
Archibald Isaac Ferguson is born in March 1947 in the Beth Israel Hospital in Newark, New Jersey.
At that point Isaac's life takes for simultaneous, fictional directions.
Four boys, who are essentially the same person go on to lead entirely different but parallel lives.
As each chapter goes by the stories rotate and evolve into different narratives entwine with each boy growing up around the mid 20th century American society.
The title gives the story it's interesting narrative and this will be an enjoyable read for fans of this author and genre and will pass away the relaxing hours by the pool or beach.
The Burial Hour: Jeffery Deaver. Forensic Science Thriller.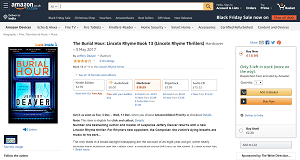 The latest Lincoln Rhyme serial killer thriller from the Jeffery Deaver stable.
A new opponent for the quadriplegic forensic scientist Lincoln Rhyme and his assistant Amelia Sachs who, as always, acts as Rhyme's eyes, ears and nose in order to track down the latest kidnap-killer, The Composer as he leaves forensic clues at each of his crime scenes.
As usual Deaver delivers a fast moving thriller that moves from New York to Naples, requiring international cooperation in order to apprehend the killer in time.
Deaver at his superb best.
The Museum of Extraordinary Things: Alice Hoffman. Historical Romantic Fiction.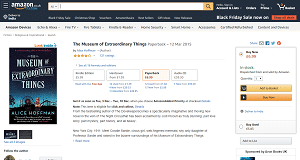 Set in New York in 1911 this story features Coralie Sardie who is a web-fingered mermaid born into the extraordinary world of her father's Museum of Extraordinary Things, a carnival attraction.
One night Coralie meets Eddie Cohen, a handsome immigrant who has fled his Orthodox Jewish life and the two misfits become enmeshed as they are involved in the search for truth, love and freedom in times of upheaval.
A thought-provoking, evocative historical read.
Sometimes I Lie: Alice Feeney. Psychological Thriller.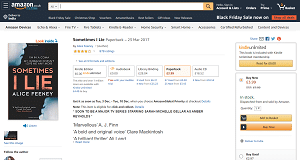 An utterly compelling story, narrated in the first person, by Amber Reynolds who is in a coma, but can hear and sense everything that is going on around her a she is laying in a hospital bed.
A real page-turner that invites the reader to try and sort out fact from fiction.
As the tale carries on to its unnerving and twisted conclusion you are drawn to a really psychologically disturbing ending that you will not forget in a hurry.
You may want to take a second book on holiday with as you will read this in quick order, such is its intriguing nature.
The Kon Tiki Expedition: Thor Heyerdahl. Historical Fact.
The true, but enthralling story of how six young men, led by the enigmatic and driven Thor Heyerdahl, a Norwegian explorer and adventurer.
The men set out from South America in 1947 on a raft made only of balsa wood, with a crudely constructed sail to make landfall in Polynesia, simply to prove the theory that this is how Polynesia became inhabited.
This was an epic, some would say foolhardy, adventure that holds a real fascination for many and makes for a very enlightening story.
The Lemon Grove: Helen Walsh. Romantic Fiction.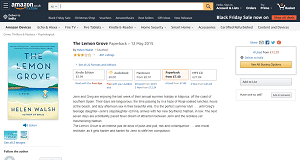 Set on the beautiful island of Mallorca this makes for an ideal Summer holiday romantic read as Jenn and her husband Greg are joined on their usual holiday by Jenn's stepdaughter and her seventeen year old boyfriend Nathan.
Something is stirred in Jenn by Nathan's presence and we are treated to a tale of lust, obsession and seduction in a lovely sunny and tranquil setting.
A really good beach read for those who like their romantic fiction on the hot, steamy, lustful side.
Invisible: James Patterson. Murder Mystery Thriller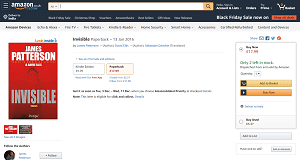 Yet another brilliant suspense novel from one of the masters of the murder mystery genre.
Patterson always manages to keep his chapters short and snappy, keeping the reader guessing right to the big reveal at the end. No-one will guess the identity of the miscreant as the author weaves elaborate plot twists and red herrings throughout as the heroine Emma Dockery is convinced that a series of kidnaps, rapes and murders, all unsolved and with no obvious clues are connected and the work of one person.
No more spoilers now as we are sure you will love this book.
Die Last: Tony Parsons. Crime Thriller.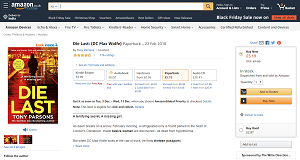 The latest from the DC Max Wolfe stable by Tony Parsons is a gripping tale of murder and mystery.
A refrigerated lorry found in London's Chinatown holds the bodies of 12 women, all illegal immigrants, but in the cab Detective Max Wolfe finds 13 passports.
The hunt is then on to find the missing women, which leads Wolfe into a dark world of human trafficking, modern slavery and mass migration in the 21st century.
A haunting and sombre tale of modern times, which raises a few moral questions for DC Wolfe, and also the reader.
Fallout: Sadie Jones. Romance.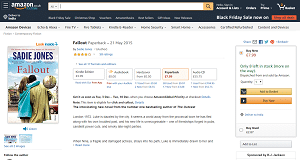 Set in London in 1972 this book features Luke, a guy with a troubled past, who has moved from a provincial location and finds himself dazzled by the fast moving life he finds himself immersed in.
Into Luke's life comes Nina, a struggling actress with demons of her own and he is irrevocably drawn to her, even though his own tortured past is brought back to the fore and his loyalty to her brings into doubt all his values and even his own future.
A compelling and engaging read.
Northanger Abbey: Val McDermid. Romantic Suspense Thriller.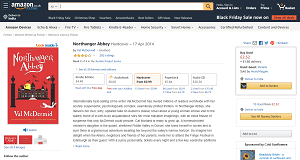 From the pen of the worldwide best selling psychological thriller writer, Val McDermid comes an updated take on the famous Jane Austen classic.
A superbly crafted story of Cat Morland, a naive young women from the Piddle Valley in Dorset
Who is invited to the Edinburgh Fringe Festival as a guest of the Allens, friends of her parents.
Taken out of her normal comfort zone Cat meets people who lead her to question her own life
Experiences and she begins to wonder if all is as it seems in the bosom of her new found family friends.
An intriguing tale of young love, innocence and cynicism McDermid has created a lovely retelling of an Austen classic with her own brand of storytelling and suspense.
We at MyUKMailbox have given you here an eclectic sample of books to take away and relax with on the beach, or poolside. All our choices are linked to the Amazon site because they have the books in the most varied formats to suit your needs, but all these will be available from other stockists and this is by no means an exhaustive list, but we think we have picked a selection to suit all tastes for you this Summer.