41 Christmas Gift Ideas For Under £50
Before you know it, the Christmas shopping season will be upon us. Smart shoppers will beat the rush and have their gift lists planned out months in advance to ensure they get the best deals and the best selection.
But – as usual – those less than savvy shoppers will stuck at the last minute trying to scrape together whatever they can to appease as many people as possible on their list. And! They will usually end up paying much higher prices than those who shop smart and get their lists out of the way ahead of time.
Don't be that shopper!
We have created a fantastic list of 41 Christmas Gift Ideas Under £50 for everyone on your Christmas shopping list so that you don't HAVE to be that shopper.
Here they are – all nicely categorized by recipient, including links to retailers where you can find each item on the list.
For The Ladies
1. Lavish Alice Accessories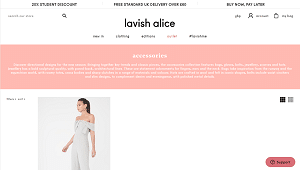 Lavish Alice is a brand that was started by two, young hipster guys that wanted to share their fashion sense with the world. They have some super great accessories for all the women on your list – including jewelry, bags and belts. Some of Lavish Alice accessories are priced at just £7 so you can definitely afford to pick up a few items to mark off your shopping list. Lavish Alice also offers free delivery on all UK mainland orders.
2. I Don't Sweat. I Sparkle Gym Bag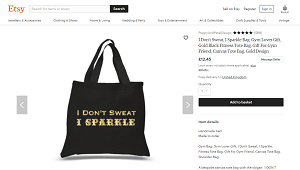 This I Don't Sweat. I Sparkle gym bag from Esty is the perfect gift for the fit lady on your list. The beautiful design is made on strong canvas fabric and then it is made up into a wonderful canvas tote bag, that make it perfect and unique gift for a gym friend. It costs just £12.45. Esty also offers free delivery on to the United Kingdom.
3. Gin-Tastic Gift Box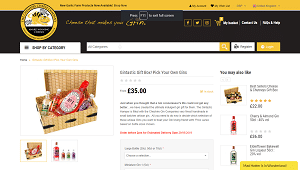 This lovely gin gift set comes with its own fancy gift box and pretty pink bow for easy wrapping. It contains a bottle of PINK UK-made whiskey and some scrumptious gin-drunk berries to go with it. This would make a great gift for the fancy girl on your list who loves all things pink – and gin, too, of course. It costs just £35 and is from The Cheshire Cheese Company as well.
4. Yankee Candles
The Brilliant Gift Shop has a fabulous 3 for 2 deal on their medium jar candles from Yankee Candle Company where you buy two, you get one free. They cost just £19 each and there is a wide range of scents to choose from. Give them all to the same recipient or not! It's up to you, but you could easily mark three names off your shopping list with this deal and do so cheaply, as well.
5. Scrabble Cookie Cutters
This nifty set of Scrabble Cookie Cutters are the perfect gift for the word enthusiast or baker lady on your list. The set contains twenty six Scrabble tile-shaped cookie cutters and a cool tin storage box for easy wrapping/gift giving. These can be used for embossing baked goods like cakes and fondant as well! Nobody will have a set of these, for sure! This set of Scrabble Cookie Cutters costs just £10 so you can absolutely afford to pick up a few sets! They are available from IWOOT, which offers free standard delivery on orders over £10.
6. Hot Cookie USB Cup Warmer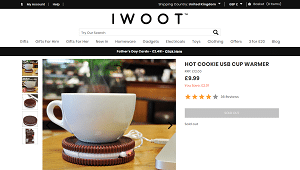 Don't you hate it when you cup of tea or coffee goes cold while you're sitting at your desk or watching your favorite television show? The ladies on your gift list do, too. That's why they NEED one of these cool Hot Cookie USB Cup Warmers. It is a cookie-shaped warmer that plugs right into any USB-capable device and keeps your cup at a toasty 50°C. The Hot Cookie USB Cup Warmer is available from IWOOT and costs just £8 – so be sure to get a few when you shop!
7. Pure Sheepskin Rug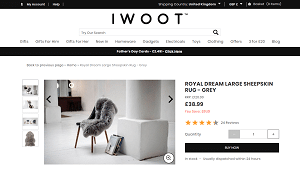 What could be more inviting than cuddling up on a soft, pure sheepskin rug in front of the fireplace on a cold winter evening? These gorgeous rugs are made from natural sheepskin and contain no harsh chemicals or dyes. They are available in grey, white and a rich brown color to make them easily coordinated to any décor. These rugs cost £39 at IWOOT and must be pre-ordered for on-time delivery. Shop now!
8. Microwaveable Slipper Boots
These super cozy fur slipper boots are perfect for those cold winter evenings at home. They can be put in the microwave to heat them up for extra warmth, if you're really cold – or worn as is for the perfect addition to those comfy pajamas. These microwaveable slipper boots cost £15 and are available from Getting Personal UK. Be sure to sign up for their email list to receive a coupon good for 10% off your first purchase to save even more.
9. Engraved Vintage Style Jewelry Box
This gorgeous vintage-style jewlery box is the perfect gift for a wife, daughter, sister or other special lady in your life. It can be custom engraved with 100 characters over four lines and features a beautiful faux silver finish and complementing grey cloth lining. This stunning jewelry box is priced at just £25 and is available from Getting Personal UK.
10. Essential Makeup Brush Set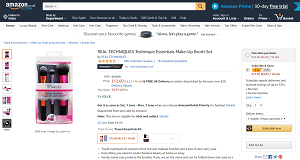 This high quality set of three makeup brushes are the ideal product to put that flawless finishing touch on your day or night time look. It includes a multitask brush, a foundation brush and a shadow brush with taklon bristles. The set costs £12.60 and is available from Amazon UK.
11. St Kew Cornish Tea Gift Hamper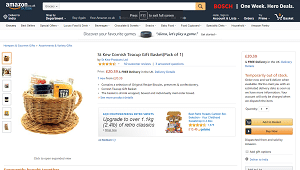 This romantic gift hamper from St Kew makes the perfect addition to any afternoon tea. It comes packed in a lovely straw hamper and includes Cornish tea, strawberry preserves and lots of other tea treats like shortbread and strawberry cream fudge. This tea set is priced at £18 and has a low delivery fee of £3 – from Amazon UK.
12. xtava Satin Wave 5-in-1 Curler with Temperature Control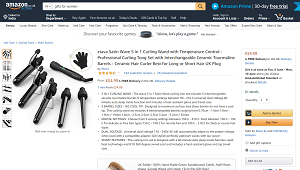 This xtava Satin Wave 5-in-1 Curler with Temperature Control is a great gift for women who like curling rods, but also want the versatility to different styles and sizes of rods. It comes with five rods in various sizes that fit onto the electric handle and the set also includes a heat-proof glove for added safety. The rods range in sizes between 0.3 inch to 1.25 inch and features a sensitive heat control and rapid-heat sensors. This set is priced at £23 at Amazon UK and includes free delivery as well.
For The Fellas
13. Suitcase Style Portable Grill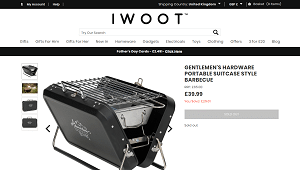 Guys love to grill. In fact, most guys love to grill anywhere they can – which makes this suitcase style portable grill a super choice for the BBQ fan on your list. When closed, it looks like a fancy metal suitcase with a sturdy handle, but when you open it, the suitcase reveals a grill on the inside, along with sturdy collapsible legs for stability. This little grill would be great for camping, traveling or just about anywhere the grilling mood strikes. It is available at IWOOT and is priced at £50.
14. Toilet Football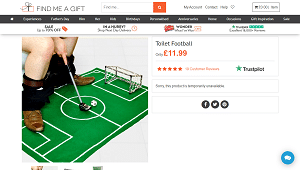 Everybody knows that one guy that spends FOREVER in the bathroom – leaving everyone else to wonder what he does in there for so long. Now, he has an excuse. This handy toilet football set will keep him occupied for….ever, possibly. It comes with a game mat, balls, putter, goal and a Do Not Disturb sign. It's a fun gift, for sure – and unique, too. This toilet football set is available from Find Me A Gift and costs £10.
15. Smartphone Projector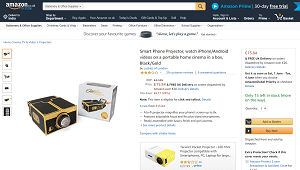 Those lovable geeks on your list will love this retro style smartphone projector that allows them to create awesome slideshows using images from their phone. All they need is a smartphone and a clear wall/screen to project the images onto! And popcorn, of course. This smartphone projector is priced at £15.85 and is available from Amazon UK.
16. Spy Drone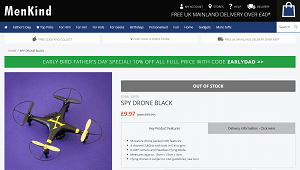 Drones are becoming wildly popular. They are sort of like RC toys, but have cameras attached to record video from vantage points that would, otherwise, be inaccessible. This spy drone is small and lightweight – but has some pretty cool features. It also comes with a micro SD card and card reader so you can easily transfer your video to your computer, tablet or other device. This drone is a great choice for someone just starting out with drones and makes an awesome gift for kids as well. This spy drone is priced at £10 and is available from MenKind.
17. Professional Action Cam
This amazing professional action cam is a super choice for those guys on the go. It features an impressive 12 megapixels resolution and is capable of recording up to 90 minutes of videos, along with hundreds of still images. It also comes with a handy mounting bracket so that it can be attached to bikes, trikes, skateboards, drones or anything else you can think of. It also records sound and is waterproof – which is perfect for those underwater action shots. This professional action camera is priced at £50 and is available from MenKind.
18. Star & Satellite Finding Binoculars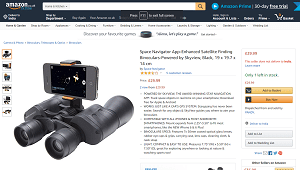 These Star & Satellite Finding Binoculars are the perfect gift for the novice astronomer on your list. They are powered by an app on your smartphone, which is mounted atop the binoculars with a special clip. The app guides you on where to look and what you are seeing – while giving you impressive details about the galaxy. With these binoculars, you will be able to see satellites, the space station, the mood and more – from your very own eyes! This gift is super-cool, no matter who you are. They cost £30 and are available at Amazon UK.
19. Leather Wash Bag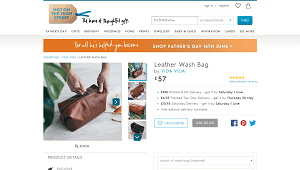 This stylish leather wash bag is the perfect accessory for the traveling businessman on your list. It is made from high quality leather in either brown or black and features a waterproof lining and sturdy gold zip closure. The bag can be personalized with up to three initials to add a classy finishing touch. The bag measures H 12cm x W 25cm x D 15cm and is roomy enough for toiletries, razors and more. The price is £45 and it is available at Not On The High Street.
20. Leather Laptop Case For MacBook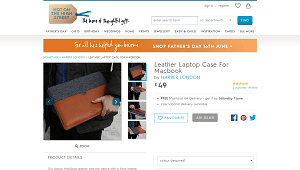 This stylish leather laptop case for MacBook is another great accessory for the businessman traveler on your list. It is made from high quality tan cowhide, which means it will age beautifully over time. The case also features 100% wool felt lining and trim for added softness and protection of the Macbook. This case can also be personalized with three initials for special touch – and comes in various sizes. The price is £49 and it is also available from Not On The High Street.
21. The Beard Buddy
Beards are all the rage right now and, well – they have to be trimmed. Any bearded guy (and the girl in his life) know what a mess that can be to clean up. Enter: The Beard Buddy.. It's a handy bib that features hooks and suction cups on either end that attach to a mirror to catch the trimmed hair. The beard bib can then be dumped/shaken outside, washed and stored away in a handy travel pouch (included) until it is needed again. The Beard Bib also works great for haircuts, too. It is available from Firebox and costs £13.
22. Star Wars Light Saber Chop Sticks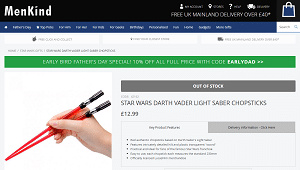 Because…chop sticks.
And light sabers.
In one.
These super cool light saber chop sticks are available in red, blue and green and measure about 23 cm long. The chop sticks require 8 watch batteries, which are included. Their price is just £13 at MenKind– so you can afford to buy several sets for all the Star Wars fans on your list! .
23. H&M Hoodies and Sweatshirts
Hoodies and sweatshirts are a fall and winter staple so guys like to live in them when the cooler weather strikes. H&M has them both in a wide range of colors and styles that makes coordinating with any wardrobe (and personal taste) easy! They also offer a variety of sizes, too – all the way up to 2X. These H&M sweatshirts and hoodies are priced around £15 – with some of them starting at just £8.
For The Kids
24. StikBots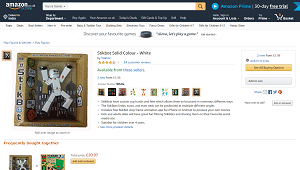 StikBots are the cool, new action figure that lets you bring your toys to life. They have suction cups on their hands and feet that allows them to be posed at various angles for stop frame animations on your iPhone or Android device. You can make your own cartoon series using these guys! There are eight colors to choose from and they are priced at just £6 each at Amazon UK, which includes free delivery.
25. Lilypad Gardens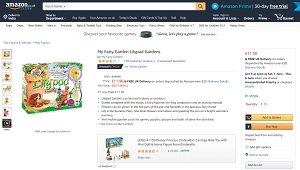 The fairy lover on your gift list will adore this beautiful lilypad garden! It is a flower pot where flowers or plants can be grown in the top and the bottom houses a lovely fairy home. The set comes with a pretty fairy figurine and her pet frog – along with various furnishings and an activity manual. This Lilypad Gardens set is available in a range of styles from Amazon UK and costs £20.
26. i-Loom Bracelet Maker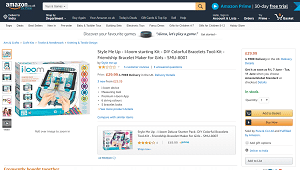 Remember the old days of making friendship bracelets and knotting them all by hand? It was tedious work, to say the least. The next generation in looms has arrived! It is powered by Apple and compatible with tablets and iPhones – which allow you to create amazing designs in a snap. There is a digital screen with instructions and sturdy string guide plate that allows you to keep all your threads in order as you work. This really is amazing technology that gives new life to a old favorite – friendship bracelets! The i-Loom Bracelet Maker is priced at £36 and is available at Amazon UK.
27. Vtech Smartwatch Plus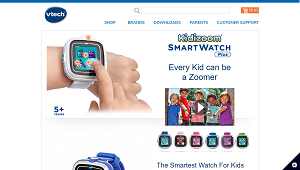 If your child is interested in technology, but is just beginning to understand how it all works – this Vtech Smartwatch Plus is a great gift. It's a watch with typical watch features – but also includes so much more! Like three built in games, voice recorder and video recorder. It connects to any USB-enabled device for downloading and comes with an easy to understand instruction and features manual. This watch is available in various colours at Vtech.
28. LeapFrog Leap TV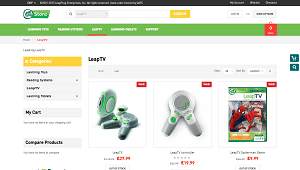 LeapFrog Leap TV is a great gift idea for the little folks who aren't quite ready for traditional video game systems. They get to have a fancy controller and all the fun that big kids do – but in an age appropriate layout that features fun learning activities! The Leap TV library includes more than 70 built-in games and videos that teach reading, math and science. The system also allows children to use their bodies to interact with the games, which is great for physical activity as well! LeapFrog Leap TV is priced at £28 and is available from LeapFrog Store.
29. Nerf Modulus Tri-Strike Blaster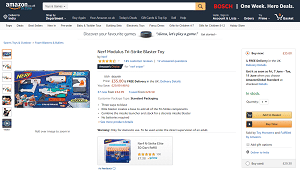 This high powered 10 dart + missile launcher Tri-Strike Blaster is sure to be a hit with any Nerf fan on your list. It features dart blaster, barrel extension, missile l 10 Elite darts, dart clip, 4 Mega darts, 1 missile, various other components and instructions. Shoot them one at a time or all 10 at once! This Blaster can be arranged various ways to create unique weapons, based on the required "force" of the impending attack. Nerf fans will love challenging their friends to Nerf wars with this massive dart blaster from Nerf! It is available from Amazon UK and costs £35. This product qualifies for a pack of 30 free darts under a special promo from Nerf.
30. SelfieMic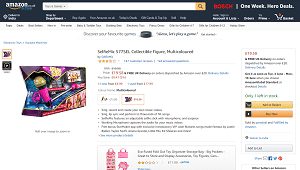 Take the traditional selfie stick a step further with the SelfieMic! It has a built-in microphone and earpiece! Just download the free app that comes with the stick to have access to thousands of popular songs for karaoke! Sing, lip sync and/or record videos of yourself to share with friends. Invite them to sing a duet with you! This product also comes with 1,000 credits for purchasing additional tracks as well. The SelficMic is available from Amazon UK and is priced at just £20.
31. The Secret Life Of Pets: Max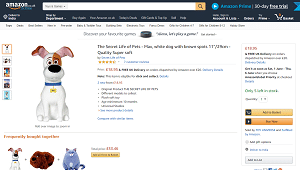 This interactive toy is part of The Secret Life Of Pets franchise and is fully interactive! It responds to commands, walks, barks and moves just like a real dog. You can walk him on a leash or take the leash off for him to roam freely. Aside from being a great toy that any child would enjoy, Interactive Max is the perfect way for children who don't have pets to experience what pet ownership is like. He uses 3 AA batteries (included) and is available for £19 from Amazon UK and qualifies for free UK delivery.
32. Electronic Chewbacca Mask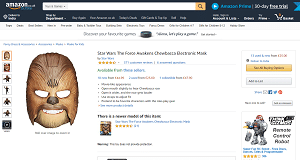 This mask was all the rage on the Internet a few months ago and now, you can have your very own! It growls and howls each time you open your mouth and is powered by two AAA batteries, which are included. This electronic Chewbacca mask costs £37 and is available at Amazon UK.
33. LEGO Minecraft Set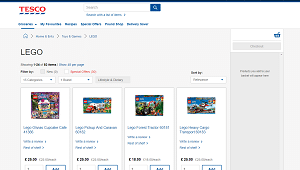 Gamers everywhere can't get enough of Minecraft. Now, they can take their creations into real life with this super Minecraft set from LEGO. This 521 piece set features many popular elements from the game, including torches, plants, TNT and a pickaxe – plus it comes with a realistic Steve figurine and an 8-1 building instruction book. This LEGO Minecraft set is available from Tesco and costs £40.
Giftcards For Anyone and Everyone
34. Netflix UK Gift Card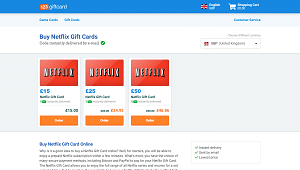 Netflix has now become a household name as choice for entertainment. You can now give a Netflix subscription as a gift! They are available at 123giftcard, choose the denomination you would like to load on the card and viola! You're done. The recipient uses a specially generated code to redeem the card online once they have received it.
35. iTunes Giftcards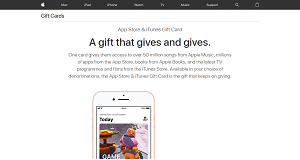 Anyone with an iPhone or tablet will appreciate receiving cards from the iTunes store. This three pack of giftcards comes in denominations of £10, which you can give to one recipient or pass around to a few people. They are available from the Apple giftcard center for the face value of £30.
36. Google Play Store Giftcards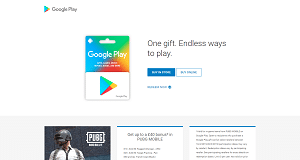 Android users will appreciate a Google Play Store giftcard for sure! They can purchase games, apps, books, movies and more to download onto their Android device. These cards are available at the Tesco giftcard center and you can choose the denomination for the card, up to £50.
37. XBOX LIVE Giftcards
Hardcore gamers LOVE getting giftcards from Xbox! You can get them directly from the Microsoft store and choose your own denomination, up to £50. Some values are just £15, which means you can afford to buy a few cards for all the different gamers on your list.
DIY Gift Ideas
You don't have to spend lots of money to give someone a memorable gift they will appreciate. Something as simple as your time and attention to detail can make a big impression on even the most hard to buy for person on your list. Here are a few DIY ideas for anyone on your list.
38. Babysitting Coupon Book
A handmade Babysitting Coupon Book is a great gift idea for the parents on your list. You can design and print these right at home and personalize them any way you would like. Stressed out parents will certainly appreciate the opportunity to get away from the kids for a while and just relax!
39. Homemade Dinners For Freezing
Those time-crunched people on your list will absolutely love receiving homemade dinners in containers that can be frozen and reheated in a pinch. Cook a batch of soup, pasta or any other dish that freezes well and store in freezer-safe containers (which are super cheap) that can be wrapped and delivered. This is a great gift idea for elderly people, too – who may not cook for themselves very often.
40. Jar Mixes
Jar mixes are a simple, affordable, easy to make gift idea that you can give to anyone on your list. These mixes are stored in a glass jar and can be dressed up with ribbon, printed labels and instruction tags for mixing. You can find a trove of jar recipes online -for everything from cookies to pasta dishes. These are super affordable and the ingredients are usually things you have in your kitchen anyway.
41. Cash
You can never go wrong with cash. It's useful. It's one size fits all. And it's very, very much appreciated by anyone!