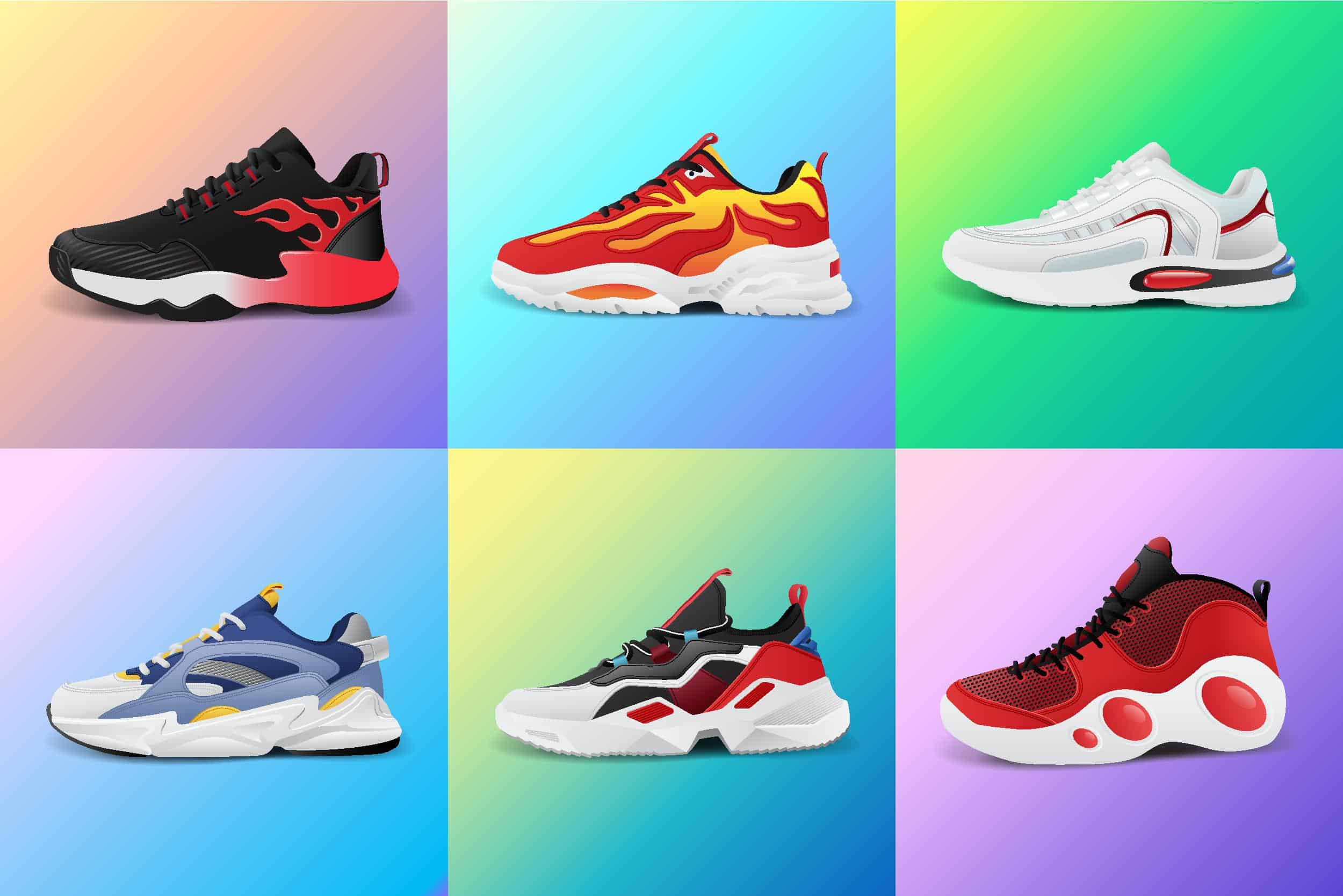 Where To Buy The Best Sportswear & Sneakers In The UK
You can't beat the feeling of finding the perfect sneakers or sportswear item online. The excitement as you add it to your basket. The rush of adrenaline as you type in your credit card details… and the crushing disappointment of being notified that it's a UK website that doesn't deliver outside of the United Kingdom.
Believe it or not, some British online stores still don't deliver abroad, but something like that shouldn't stop you. So, if you're looking for the best sportswear and sneaker stores in the UK, keep reading.

The British sneaker brands we'd recommend.
For something a bit different, we've compiled a short list of trendy British sneaker brands you might want to try:
1. Barbour
Barbour is a popular British sneaker brand famous for creating original, timeless designs from the highest quality materials. They've teamed up with Adidas to develop Barbour Adidas Originals. And they also have their own range of trainers available for men, women and children.
Sneaker prices start from around £65 at the lower end of the market, with premium pairs costing upwards of £130.
Barbour sneakers are available now on their official website and from other UK online shoe stores too.
2. Walsh
Walsh produces trainers solely for the UK market. They teamed up with Lexus to design trainers to complement their CT 200h sports car and supplied Team GB with their Fosters De Luxe track spikes for the Olympic games.
So, with that in mind, they're probably pretty pricey, right?
Actually, no.
Most Walsh sneakers cost between £60 and £80, making them an affordable, big-name brand.
3. Grenson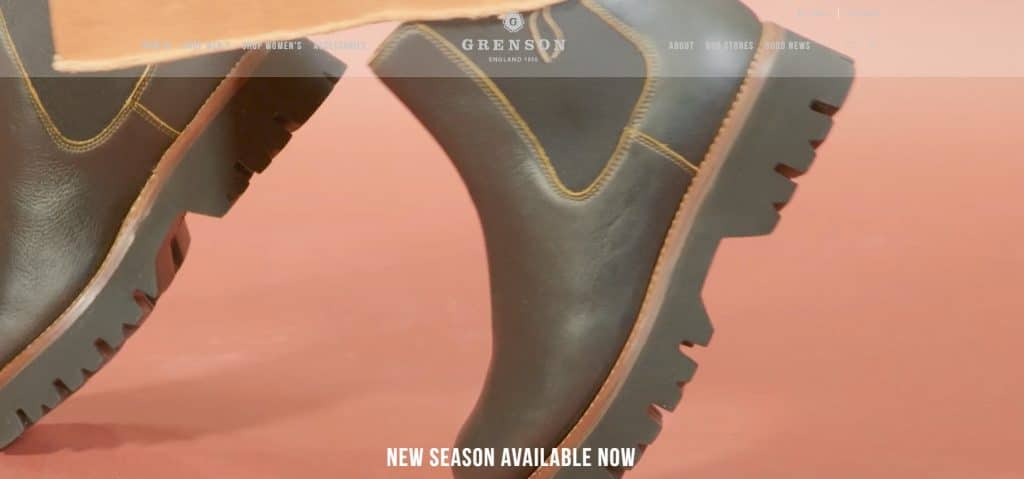 Grenson is one of the oldest UK sneaker brands, and when it comes to trainers, they're priced anywhere between £195 to £285 — and beyond.
If you're on a budget, you won't find any cheap options here. But if you've got cash burning a hole in your pocket and you're eager to get your hands on high-end, designer trainers that'll last for years, then you can't go wrong with Grenson.
***
Just three examples of UK sneaker designers for you there, but we get it. You might be looking for your favourite pair of Converse, Nike, Puma or New Balance, even if they have to be shipped from the UK.
If that's you, we've got you covered.
The 3 best places to shop for sneakers in the UK.
There are lots of options when it comes to UK sportswear stores, but here are three you really need to check out:
1. Footlocker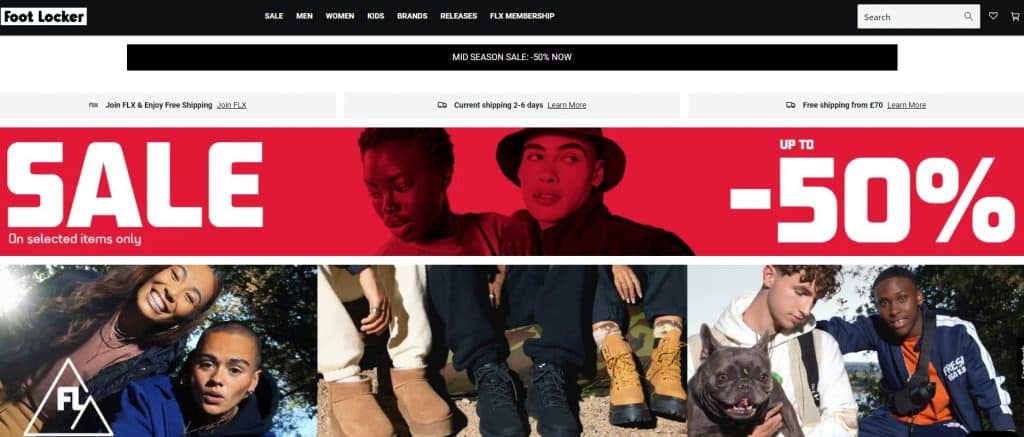 Although an American brand, Footlocker is huge in the UK. Their online store has thousands of options, with many limited edition designs. In fact, the demand is so high they have a 'Release Calendar' on their website, so you can track when a design is due out, how many are available and for how long.
They sell all the top sneaker brands, like New Balance, Nike, Puma, Converse and Vans.
But the limited editions only available at Footlocker are what makes this an exciting go-to store.
2. JD Sports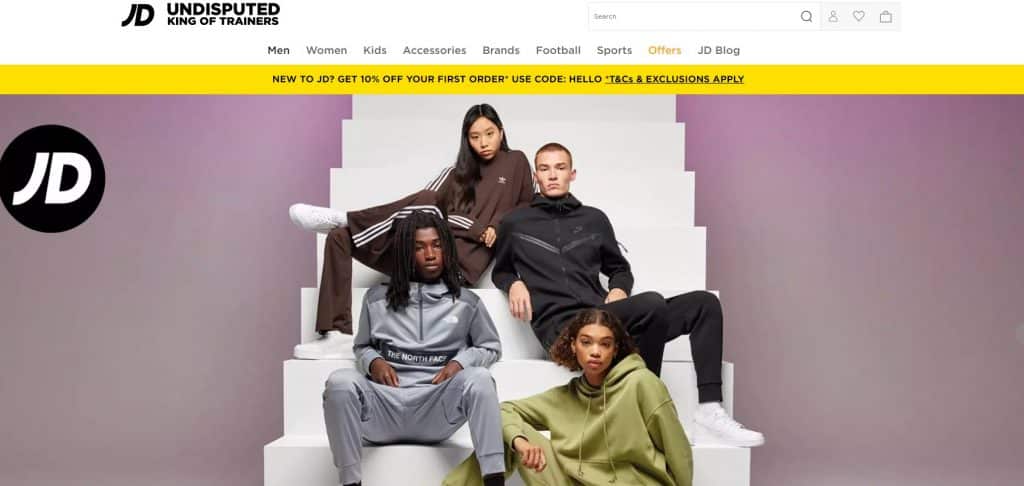 JD Sports' tagline is: Undisputed King of Trainers.
And it's hard to disagree. With around 400 stores nationwide, JD is a behemoth when it comes to sneaker options.
You'll spend hours in the store, let alone online, where there is even more choice. So, whether it's Fila, Reebok, Nike, puma, BOSS, Champion or a hundred other brands you're after, JD Sports will leave you completely spoiled for choice.
3. Schuh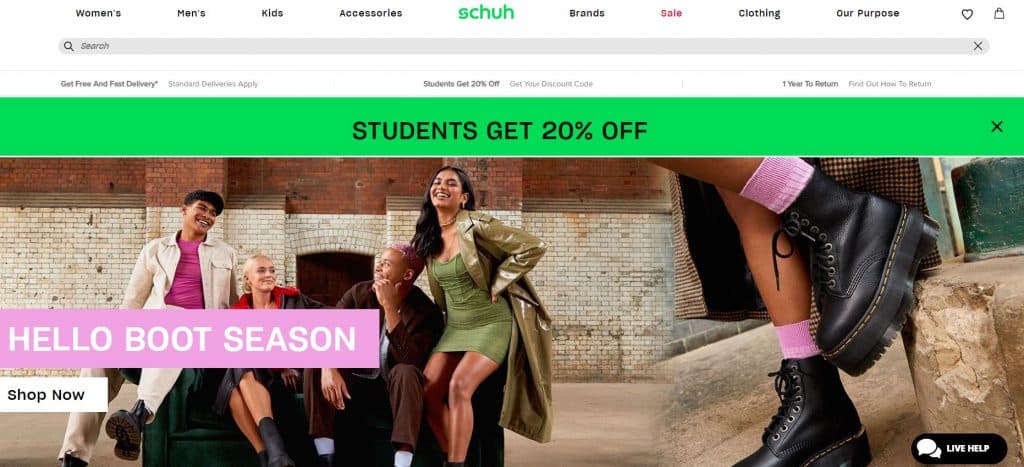 Schuh is a Scottish brand that grew from one small shop in an Edinburgh shopping arcade to 120 stores nationwide in a relatively short space of time. While selling the latest big brands, they also think a little outside the (shoe)box by taking traditional shoes, like Dr Martens, and creating exclusive, quirky and eye-catching polka dot, flowery or tie-dye designs.
For something traditional as well as original, schuh is a good option.
The best UK sportswear stores for great deals
You love a bargain. We love a bargain. Let's face it, everybody loves a bargain. With that in mind, here are three UK sportswear stores packed with quality sneakers at affordable prices:
1. SportsDirect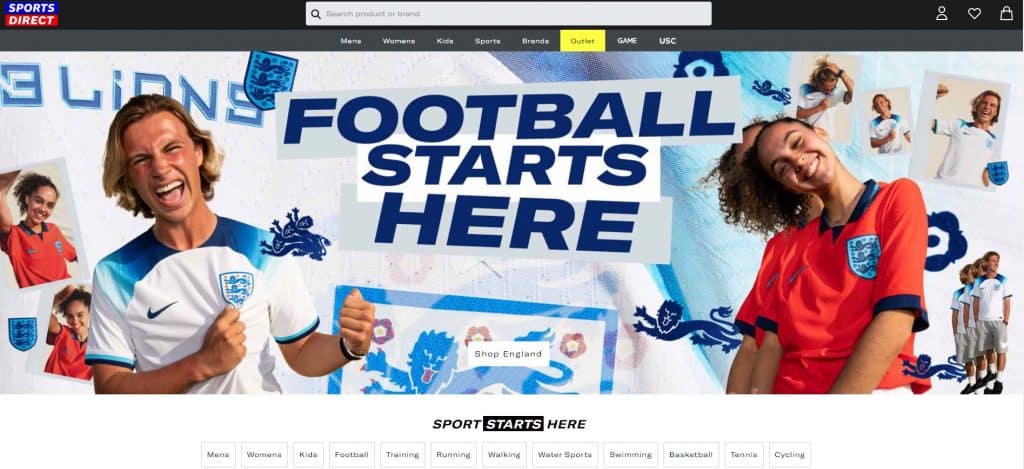 Sports Direct is pretty much the place to go for UK sportswear, clothing and accessories. Their stores are an Aladdin's cave of sporting goods that will leave your basket overflowing with goods — and you'll do the same when shopping online.
Why?
Because their prices are incredibly low, which means you can pick up some pretty big sneaker brands, including Nike, Puma, Reebok, etc., for a fraction of the price you'd pay elsewhere. You won't get the latest must-have releases here, but if you want some high-end sportswear for a budget price, go direct to Sports Direct.
2. Decathlon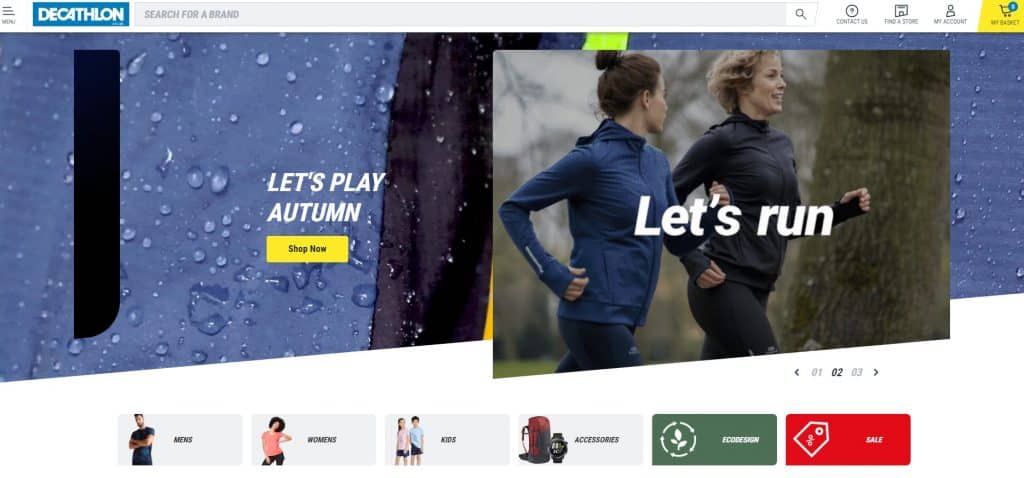 Whole stocking brands like Adidas, Asics and Skechers, Decathlon also stock a lot of sneakers from brands you might not be familiar with, like Kalenji, NewFeel and Evadict.
But the best part is the price.
With regular sales, there are a lot of bargains to be found. And even when they're not on sale, there's a lot of sportswear, trainers and accessories to buy at low prices.
Decathlon will have something to excite you if you're looking for something different.
3. Next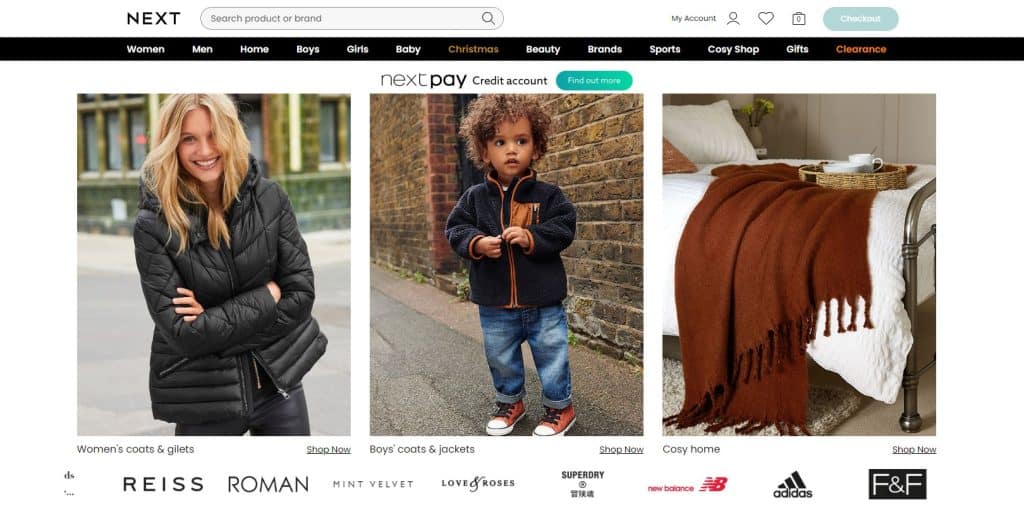 With the pandemic seeing off Debenhams (which now survives as online only, and with very little of the stock it used to carry), Next steps up into third place for budget UK sneakers.
With 510 stores across the UK and Ireland, Next is a big hitter with reasonable prices. You'll find many popular sneaker brands in their online stores, including Converse, Umbro and Asics, and sportswear brands like Under Armour and The North Face.
But that's not all. They also have their own line of sportswear.
Like SportsDirect, you won't find the latest releases or exclusives in Next, but you will find good quality at a price you can afford.
Don't make this mistake when buying from the UK.
Never pay over the odds!
There are loads of bargains, deals and sales to be had. Shop around and find sneakers, sportswear or accessories for prices that won't bring you out in a cold sweat.
But what happens if you've found the perfect pair of sneakers on a UK Website that doesn't ship internationally?
Firstly, don't panic.
Secondly, speak to us. We have the answer.
Buy UK sportswear and sneakers with myUKmailbox
Not all UK online stores ship abroad, which is a real pain in the butt when you find a set of sneakers you can't find anywhere else.
If only you had a UK shipping address.
Well, actually, now you can.
At MyUkMailbox, we provide you with a UK shipping address to use when buying online from brands that don't ship internationally. All you need to do is input it as your delivery address at the checkout, and once purchased, we will forward them to you.
Simple. Reliable. Fast
Sign up for MyUKMailbox for free today and take advantage of the reliable and cost-effective UK parcel forwarding service.