Celebrate the Queen's Birthday. Here Are 5 Royal-Themed Gifts Available in the UK This Summer.
Her Majesty the Queen reaches the magnificent age of 91 this Summer. We at myUKmailbox love to celebrate Royal occasions and with this year also being the Sapphire Jubilee, 65 years since the Queen's coronation, this is the time to order your perfect Royal Gift and let us ship to you, Quickly, Safely and Securely.
1) Buckingham Palace Champagne and Wine Gift Set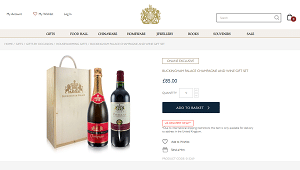 For a real touch of celebration and the feel of genuine quality how about this double bottle Gift Set of Wine and Champagne direct from the Royal Shop at Buckingham Palace.
Perfectly presented in a classy Gift Case complete with the Buckingham Palace Crest it contains a superb Champagne to suit lovers of Chardonnay, with citrus fruits
and hints of pear and peach, giving a fresh yet rich flavour.
To complement the Bubbly is a medium-bodied Pauillac Red, from the vines of Chateau Lafite and nearby Chateau Duhart Milon, which has hedgerow fruit flavours of blackcurrant, raspberry and redcurrant in a well balanced wine.
Perfect to enjoy during the Queen's Birthday celebration. Enjoy!
2) Handpainted Tower Of London Chess Set
This is a real touch of luxury and could be a superb conversation piece in your display cabinet.
Featuring models of the Tower of London as the Castles, ravens double as the Knights, medieval styled Kings, Queens and Bishops complete the first row and the Pawns are represented by Yeoman Warders, the famous ' Beefeaters'.
All the pieces are handmade and painted, and presented in a lavish gift box.
Add a look of luxury to your home with this fantastic collectors item.
3) Ascot Gift Hamper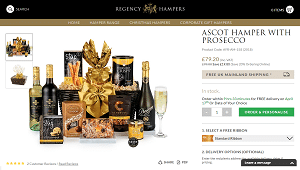 For all the foodies out there here is a fabulous food and drink hamper that is packed with loads of luxury goodies.
From delicious farmhouse pork pate to lovely caramelised onion chutney, savoury tomato and olive bread thins to salted mixed nuts and crunchy hand cooked cheese and onion crisps.
For those with a sweet tooth the hamper contains a lovely jar of strawberry extra jam, strawberry steamed pudding and a luxury cornucopia of swiss chocolates from renowned chocolatier Lindt.
Not forgetting of course a quaffable sparkling wine and a fruity, crisp Shiraz from vintners Wolf Blass.
Expertly presented in a willow hamper this is the perfect gift for those lazy summer days.
4) Buckingham Palace Model Kit By Lego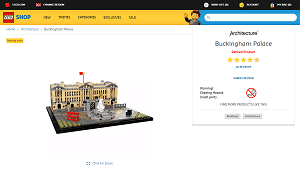 Ideal for all ages this kit will suit Lego fans, model enthusiasts and also keen Royal memorabilia collectors.
From the world-renowned Lego stable this is featured in their Architecture range.
Made up of 780 individual pieces it will give hours of fun.
The model features the iconic neoclassical East Wing facade with its famous balcony and Royal Standard flying from the roof.
Showing the full frontage with a section of The Mall and the Victoria Memorial it also has a red London bus and a typical black cab.
The booklet within also contains info about the design, architecture and history of this famous building.
5) Clogau Gold Rose Pink Sapphire Ring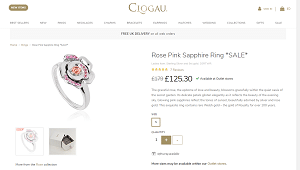 This item is uniquely symbolic of this years Queen's Birthday Celebration.
A beautiful ring made from Sterling Silver and rare Clogau Welsh Gold, which has been associated with the Royals for many years. It features a superb pink sapphire in the shape of a rose, again iconically royal.
And of course this year is also the Queens Sapphire Jubilee so the ring has three royal connections as, as well as being extremely gorgeous to look at.
We at myUKmailbox hope that you have picked up some ideas for your gifts with a Royal theme available in the UK. All these royal goodies can be shipped to your own UK address and our team can easily send it over to your homeland in 2-4 days time.
Her Majesty the Queen is known and respected throughout the UK, around the Commonwealth and all across the wider world so we are sure that people will love to purchase their gifts and celebrating the Royal occasion this Summer.