Top 10 Gifts for Pets In The UK
Any dedicated pet owner will tell you that their fur (and feather) babies are absolutely a part of their family – which means they will land a spot on the family Christmas gift giving list as well.
Even though your pet may have a few favorite toys or treats, they can't really tell you what they want for Christmas – so we came up with a handy pet gift buying guide to help point you in the right direction.
This list includes fabulous Christmas gifts for dogs, cats, birds and everything in between. Plus, every item on the list is readily available for delivery and/or pick up in the UK so you don't have to worry about crazy long delivery times!
Here's a look at the top ten pet gifts in the UK for the 2016 Christmas shopping season.
Luxury Pet Carrier Car Booster Seat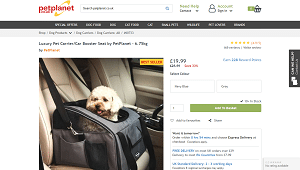 If you are one of those adoring pet owners that likes to take your pup on trips everywhere you go, this Luxury Pet Carrier Car Booster Seat from Pet Planet is the ideal gift for you both. It features a sturdy carrier with soft sides, padded interior and shoulder straps for transporting. The carrier also turns into a kennel/booster seat for the car that adds a bit of height for your pup to see out the window while being securely strapped in via the adjustable leash attachments that fasten to your car's head rest. The carrier is available in a range of colors and is priced about £20 at Pet Planet.
Animal Babble Ball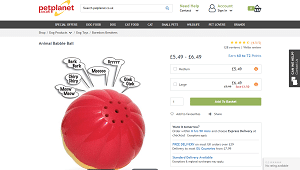 If your pet is the curious sort, this Animal Babble Ball from Pet Planet will keep them entertained for hours. At first glance, it looks like a regular rubber ball that rolls and bounces, but once it's in motion, the fun begins. This Animal Babble Ball is equipped with 20 realistic animal sounds that will have your pet wondering what the heck is inside! Sounds include chicken, coyote, cat, frog, cow and more. The Animal Babble Ball is available in three sizes and works great for cats, dogs, ferrets and others. The price is about £6 and you can get one from Pet Planet.
FroliCat Bolt Automatic Laser Light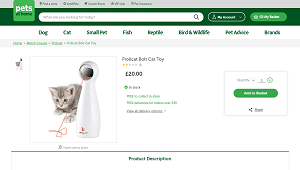 If you want to ensure hours of endless entertainment for your cat, then the Frolicat Bolt Automatic Laser Light is the thing to buy! It features an automated laser in a variety of patterns that display on the floor, wall or anywhere you point it. You can hold it in your hand or set it up somewhere to work on its own. It has an automatic timer than can be programmed for a specific amount of time or you can turn it off and on as you like. Even though this product is marketed as a cat toy, it works great for dogs, too. The Frolicat Laser Light is available at Pets At Home for £20.
Trixie Natural Living Birger Small Pet Playground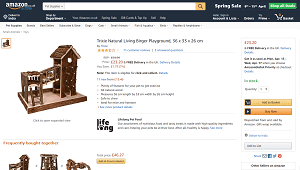 Hamsters, mice and gerbils will love this Trixie Natural Living Birger Small Pet Playground! It features a playhouse, ladder, bridge and peg wall for climbing. Its natural wood construction means its a safe and sturdy addition to your pet's cage – which will provide hours of fun and exercise. The Trixie Natural Living Birger Small Pet Playground is available at Amazon for £23.20.
Treat and Activity Ball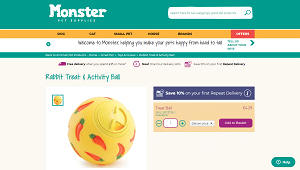 This Treat and Activity Ball is a great choice for rabbits or guinea pigs. It is a ball they can roll around for exercise and fun – but the ball can also be filled with treats, which makes playtime even more fun! It's sturdy, too and features a colorful design with a fun carrot pattern. The Treat and Activity Ball costs £4.29 and is available at Monster Pet Supplies.
Motorola Scout 85 WiFi HD Pet Monitor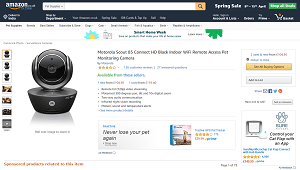 If your pet (or you) suffers from separation anxiety when you are away, this high tech Motorola Scout 85 WiFi HD Pet Monitor is your solution. It turns any compatible device, like a smartphone, tablet or laptop, into a fully interactive pet monitoring system – complete with two way audio! This product is also ideal for pet owners who are concerned about what their mischievous darlings are up to while they are away. Can be used for dogs, cats or any other animal in your home. The Motorola Scout 85 WiFi HD Pet Monitor costs £104.95 and is available at Amazon.
Horse Treats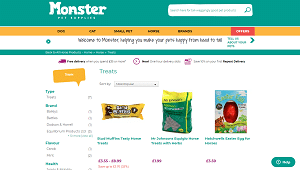 You mustn't forget about your equine family members this Christmas. Monster Pet Supplies has a full range of horse treats in popular flavors like mint and apple that are sure to please even the most finicky horse in your stable. Package sizes range from small to large so you can treat your horses to a few different flavors or stock up on the ones you already know they love. Horse treat prices at Monster Pet Supplies start at under £2.
Natural Living Playground For Parakeets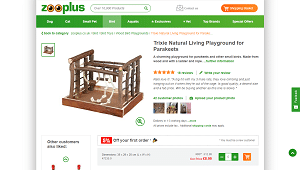 Bird lovers – and their birds – will love this fun, natural wood playground. It features a swing, a rope to climb, ladders, perches and lots of space for hanging out in the bottom. This product makes for a fun diversion from being in a cage all the time and provides ample opportunity for beneficial exercise. The Natural Living Playground For Parakeets costs £9 and is available from Zoo Plus.
Bird Carrier Free-Fly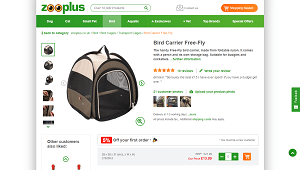 Sometimes you want to bring your favorite bird along, but you don't want the hassle of loading his cage in the car, right? That's where this nifty Bird Carrier Free-Fly would come in handy! It features a sturdy, easy to clean nylon design with interior perch, handle and double zip closures on the front and back. When not in use, the carrier folds flat for easy storage. This product is available from Zoo Plus and costs £14.
Advent Calendars For Dogs and Cats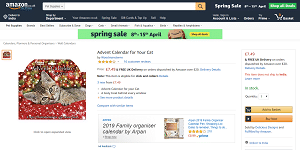 Let your pets enjoy the fun of advent calendars this holiday season with one of their very own. These advent calendars for cats and dogs from Amazon are filled with tasty pet treats that are also safe for children, if accidentally consumed. They start at just £4 and your pets will thank you for them!