Top 12 Items to Add to Your Winter Wardrobe
The clocks going back remind us that winter is here. Cold, wet, and windy.
But we have to keep going with our daily lives. We're British, so we complain about our weather, but we cope.
You do need a winter coat, but most of the time it's about keeping warm more than keeping dry. So you need to look at everything you wear from the skin out. Layers are the thing. Keeping warm is all about trapping warm air near your skin.
Rising gas prices mean we might be turning down our thermostats a few degrees. Wearing more layers even at home could be the new normal.
You need winter underwear just as much as a winter coat. You also need more layers between your underwear and the clothes other people see.
Some fabrics trap warm air better than others. Cotton is particularly bad, Polyester winter wear is manufactured to trap air in the fabric itself. Look for fabrics that feel warm to the touch for your winter wardrobe. Avoid anything that will trap moisture, you need to keep the air next to your skin warm, but you have to let your evaporated sweat escape.
Let's start at the inside and work outwards . . .
It's time to rethink your undies. Keeping warm in winter starts with the first garment you put on in the morning.
Underwear serves several functions. Winter underwear should keep you warm. These thermal panties are designed to do that. They also help smooth out your curves if you are wearing a tight skirt or pants.
Every woman needs a few pairs of sensible knickers as much as panties and thongs that are designed for appearances rather than warmth.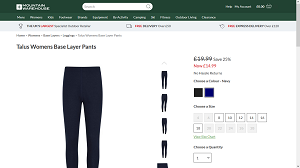 So, what comes after your thermal panties? Long johns (yes, you can get women's LJs), leggings, or base layer pants.
These base layer pants are perfect to keep your legs warm wherever you are. They work at home, in the garden, shopping or at the office if the company is cutting down on heating.
These under pants are made from 100% polyester and designed to wick moisture away from your skin, keeping you dry as well as warm. Easy to wash, quick to dry, and not bulky to pack – Perfect for a walking or skiing break in Scotland or further afield.
What do you wear under your top? A bra won't keep you warm. You need something on top of your bra but under your jumper.
Vests are for women as well as little girls. This vest in black silk is feminine without being frilly. More important – It will keep you cosy. It needs to be woman-shaped, but it doesn't have to support you – Your bra does that. If you want it to wear under a pale top, you have the option of buying the under-top in cream or champagne.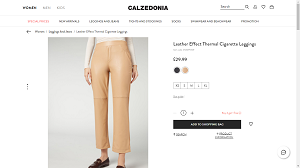 These smart leather-look pants come in two colours; black and natural camel. They are close-fitting in the body, but the cigarette-style legs are looser. Looser means you can wear leggings underneath them. They come in sizes from XS to XL, so you are sure to find them a good fit even if you are normal-sized. The pants are lined with a soft-touch polyester fabric and coated with polyurethane. Shopping on a cold day? Eating outside over the winter? You need these pants.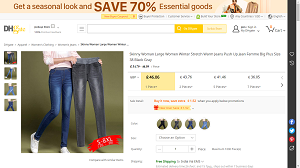 What do you need for everyday wear? Jeans, of course.
But most jeans offer zero protection against December temperatures.
That's why you need to invest in a few pairs of these warm denim jeans. The wide elasticated waist ensures comfort and they come in waist sizes from 23" to 35", so the fit is perfect. You have a choice of four colours; black, grey, dark blue and light blue. Use the on-page size guide – It includes waist, length, hips, and thigh measurements.
Loose tops work best in winter. They trap more warm air inside and you can wear under layers without looking like an onion.
This cashmere jumper is perfect for cool evenings at home or for work if your boss keeps the heating on low. It comes in sizes from XS to XL and in six different colours from classic navy to stunning pink. The jumper is long enough that you never get that cold bit in the middle where it rides up above your waist.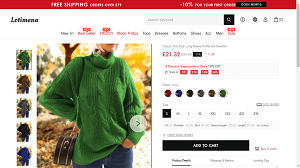 Sometimes you just need a big, loose jumper.
This oversized jumper is perfect for cold days when you really need multiple layers, but don't want to wear a coat. It is stylish, featuring a boat neck and a unique twist at the front. Unusually, it comes in two sizes, S/M and M/L so it will fit most women as well as teenagers. You have a choice of black, beige or grey, so you are sure to find one that will match your colouring.
Trainers aren't just for running. Choose your shoes for comfort and get style as an added benefit.
These fashionable and comfortable trainers from New Balance are perfect with any outfit from jeans to office wear. They come in 26 different colours!You want yellow trainers? You got yellow. You want purple trainers? You got purple. How do you choose?Whatever your colour preference you will find these shoes in a colour that complements your outfit.
These shoes have a nylon and suede upper and a non-marking rubber sole.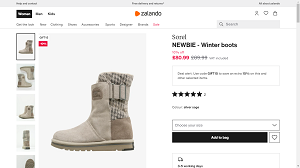 Of course, you need a new pair of boots. These are gorgeous! They are available in all sizes from 3 – 10. No half-sizes though. The upper is leather at the front and over your ankle. The leather is complemented by a knit fabric that will keep you warm in snow or frost.
These boots are slip-on, making them convenient when you need a quick change. They only come in the one colour, but that is a stunning silver grey sorrel.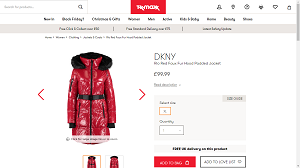 This dazzling padded coat from DKNY will complete your winter look. You will be well-insulated from the weather with the faux fur hood, elasticated cuffs, and polyester padded coat body and sleeves. You get a zip fastening for ease and a belt to emphasise your waist.
It comes in two sizes XS and XL. Most women will want the XL. It fits up to a size 20. If you are a smaller size, it just means you can fit more layers underneath, and the belted waist will still set off your figure.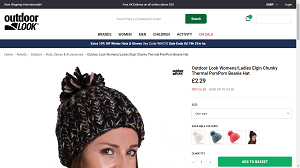 In Russia, nobody goes out without a hat. It might not be that cold here, but you still need a warm hat. Even if you have a lot of hair, a hat will help you keep warm. It will keep your hair dry in a shower, and that has to be a good thing when you are on your way to work.
The style is a chunky, hand-knotted look with a chunky pom-pom to set it off. It comes in four colours; blue, pink, brown, and cream. And it has a thermal fleece band to help it stay in place.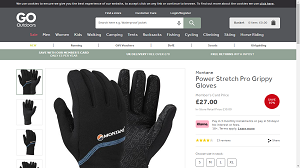 You are dressed from the inside out in warm under layers and clothes – But what about your hands?
Why do so few British women invest in a GOOD pair of gloves?Gloves that are designed to keep your fingers warm whatever the weather.
These gloves are made from Gore Windstopper fabric with a fleece lining and goat leather palm. They come in three sizes, too.
If you are prepared to pay a reasonable price for a high-tech pair of gloves, you will have warm hands again.
In Brief
It's winter, time to put away your cotton top, maybe even the skinny jeans because you can't wear anything under them.
You can't just put on a coat and expect to be warm. You need to rethink your entire ensemble.
Think yourself warm. Every item of clothing you put on has its part to play in keeping your body heat in. You have to choose carefully. Forget skin-tight, forget skimpy. Think loose, think fleece, think layers.
It's time to do your bit to reduce global warming – Even at home, you should wear more clothes instead of turning the heating up. Your wallet will thank you for it, too.