6 Ways To Save On Halloween Costumes In The UK
Halloween is fast approaching and that means it's time to start shopping for those fabulous, one of a kind costumes for the whole family.
Whether you are going for the traditional look with ghost, goblins and witches or something completely off-beat from your wildest imagination – there's a great deal out there lurking just for you.
What's more, we even have the inside scoop on super discounts on all your Halloween décor items as well.
Here's a look at the best ways to save on Halloween costumes in the UK and links to where you can find them.
Amazon UK 50% Off Halloween Costumes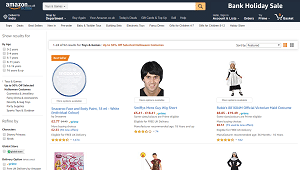 Amazon UK is offering the amazing deal of 50% off select Halloween costumes. Aside from full costumes, complete with masks and accessories, you can also find discounted pricing on single items to put together your own Halloween look, too – like wigs, eyelashes and face paint.
To make a great deal even better, most of the items in Amazon UK's 50% Off Halloween Sale are eligible for free NEXT DAY UK delivery, too!
Escapade UK Halloween Sale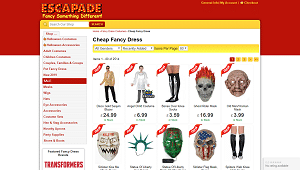 Escapade is also another good source for great Halloween deals. They have costume accessories starting at just £.99! Escapade has costumes for men, women and children with prices on full costumes starting at the super low price of just £5.99.
Aside from their "Sale" section, Escapade is very reasonable on their costume prices overall so you want to check out all sections of the site when you visit.
Be sure to shop early for the best selection and lowest prices!
Wonderland Party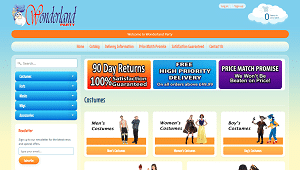 Wonderland Party offers high priority, free shipping on all orders over £50 – which is a fabulous deal for people who are ordering more than one costume or multiple accessory items. They also offer a lowest price/price match guarantee on all their costumes and a 90 day return policy on everything they sell.
Ladies costumes start at the unbelievably low price of just £8.99 and you will find amazing deals in the other sections of the website as well. Don't miss the "Clearance" section at Wonderland Party for rock-bottom prices on discontinued costumes and Halloween accessories.
The Laughing Stock Free Shipping Deal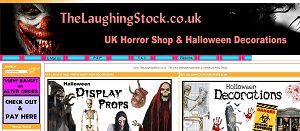 The Laughing Stock offers free shipping on orders over £100. Aside from costumes, they also have a wide range of Halloween decorations and prop items to make sure your Halloween party is a scary smash this year!
Party Packs UK Deals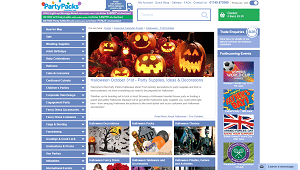 Party Packs has a few deals worth checking out when doing your Halloween shopping. Their inventory isn't just limited to costumes.
They offer decorations and Halloween party supplies as well. Party Pack offers a low shipping fee of £3.95 on most orders and free delivery on orders over £39.
They also offer a free inflatable pumpkin decoration using the coupon code on their website with any order of £25 or more.
Secret Insider Tip
The best way to save on Halloween costumes in the UK is to shop the end of the season clearance sales once the day has passed. You can easily land everything you need for next year's spooky fun day at prices up to 90% off retail.
You can find these deals online as well as in your local stores. Halloween costumes don't expire and neither do the decorations so you can stock up while prices are low and beat the crowds next year!