Top 10 Exceptionally Well Designed Kitchen Gadgets from the UK
When it comes to making over your kitchen, you may be thinking of the obvious ways like new appliances, a fresh coat of paint or even upgraded cabinets and countertops. However, another great (and inexpensive) way to upgrade your kitchen is to invest in new gadgets.
On today's market, there's a gadget for absolutely anything and everything you could ever want to do in your kitchen. From fabulous juicers and ice cream makers to simple hand-held utensils – there's a kitchen gadget out there somewhere that's guaranteed to make your life easier.
We have compiled a list of the ten best well-designed kitchen gadgets from the UK that you definitely want to add to your cooking arsenal – whether you're an expert chef or just a weekend novice.
OXO Good Grips Potato Ricer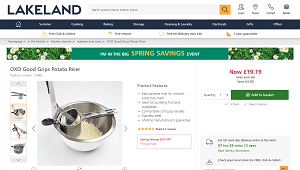 If you are looking for a high end, no fuss, no muss way of creating the easiest mash possible, this OXO Good Grips Potato Ricer is the product for you. It features a sturdy stainless steel design along with rubberized handles for easy gripping. The OXO Good Grips Potato Ricer requires 65% less effort than traditional ricers, which makes it a very efficient product. It costs £19.19 and is available from Lakeland.
Lakeland Wind-Up Digital Kitchen Weighing Scale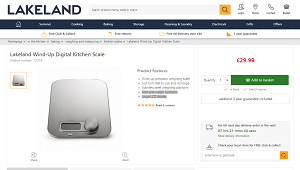 Having a scale in the kitchen is always a good idea when making those detailed recipe. This flat digital kitchen scale from Lakeland features a stainless steel weighing platform, add and weigh function and large LCD display. Just turn dial to use and recharge. The Wind-Up Digital Kitchen Weighing Scale costs £30 and is available from Lakeland.
Kitchenaid Hand Blender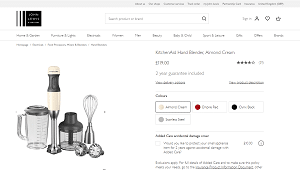 This 14 piece 5 speed hand blender from Kitchenaid is the Be All End All solution to all your mixing needs. It features a full size blender pitcher along with a smaller pitcher for food processing and chopping. There are two stainless steel removeable blending arms along with three bell blades that are versatile enough for any task – including mixing, blending or chopping right in your cooking pans. There is also a pan guard to prevent scraping and a no spill lid to prevent overflow. This Kitchenaid Hand Blender costs £119 and is available at John Lewis.
Dualit Jug Kettle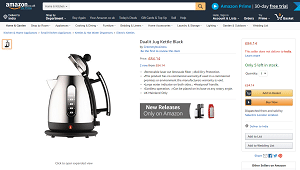 This Dualit Jug Kettle is a beautiful addition to any kitchen with its classy, retro style. It features a vintage design in polished stainless steel and non-slip bottom for easy handling. The great thing about this kettle – besides its handsome design – is that it boils 40 seconds faster than lower wattage models. It also features a dual water indicator gauge so you will always know when the kettle is filled or needs filling. This Duralit Jug Kettle also has a built-in dry-out safety feature that turns the kettle off when empty, to prevent overheating and fire. This kettle costs £84.14 and it is available Amazon UK.
Two Slot NewGen Toaster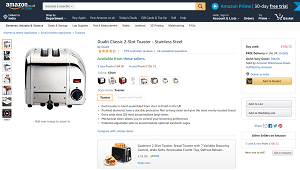 This retro-fabulous toaster is quite modern in its design, despite its vintage appearance. It features two slots for toasting plus a defrost setting for bagels, English muffins and frozen pastries. The dual heat selector lets you control the temperature in both slots separately, which is perfect for toasting different items at once. This NewGen Toaster from Dualit comes in a wide range of colors and finishes to compliment any décor – and is priced at £164.90.
ActiFry 2-in-1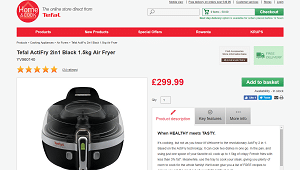 This dual purpose cooker from Tefal makes meal prep a snap. The top portion is a fryer – which only uses 1tsp of oil to fry anything! The bottom drawer works like an oven where you can cook meats or other items that need baking. The fact that you can prepare two separate dishes at the same time is very impressive – and makes for easy clean up in the kitchen as well. The Tefal ActiFry costs £300 and is available from Home and Cook UK.
8-in-1 Multi Cooker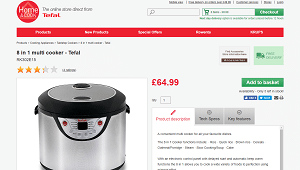 This 8-in-1 Multi Cooker is another great product from Tefal. It features a sleek stainless steel design, electronic control panel and pressurized lid. The Multi Cooker has eight heat/cook settings for rice, porriage, soups, steamed items and even cake! It's a super multifunctional product to have in your home or to give as a gift. The 8-in-1 Multi Cooker costs just £65 and is available from Home and Cook UK.
3-in-1 Panini Maker, Grill and Griddle by Russell Hobbs Cook at Home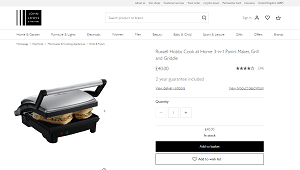 This handy 3-in-1 panini maker, grill and griddle will definitely make short work of making all your tasty faves. It features a handsome stainless steel finish, sturdy handle and colored temperature lights. When not being used as a panini or sandwich press, the grill can be opened flat in a 180 degree position for open faced grilling. Perfect for breakfast, lunch or dinner! The non-stick coating on the grill parts makes clean up a snap. This 3-in-1 grill costs £40 and is available at John Lewis.
Russell Hobbs 50L Kitchen Sensor Bin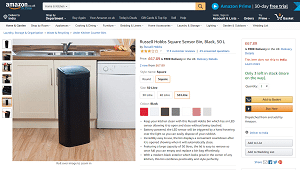 This fancy kitchen bin from Russel Hobbs features a sensor to open the lid for easy and hygenic disposal of trash. It is crafted from high quality carbon steel, has a 50L capacity and comes in a variety of colors for easy coordinating with any décor. The lid is also removable for easy access and cleaning. This Russel Hobbs Kitchen Sensor Bin costs £67.89 and is available from Amazon UK.
BergHOFF Orion 6 Piece Kitchen and Bar Set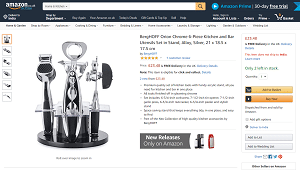 This BergHOFF Orion 6 Piece Kitchen and Bar Set will make a fancy addition to any kitchen counter or bar. It includes five ergonomically designed tools with easy grip handles and a nice black and acryulic storage caddy for easy access. The tools included in this set are: corkscrew, tin opener, garlic press, nutcracker and peeler – all of which are beautifully deisgned and compliment each other. This six piece set from BergHOFF costs £23.48 and is available from Amazon UK.