20 of the Best Tech Gadgets on Amazon
Practical.
Handy.
Best of all – affordable.
The world of gadgets is wide open. Some of the most clever tech gadgets are prohibitively expensive. But many others are surprisingly affordable and more useful than you might have initially imagined.
Everyone likes to feel like they are being efficient. They like to use their time well and when you find something to help you simplify the tasks at hand, they feel like a steal at any price.
But when you find something useful that is also affordable, it's a perfect pick.
Of course, selecting new gadgets means walking a fine line between getting something authentically useful that saves time or energy and something that seems interesting, but doesn't actually prove to be useful. Spending money on something that is simply interesting might feel good in the moment, but spending far less on something that actually proves to be tremendously helpful is a gift to yourself that truly keeps on giving.
Tech gadgets are a lot of fun, but they can also add up to be expensive. You want to keep an eye on your purchases as much as possible and you definitely want to know that your money is spent wisely and items are safely on their way to you. Use our tracking services to monitor your purchase every step of the way.
Here are twenty of the top tech gadgets currently available on Amazon.
Eton Emergency Red Cross Radio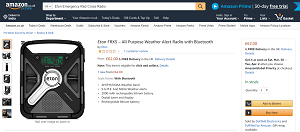 When an emergency pops up you don't want to be left wondering what you should be doing or where you should be going. An Emergency Red Cross Radio by Eton combines many of the most essential features into a single, rechargeable device.
Uvex Skyper Blue Light Blocking Computer Glasses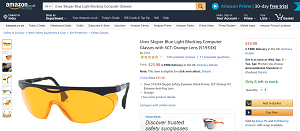 Get headaches or wind up with your sleep schedule thrown off due to blue light? Why not protect your eyes and block the blue light of computer and mobile screens in the office or at home using these blue light blocking glasses.
Computer Magnifying Glasses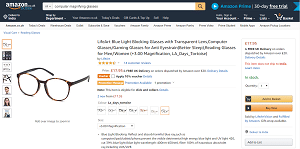 You can also take things up one more notch by blocking blue light and magnifying your computer screen in order to prevent eye strain. Make it easier to see what you're working on – especially if you stare at your small mobile screen daily with computer magnifying glasses.
Nintendo Switch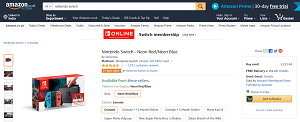 Play on the television if you're with a friend or your family, or take it on the go. The Nintendo Switch is one of the bestselling gaming gadgets with very good reason. It's handy, easy to transport and contains all of the classic Nintendo fun.
Steering Wheel for Nintendo Switch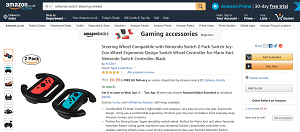 Love your Nintendo Switch and want to take it to the next level. Spend far less than you'd imagine and you can be the proud owner of two Switch steering wheels. Mario Cart just got that much more interesting – and competitive.
Dimmable LED Wifi Smart Bulb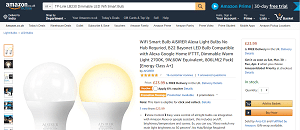 Want your lights to do more? Now they can thanks to a dimmable LED WiFi light bulb. This Smart Bulb synchs with Alexa's Google Home to give you options on turning the light on, off or finding the perfect setting somewhere in between.
Marpac Dohn White Noise Machine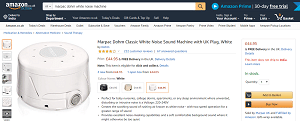 Considered one of the best in the business, the Marpac Dohn White Noise Machine will help you get a better night's rest even if you're surrounded by distractions. Turn on the noise machine, settle back into your space and sleep well every night.
Bluetooth Headphones
Want wireless headphones, but don't want to spend a small fortune to buy the biggest name brand? There are plenty of Bluetooth headphones on Amazon that will get the job done very well without the cost you'd expect.
PopSocket

A PopSocket attaches to the back of your phone thanks to a bit of adhesive. Once installed, the PopSocket makes it easier and safer to hold on to your phone when you're scrolling through feeds or taking selfies.
Anker 10ft Charging Cable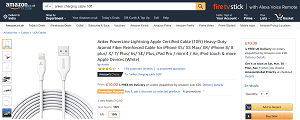 Is there anyone who doesn't need a spare charging cable or five? Get one for your home office, for your kitchen, for beside your bed, for your car and for your office. Better too much charging than too little – especially when you're able to really stretch out!
OtterBox iPhone Case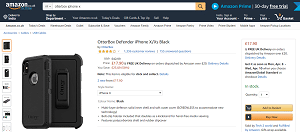 One of the best names in iPhone cases is still the best for a reason. Get a case that will protect your phone but still fit easily into your pocket with the newer OtterBox iPhone cases. It's the sort of stylish protection you'll be glad you have.
Slim iPhone Case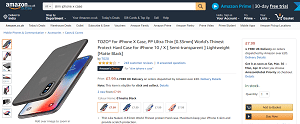 Not interested in one of the more heavy duty models? You can still get great iPhone protection from other case manufacturers. Look for some of the latest technology in slim iPhone cases to offer you ultraconvenient handling.
WiFi Smart Plug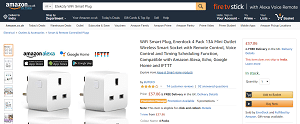 With a Smart Plug you can make anything wireless. Plug a lamp, television, computer or anything else you can think of into the WiFi Smart Plug and you can control that plug – and its devices – via voice commands with Google Home or an Amazon Echo.
Amazon Echo Dot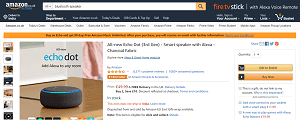 Speaking of voice commands, you need a virtual assistant in every room. Amazon's Echo Dot is affordable, compact and yet still powerful enough to get just about any wireless control job done.
Amazon Fire TV Stick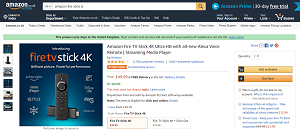 With everyone cutting the cord these days on television and traditional cable programming, you need to make a small investment in other options. The Amazon Fire TV Stick makes it easy to watch streaming video and shows from any number of websites and services.
Portable Light Therapy Light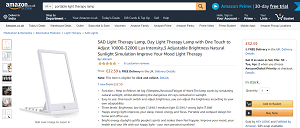 The dark winter months are letting up at last, but there are still a few gloomy days ahead. When the sun isn't willing to shine where you are, you can bring your own source of light therapy thanks to the portable light options.
Tyrone Gooseneck Mount Holder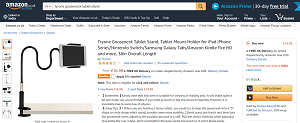 Like to sprawl while you read or watch your mobile? Want to prop the phone up easily when you're relaxing in bed or laying down on the sofa? A gooseneck mount holder lets you position your phone in just about any creative fashion you can think of.
Bluetooth Speaker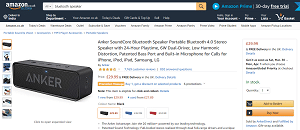 A Bluetooth speaker provides endless options for music and entertainment audio wherever you are in your home or office. Put one in the kitchen and another by your computer. You can use on by your bed, by your shower or in your office.
Qi Wireless Charging Pad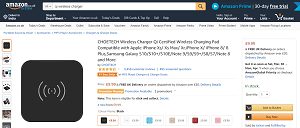 If you're tired of trying to find the right cables to get everything plugged in and charging, you can handle a bunch of charging all at once with the Qi Wireless Charging Pad. Remote charging is becoming a way of life, and a larger charging pad makes it much more convenient.
HDTV Antenna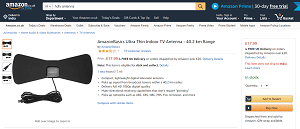 There is a great deal of television programming available without the help of cable or satellite boxes. All you need to access the HD programming being sent out from stations around the world is an HDTV antenna. The antenna is a simple gadget that connects to your television and pulls free HDTV to your screen. The channels you receive are based on location, of course.
There's nothing more satisfying than finding a great gadget. Investing in big technology is a powerful thing, but it is often the smaller things that make life more satisfying and often more productive. With so many great options out there, why wouldn't you look for new and improved ways to do the same old thing?
If you're curious about how you can track your items, there is more to learn. Get more information about tracking methods and possibilities.