Top 20 Best Gifts for Kids in the UK
Now that Christmas has come and gone, you may be out of ideas for birthday and other gifts for the kiddos on your list.
If that's the case, we have good news! We have compiled a list of the 20 best gifts for kids in the UK for any occasion this year – plus helpful links where you can find them!
With MyUKMailbox, you can shop all these toys and we'll ship your stuff directly to your door!
Hatchimals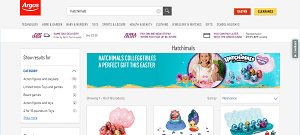 Hatchimals were all the rage during the 2016 Christmas season, but they were almost impossible to find. And if you were lucky enough to find them, they were stupidly expensive. Surprise! You can now find Hatchimals at Argos, in any variety you want and as many as you want – available at great prices.
Nerf N-Strike Elite Hyperfire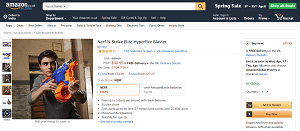 Nerf Gun fans are always looking for more power and this Nerf N-Strike Elite Hyperfire from Amazon UK certainly delivers. It features a 25 dart drum and fires 5 darts per second with a reach of nearly 90 feet!
Star Wars Rebel U-Wing Fighter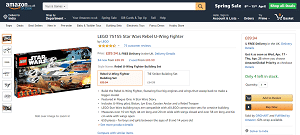 Star Wars: Rogue One fans, unite! This fabulous Rebel U-Wing Fighter set from Amazon UK allows you to recreate your favorite scenes from the movie for action-packed adventures. There are 659 pieces and 4 action figures in all and the completed U-Wing Fighter model features four engines, working cockpit, folding wings, weapons, extra ammo and more!
Fingerlings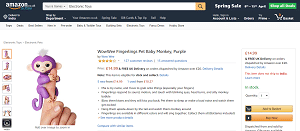 Fingerlings are cute, interactive pets that you wear on your finger. They look like monkeys and respond to sound, motion and touch and they even blow kisses to you! How sweet. They come in a variety of colors so you can collect them all!
Little Live Pets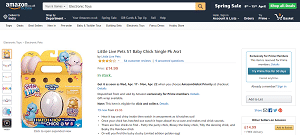 Little Live Pets are the cheaper alternative to the insanely popular Hatchimals. They come in an egg that you can hatch over and over again and feature four different varieties of "chicks" that you can collect in hopes of hatching the limited edition Golden Chick.
Electronic Chewbacca Mask
These electronic Chewbacca masks were all the rage, thanks to a video posted online by a Texas mom. Now, the Chewbacca fan on your list can have one of their very own. It is powered by two AA batteries and makes a roaring sound when you open your mouth while wearing the mask!
Zoomer Chimp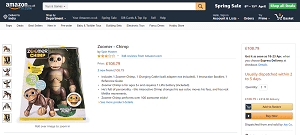 Zoomer Chimp is sort of like Planet of The Apes Meets The 22nd Century. He's a cute little monkey at first glance, but you will be amazed at what he can do. This guy performs over 100 tricks and makes more than 200 sounds – plus recognizes several voice commands. Zoomer Chimp is battery powered and comes with a USB cable for charging.
World Map Doodle Pillowcase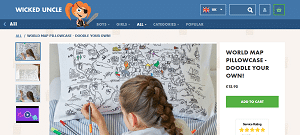 While not exactly a toy, this World Map Doodle Pillowcase from Wicked Uncle will definitely make naptime and bed time more fun. It features a hand-drawn world map to be colored in by the set of 10 markers that are included. The map also includes lots of fun facts about places around the world, which gives it educational value as well. When colored in, the pillow case can be washed to erase so the fun can start again.
Bean Boozled Game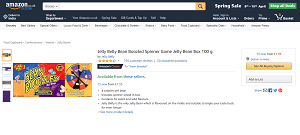 For moments when kids need a break from "screen time" this Bean Boozled game is a fun alternative. It's a board game of sorts that features a spinner and coordinating colored jellybeans. You spin the spinner, eat a matching bean as depicted on the spinner – and if it's a good one, you get a point. If it's an awful one – like dead fish or spoiled milk – you do not score points. Fair warning: The "bad" ones are the same colors as the "good" ones!
Molto Cross Premium Batman Ride-On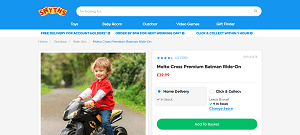 The little guy (or girl) on your gift list can feel like a big kid with this super cool Molto Cross Premium Batman Ride-On. It features a black and yellow color scheme with cool Batman graphics and is foot powered so they can go as fast (or slow) as they would like. Wide tires make balancing easy, for additional safety.
PJ Masks Collectible Figure Set
The PJ Masks fans on your list will love this collectible figure set! It features five favorite characters from the series and each one is striking a cool pose for hours of PJ Masks fun! It is easy to play and display and suitable for children above 3 years.
Transformers Robots In Disguise 3-Step Changers Bumblebee Figure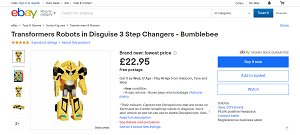 Transformers has made it easier than ever to convert your favorite character from a bot and back again with these easy peasey 3-Step Changers. This one features the popular favorite Bumblebee in a bright blue on yellow color scheme. Collect them all to re-enact your favorite scenes from the series!
Baby Born Interactive Doll
This Baby Born Interactive Doll is a modern version of a timeless classic. At first glance, it's a regular baby doll like ones parents may have played with as a child. However, this dolly has realistic features that include using the potty, wetting diapers, tearing/opening/closing eyes and more! It does not require batteries and comes in your choice of girl in pink or boy in blue styles. Both styles include a number of accessories, like diaper, passy, bottle and food bowl.
Chad Valley Babies to Love Lily Interactive Doll

The Love Lily doll is another version of interactive doll that includes lots of amazing features. Lily laughs, giggles, coos and even snores! You can even feed her a bottle and burp her when she's done.
Creepster Wild Spider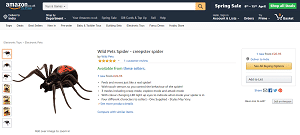 Bring the outdoors inside with this realistic anamotronic spider! It acts and feels like a real spider and its motion is activated upon touch. You can set your spider to roam freely or launch him into ATTACK! Mode and have him chase your intended target. There are several varieties to choose from, along with a natural "habitat" designed to keep your "spider" safe.
PS4 1TB Slim Console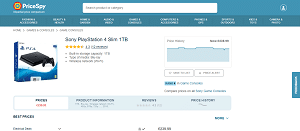 This PS4 1TB Console is the perfect gift for the gamer on your list. Despite its new, slim design, all PS4 and PS4 Pro games are fully compatible with this console. Also included are all the required cables, wiring and PS4 headset.
Cra-Z Knit Design Set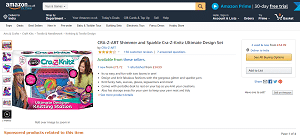 For the aspiring crafty fashion designer in your life, we have the Cra-Z Knit Design Set. It comes with sparkly thread, loom and detailed instructions on how to create your very own wearable crafts. Choices of craft projects include scarves, legwarmers, gloves and hats. The loom is made onto a lap desk that fits across the lap for comfort and stability.
Minecraft Papercraft 45 Piece Assortment Set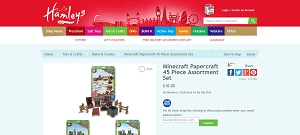 Minecraft fans can recreate their favorite scenes and characters from the game with these 3-D Minecraft paper models. There are three kits in all and one will be randomly selected upon purchase. Each kit contains 45 pieces, each on a 1/16 model scale. Fosters creativity in kids of all ages. Collect them all!
Magic The Gathering Game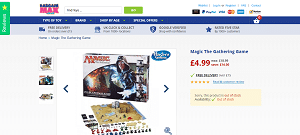 Bring your Magic The Gathering missions to life with this 3-D Magic The Gathering game set from BargainMax. It features five character figures, 30 squad figures, 3-D cardboard terrain and props and various gaming cards to set the scene and choose your moves – in addition to many other extras. This game does not include any cards from the trading card version of the game.
PowerUp 3.0 Smartphone Controlled Paper Airplane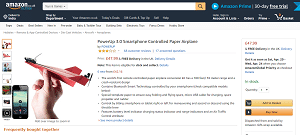 Take your paper airplane to a whole new level – literally – with this Bluetooth powered version from Amazon UK. It has a crash resistant design, easy fold design, spare parts for replacements and a USB cord for charging. The plane is controlled entirely from your smartphone and features a realistic air traffic control app for ultimate maneuverability and has an impressive 180ft range.